Take the Social Value Canada Survey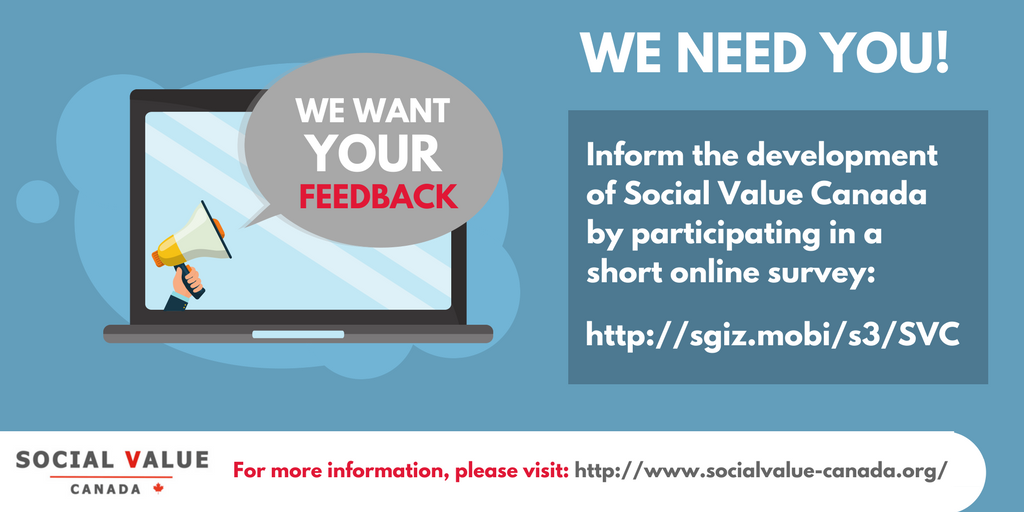 December 21, 2017 /3BL Media/ - In late 2016, the SROI Canada network and the Social Impact Analysts Association merged to become Social Value Canada (SVC). SVC is positioning itself to be the national hub for Canadians to connect, learn and exchange ideas about social impact, social value creation and measurement methodologies. SVC is part of an international network of over 45 countries advancing social value measurement as a member of Social Value International.
Social Value Canada aspires to:
be the social value hub for Canada - a network that brings people together to share ideas, experiences and methodologies
be the place to access training to assess and value impact; and
share relevant resources on social impact measurement in Canada and around the world.
Social Value Canada wants to hear from you! Inform the development of Social Value Canada by participating in a short online survey. This is an opportunity to inform the SVC service offering and membership structure based off of your interests and feedback. 
To complete the survey, visit: http://sgiz.mobi/s3/SVC.
For more information on Social Value Canada or social impact, value creation or measurement, please visit the following websites:
http://www.socialvalue-canada.org/
We look forward to hearing from you and to working together to build Social Value Canada.