New Sustainable Guidance Released for Canadian Companies To Report on Impact
TORONTO, Canada, September 6th, 2023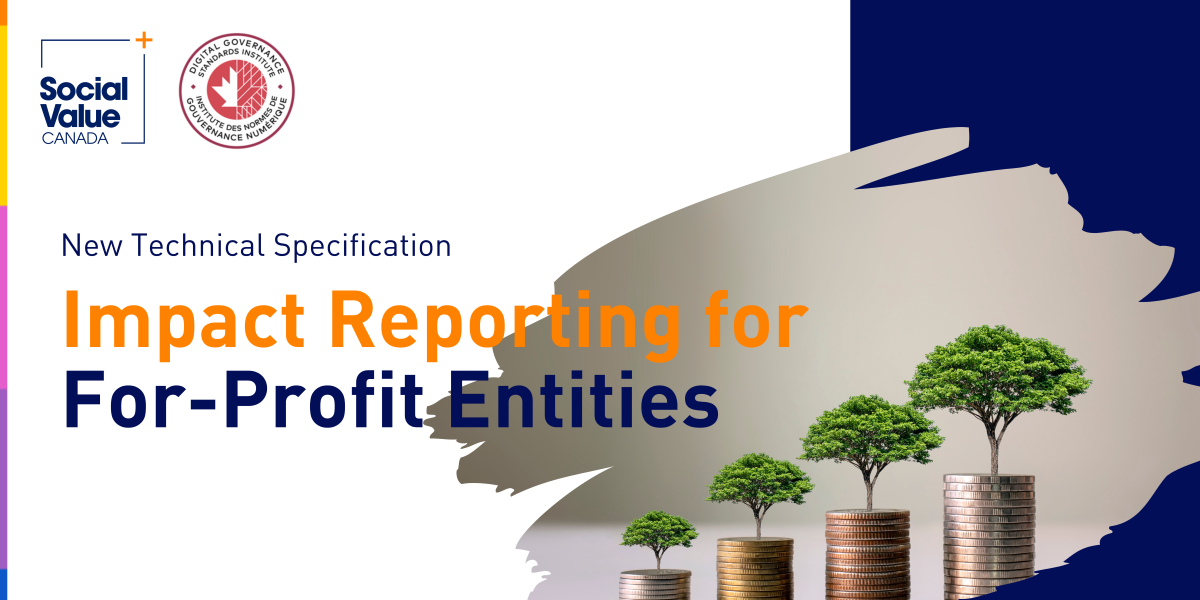 *FRENCH VERSION TO FOLLOW / VERSION FRANÇAISE À SUIVRE
With gratitude, we acknowledge that we live, work, and play on the traditional territories of many Indigenous Peoples across Turtle Island and we affirm our ongoing commitment to principles and processes of reconciliation and to the TRC 94 Calls to Action.
TORONTO, September 6, 2023 /3BL/ - Social Value Canada (SVC), the Digital Governance Standards Institute (DGSI), and the Standards Council of Canada (SCC) announced the release of the first 'Technical Specification (TS) for Impact Statements' issued by for-profit entities seeking to report credibly on impact and sustainability performance.
Moving Canada Forward on Sustainability Reporting Practices
With the increasing demand for credible non-financial reporting within ESG and sustainability reporting, this Technical Specification (TS) for Impact Statements for Profit- Oriented Entities offers essential guidance for all companies seeking to report credibly on the social, environmental, and financial impact linked to their operations, goods and services, and relationships.
Developed by a technical committee of leading Canadian experts in sustainable finance, impact measurement, and reporting, the technical specification is aligned with international standards and norms in the field of non-financial reporting. This includes UN Declaration on the Rights of Indigenous Peoples (UN DRIP), Impact Management Project Norms hosted by Impact Frontier, the UN Sustainable Development Goals (SDGs), the SDG Impact Standards, the Social Value International Principles and Standards, the European Union Sustainable Finance Disclosure Regulation (SFDR), the Corporate Sustainability Responsibility Directive (CSRD) regulations, and the Draft Canadian Sustainable Finance Taxonomy.
"The Digital Governance Standards Institute is happy to lend our expertise to the development of the Technical Standard", said Darryl Kingston, Executive Director of the Digital Governance Standards Institute. "Canadian companies face an increasing demand to produce credible sustainability reports and we hope the reporting process outlined will be of great benefit to those tasked with creating those reports." 
"A major challenge to companies is to develop a process to consistently report on impact", said Chantal Guay, CEO of the Standards Council. "This Technical Specification offers guidance in an area that is an increasing corporate priority." 
Aligning with Global Leadership
With federal net zero and the 2030 UN Sustainable Development Goals clearly in mind, Canada joins other nations, including Britain, France, New Zealand, Taiwan, and Japan, in raising expectations for corporate non-financial disclosure. "The development of this TS was an opportunity for technical experts in impact reporting to come together and share expertise to the benefit of sustainability reporting", said Stephanie Robertson, Acting Executive Director, Social Value Canada and International Co-Chair of Social Value International. "The TS benefited greatly from the combined efforts of the Technical Committee which included experts from Rally Assets, Raven Capital Partners, The Common Approach, and impak Analytics, and from the highly valuable feedback received through public consultation." 
By providing a clear structure for transparent and high-quality impact statements that avoids greenwashing and ensures relevant data is included, the TS will serve as a cornerstone for Canada's non-financial reporting for listed and private companies.
"This giant step towards corporations' sustainable accountability is also the very first step towards a transition plan and the generation of more positive impacts. This pioneering initiative will not only help the Canadian financial sector's sustainable transformation, but its entire economy," explains Paul Allard, CEO of impak Analytics.
For more information or any questions about the standards development activities, please contact Darryl Kingston.
More about the Lead Organizations
The Digital Governance Standards Institute develops digital technology governance standards fit for global use. The Institute works with experts, as well as national and global partners and the public to develop standards that reduce risk to communities, business and governments adopting and using innovative digital technologies in today's digital economy. The Institute is an independent division of the Digital Governance Council. Learn more at dgc-cgn.org.
Social Value Canada is Canada's professional network for social value and maximizing impact. As part of a global movement transforming how the world captures and assigns value in decision-making, the network extends across all sectors of the Canadian economy and throughout Canadian society. New tools and methods are developing, and assurance standards and practices are emerging, all toward the goal of maximizing the well-being of people and the planet.  Learn more at socialvalue-canada.org.
About The Standards Council of Canada
The Standards Council of Canada (SCC) was created by the Government of Canada as a Crown corporation in 1970. SCC leads and facilitates the development and use of national and international standards and accreditation services in order to enhance Canada's competitiveness and well-being.
scc.ca/en 
For media inquiries: 
Adam Pillsbury 
Social Value Canada 
adam@socialvalue-canada.org
Darryl Kingston 
Executive Director 
Digital Governance Standards Institute 
darryl.kingston@dgc-cgn.org
*en français
Nouvelles directives publiées visant les entreprises canadiennes pour la comptabilité de leur impact durable 
TORONTO, Canada, 6 septembre, 2023  
Avec gratitude, nous reconnaissons que nous vivons, travaillons et jouons sur les territoires traditionnels de nombreux peuples autochtones de l'île de la Tortue et nous affirmons que notre engagement continu en faveur des principes et processus de réconciliation et des 94 appels à l'action de la Commission de vérité et réconciliation. 
TORONTO, Canada, le 6 septembre 2023 - Social Value Canada (SVC), l'Institut des normes de gouvernance numérique (INGN) et le Conseil canadien des normes (CCN) ont annoncé la publication de la première « Spécification technique pour Bilans d'impact » pour les entités à but lucrative cherchant à comptabiliser de manière crédible leur impact et leur performance en matière de durabilité.  
Élever le Canada dans les pratiques en matière de rapports de durabilité 
Face à la demande croissante de rapports non-financiers dans le cadre ESG et de durabilité, cette spécification technique (ST) pour Bilans d'impact pour les entités à but lucratif offre des directives essentielles. Ceci vise à guider toutes les entreprises qui cherchent à évaluer de manière crédible les impacts sociaux, environnementaux et financiers de leurs activités, biens et services, ainsi que de leurs relations. 
Développée par un comité technique composé d'éminents experts canadiens en matière de finance durable, de mesure d'impact et de rapports, la ST est conforme aux normes et standards internationaux dans le domaine des rapports non-financier. Il s'agit notamment de la Déclaration des Nations Unies sur les droits des peuples autochtones (UN DRIP), des Impact Management Project Norms de la part de Impact Frontier, des objectifs de développement durable des Nations Unies (ODD), des normes d'impact pour la réalisation des objectifs de développement durable du PNUD, des principes et normes de Social Value International, de la régulation de l'Union européenne sur la divulgation d'informations en matière de finance durable, la directive de la Responsabilité sociétale des entreprises (RSE) issue de l'Union eurpéenne  et du projet de taxonomie canadienne en matière de finance durable. 
« L'Institut des normes de gouvernance numérique (INGN) est heureux de mettre son expertise au service du développement de la norme technique, » a déclaré Darryl Kingston, directeur exécutif de l'INGN . « Les entreprises canadiennes sont de plus en plus exigées de pouvoir produire des rapports crédibles en matière de durabilité et nous espérons que le processus décrit sera d'une grande utilité pour les personnes chargées de créer ces rapports. » 
« L'un des principaux défis pour les entreprises est de développer un processus permettant de comptabiliser l'impact de manière constante », a déclaré Stephanie Robertson, directrice exécutive de Social Value Canada et co-présidente internationale de Social Value International. « Cette ST offre des conseils dans un domaine qui constitue une priorité croissante chez les entreprise. » 
S'aligner sur les normes mondiales  
Ayant clairement à l'esprit la carboneutralité fédérale et les objectifs de développement durable des Nations Unies d'ici 2030, le Canada se joint à d'autres pays, dont la Grande-Bretagne, la France, la Nouvelle-Zélande, Taïwan et le Japon, pour accroître les attentes en matière de divulgation non financière des entreprises. « L'élaboration de cette spécification technique a été l'occasion pour les experts techniques en matière de rapports d'impact de se réunir et de partager leur connaissance au profit des rapports de durabilité », a affirmé Stephanie Robertson. « Les ST ont grandement bénéficié des efforts combinés du comité technique, qui comprenait des experts de Rally Assets, Raven Capital Partners, l'Approche commune et impak Analytics, ainsi que des commentaires très utiles reçus dans le cadre de la consultation publique. » 
En fournissant une structure claire pour des déclarations d'impact transparentes et de haute qualité, qui évite l'écoblanchiment et garantit l'inclusion de données pertinentes, la ST servira de pierre angulaire pour les rapports non-financiers du Canada, notamment pour les sociétés cotées et privées.  
« Ce grand pas vers la responsabilisation des entreprises par rapport à la durabilité est aussi le tout premier pas vers un plan de transition et vers une génération d'impacts plus positifs. Cette initiative pionnière contribuera non seulement à la transformation durable du secteur financier canadien, mais aussi à celle de l'ensemble de l'économie », explique Paul Allard, PDG d'impak Analytics.   
Pour plus d'informations ou pour toute question concernant le développement des normes, veuillez contacter Darryl Kingston.  
Plus d'informations sur les Organisations Leaders 
L'Institut des normes de gouvernance numérique (INGN) élabore des normes de gouvernance de technologies numériques adaptées à une utilisation mondiale. L'Institut travaille avec des experts, des es partenaires nationaux et mondiaux, ainsi qu'avec le public pour développer des normes visant à atténuer les risques liés à l'adoption des technologies numériques. Dans notre actuel économie numérique, ces normes sont conçues pour protéger les communautés, les entreprises et les gouvernements engagés dans cette transition technologique. Pour en savoir plus, consultez le site dgc-cgn.org.  
Social Value Canada constitue le réseau professionnel canadien dédié à la valorisation sociale et à l'optimisation de l'impact. Dans le cadre d'un mouvement mondial qui révolutionne la manière dont le monde saisit et mesure la valeur dans le processus décisionnel, notre réseau s'étend à tous les secteurs de l'économie canadienne ainsi qu'à l'ensemble de la société du pays. De nouveaux outils et de nouvelles méthodes sont en cours d'élaboration, des normes et des pratiques d'assurance voient le jour, le tout dans le but de maximiser le bien-être des personnes et de la planète. Pour en savoir plus, consultez le site socialvalue-canada.org.    
À propos du Conseil canadien des normes
Le Conseil canadien des normes (CCN) est une société d'État créée par le gouvernement du Canada en 1970. Dans le but d'améliorer la compétitivité économique et le bien-être collectif du Canada, le CCN dirige et facilite l'élaboration et l'utilisation de normes nationales et internationales.
scc.ca/fr
Pour les demandes de renseignements des médias :  
Adam Pillsbury   
Directeur de la communication 
Social Value Canada  
adam@socialvalue-canada.org 
Darryl Kingston  
Directeur exécutif  
Institut des normes de gouvernance numérique   
darryl.kingston@dgc-cgn.org