Social Value Canada Welcomes Furniture Bank as an Organizational Member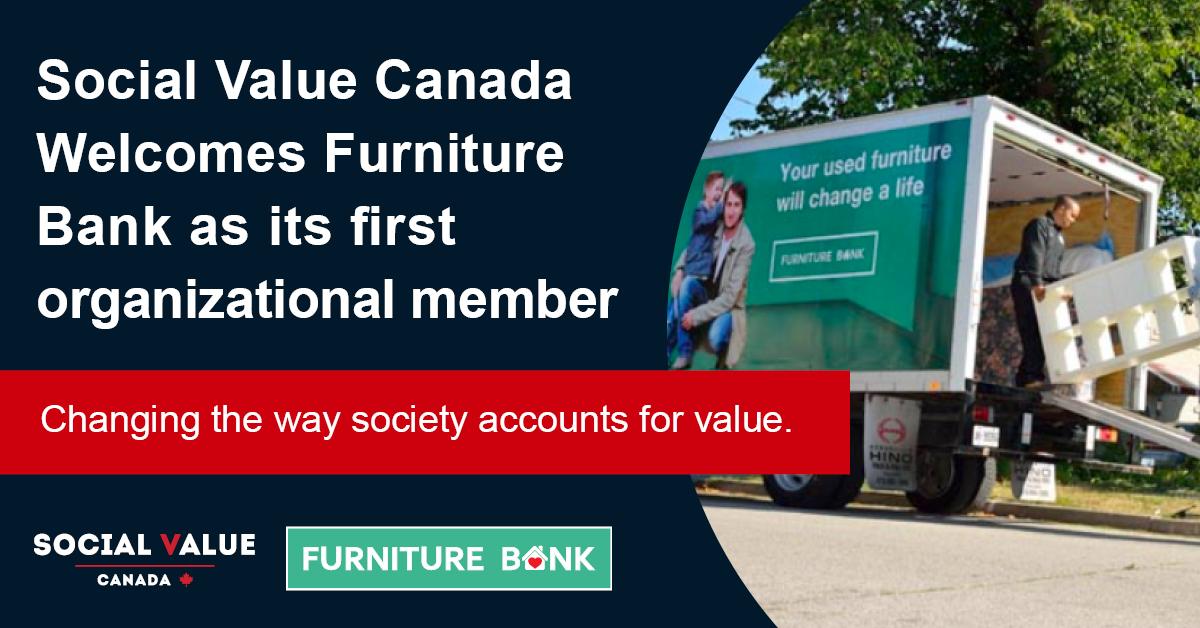 Social Value Canada welcomes Furniture Bank as an Organizational Member
August 31, 2020 /3BL Media/ - Social Value Canada is thrilled to welcome Furniture Bank as the first organization to become a Social Value Canada member.
As an organizational member, Furniture Bank is building upon its commitment to drive sustainable change in the community. Furniture Bank's membership to SVC will enable it to increase its brand and grows its network and partnerships across the country and internationally. SVC is committed to supporting Furniture Bank in promoting the Principles of Social Value, and to build a powerful movement of like-minded people to influence policy and purpose.
About Furniture Bank:
Since 1998, Furniture Bank has been matching unwanted furniture and homewares to individuals and families seeking to create a new home, transitioning out of homelessness or other forms of displacement.
While Furniture Bank clients may have secured affordable housing, these families lack the assets to transform their new housing into a home.
Joining Social Value Canada is a big milestone in Furniture Bank's journey to clearly demonstrate both our social and environmental impacts to Canada! More importantly, joining this community will support improved program decision making, guide future improvements, and communicate clearly with external stakeholder groups

- Dan Kershaw, Executive Director, Furniture Bank
About Social Value Canada:
As part of the Social Value International Network, Social Value Canada believes that social value offers huge potential to help us change the way we understand the world around us and make decisions about where to invest resources. By changing the way we account for value, we believe that we will end up with a world with more equality and a more sustainable environment.
Our mission is to change the way society accounts for value through principles, practice, people and power.
If you would like to learn more about Social Value Canada, please contact Nikki Walton at Social Value Canada.
If you would like to get in touch with Furniture Bank, please contact: Dan Kershaw, Executive Director, Furniture bank.
Welcome Furniture Bank!