Sweeten the Holidays with the 2018 Aflac Holiday Duck
Annual Aflac and Macy's partnership focuses on helping children with cancer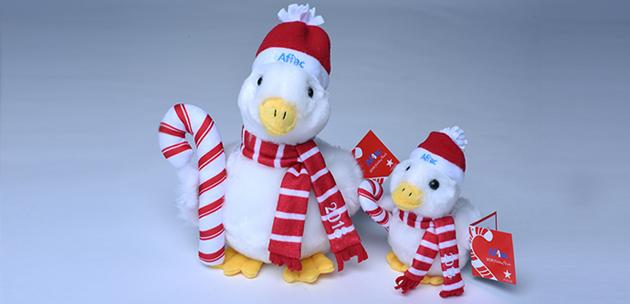 COLUMBUS, Ga., November 8, 2018 /3BL Media/ — Aflac, the leader in voluntary insurance sales at the worksite in the United States and a committed corporate ally in the cause to help defeat childhood cancer, today introduced its 2018 Aflac Holiday Duck. One hundred percent of net proceeds from sales of the limited-edition plush at select Macy's nationwide and online benefit The Aflac Foundation, Inc. and will be distributed to participating hospitals across the country providing treatment and care to children with cancer.
This year's edition of the popular holiday keepsake collection features the Aflac Duck wearing a warm red hat topped by a fluffy pompom and wrapped in a red and white striped scarf. Both the 6-inch and 10-inch versions hold a bright candy cane in their wings.
This is the 18th year Aflac and Macy's have collaborated for the Aflac Holiday Duck program.
"Each year, we are delighted by the popularity of the Aflac Holiday Duck, the joy it brings and the help we are able to give children with cancer because of its sales," said the president of The Aflac Foundation, Inc., Kathelen Amos. "This holiday tradition not only represents a longstanding, philanthropic commitment of the Aflac family, but also highlights a treasured partnership with Macy's as we work together to raise awareness for this important cause.
"Aflac is one of many corporations dedicated to helping bring an end to pediatric cancer," Amos said. "By joining forces, we have a better chance of moving closer to that goal and making the greatest positive impact on the lives of these children."
Since 1995, Aflac, its employees and sales agents have given $127+ million to childhood cancer research, treatment and programs.
"We are delighted to continue our 18 year tradition with Aflac that provides our customers the opportunity to purchase the loveable Aflac Duck collectible while also helping the fight against childhood cancer," said Jordan Dabby, vice president of Partnership Marketing at Macy's. "The famed spokesduck will help bring much needed awareness to this cause while also moonlighting as the perfect gift this holiday season."
The Aflac Holiday Duck comes in a 6-inch version priced at $10 and a 10-inch version for $15. You can purchase the limited-edition plush ducks at Macy's stores nationwide and online at AflacChildhoodCancer.org and Macys.com.
About Aflac
When a policyholder gets sick or hurt, Aflac pays cash benefits fast. For more than six decades, Aflac insurance policies have given policyholders the opportunity to focus on recovery, not financial stress. In the United States, Aflac is the leader in voluntary insurance sales at the worksite. Through its trailblazing One Day PaySM initiative, for eligible claims, Aflac U.S. can process, approve and electronically send funds to claimants for quick access to cash in just one business day. In Japan, Aflac is the leading provider of medical and cancer insurance and insures 1 in 4 households. Aflac insurance products help provide protection to more than 50 million people worldwide. For 12 consecutive years, Aflac has been recognized by Ethisphere as one of the World's Most Ethical Companies. In 2018, Fortune magazine recognized Aflac as one of the 100 Best Companies to Work for in America for the 20th consecutive year and included Aflac on its list of World's Most Admired Companies for the 17th time. Aflac Incorporated is a Fortune 500 company listed on the New York Stock Exchange under the symbol AFL. To find out more about Aflac and One Day PaySM, visit aflac.com or aflac.com/espanol.
Aflac herein means American Family Life Assurance Company of Columbus and American Family Life Assurance Company of New York.