Strengthening Connections. Fostering Success: PNC Highlights CSR Achievements
Strengthening Connections. Fostering Success: PNC Highlights CSR Achievements
2018 CSR Report explores progress in banking responsibly, delivering an exceptional client experience, building a talent-focused culture, and strengthening communities.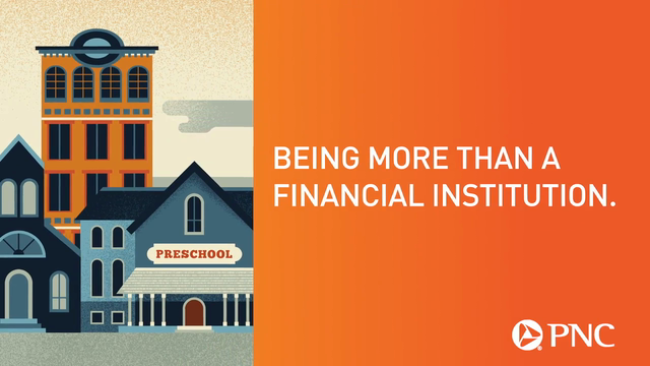 Monday, September 30, 2019 - 10:35am
PITTSBURGH, September 30, 2019 /3BL Media/ -- The PNC Financial Services Group, Inc. (NYSE: PNC), one of the largest diversified financial services companies in the United States, released its latest Corporate Social Responsibility Report (CSR), detailing the company's annual progress in its environmental, social and governance focus areas.
This report marks PNC's first effort to demonstrate alignment with the United Nations Sustainable Development Goals (SDGs). PNC selected four of the 17 SDGs that most closely align with its priority issues and explores them throughout the report:
SDG 4: Quality Education
SDG 8: Decent Work and Economic Growth
SDG 11: Sustainable Cities and Communities
SDG 13: Climate Action
PNC also has added four new goals to its CSR scorecard. These new goals focus on environmental sustainability and diversity & inclusion and include:
Achieving 100% renewable energy by 2025
Training 95% of people managers on both Unconscious Bias and Micro-Behaviors
Ensuring at least 50% of annual hires to PNC's early career development program are comprised of diverse candidates
Across all of PNC's business areas, the company shares important disclosures about how it delivers on each of its strategic priorities while looking out for the best interests of its stakeholders. This means banking responsibly, delivering an exceptional client experience, building a talent-focused culture and strengthening our communities. Additional highlights include:
Banking Responsibly
More than $23 billion in sustainable financing since 2016
More than $2.4 billion in responsible investing assets under management
Solid progress against environmental operations goals

A 48% reduction in greenhouse gas emissions since 2009
A 36% reduction in energy use since 2009
A 34% reduction in water use since 2012

Highest rated bank on Barron's 100 Most Sustainable Companies list for 2019
Delivering an Exceptional Client Experience
A 23% increase in total bankers certified as Women's Business Advocates year-over-year
Building a Talent-Focused Culture
An eight-point increase in employee engagement scores year-over-year
A nearly 20% increase in Employee Business Resource Group chapters year-over-year
Named among the Best Places to Work for LGBTQ Equality by the Human Rights Campaign (2018) for the sixth consecutive year
Strengthening Our Communities
Outstanding Community Reinvestment Act rating since 1977
More than 692,000 participants in financial education programs since 2016
More than $235 million in microlending to small businesses and $1.2 billion in small business loans
A 16% increase in annual employee volunteerism hours through the company's Grow Up Great® initiative
$77.6 million in philanthropic giving
The PNC Financial Services Group, Inc. is one of the largest diversified financial services institutions in the United States, organized around its customers and communities for strong relationships and local delivery of retail and business banking including a full range of lending products; specialized services for corporations and government entities, including corporate banking, real estate finance and asset-based lending; wealth management and asset management. For information about PNC, visit www.pnc.com.