The Solvable Problem Challenge: Submit Your Idea by February 28
Submit a Solvable Problem to be considered for PYXERA Global's 2018 Global Engagement Forum: Live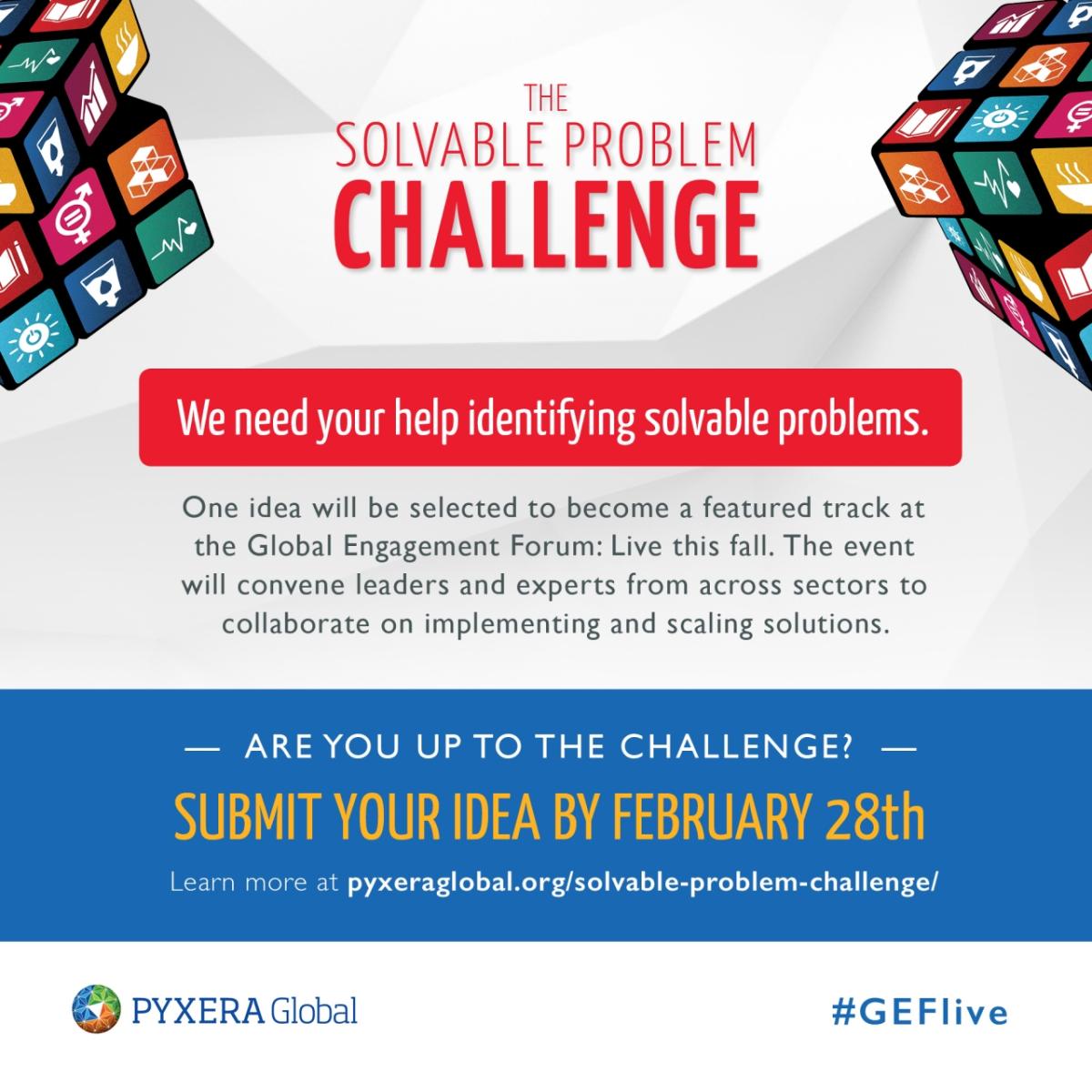 WASHINGTON, January 11, 2018 /3BL Media/ - Do you know of a solvable problem within the United Nations' Global Goals that could be solved with the right resources, network, and collaboration?
Join the Solvable Problem Challenge.  Submit a solvable problem for the opportunity to be awarded a dedicated collaborative action track at the 2018 Global Engagement Forum: Live. One idea will be selected to become a featured issue at the Forum this October 11 and 12 in the Washington, DC metro area.
Submit your idea by February 28
This fall the two-day 2018 Global Engagement Forum: Live, will bring together leaders from the private, public, and social sectors to develop cross-sector concepts that address urgent, yet solvable problems within the United Nations Global Goals.
Whatch VIDEO here
Many of the world's most pressing challenges identified within the Global Goals are inherently solvable because solutions have already been tested and proven on a smaller scale.
WHAT MAKES A PROBLEM SOLVABLE?
Is this problem relatable?
Is it widely acknowledged? Have local communities, scientists, governments, nonprofits, companies, or academics recognized the challenge?
Has this problem being solved somewhere? What evidence is there?
What, if any, resources are available to solve this challenge? Technology, funding, or research?
THE SELECTED IDEA WILL RECEIVE:
THE NOMINEE WILL RECEIVE:
WANT TO LEARN MORE?
The 2017 Global Engagement Forum: Live brought together 250 subject-matter experts, leaders from the public, private, and social sectors, and professionals working at the ground level around the world to address three solvable problems distilled from the United Nations' Global Goals numbers two, three, four, eight, 11, and 12—the youth skills gap, post-harvest food loss, and treatable and preventable non-communicable diseases. Participants spent two days in an immersive collaboration to develop cross-sector concepts that explore specific issues within these topic areas. By continuing to advance solutions to the solvable problems, the Forum participants truly become champions of change.
About PYXERA Global
@PYXERAGlobal 
For more than 27 years, PYXERA Global has leveraged the unique strengths of corporations, governments, social sector organizations, educational institutions, and individuals to enhance the abilities of people and communities to solve complex problems and attain mutually beneficial goals.
The PYXERA Global team is passionate and dedicated to navigating challenges and pinpointing purposeful global engagement opportunities for its clients and partners. Initiatives include a wide range of services from local content development to global pro bono programs and integrated community development efforts that transform lives and livelihoods.
For questions please contact:
Contact: Morgan Singer
Msinger@pyxeraglobal.org