SodexoMyWay Wins Celebrated Award for Digital Communication
Florida State University's SodexoMyWay Dining Website chosen as 2018 AVA Digital Awards Gold Winner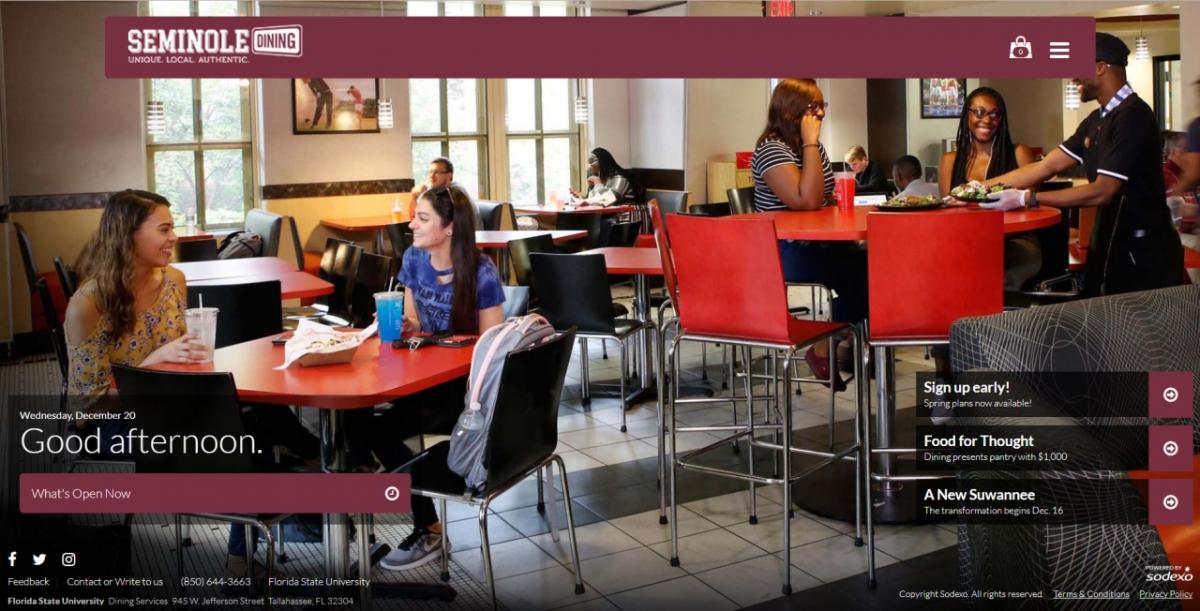 SodexoMyWay website for FSU Dining
GAITHERSBURG, Md., February 2, 2018 /3BL Media/ - Sodexo, a food services and facilities management company, announced today that it has been recognized as an AVA Digital Award winner, sponsored and judged by the Association of Marketing and Communication Professionals (AMCP), for Florida State University's SodexoMyWay Dining Website. The website was one of 2,500 entries submitted throughout the world and was chosen as a 2018 Gold Winner for its outstanding achievement in digital communication.
SodexoMyWay is a digital platform enabling customer-driven, e-commerce dining websites that predict content for the user ultimately enhancing their digital experience. SodexoMyWay was recently upgraded with mobile-first technology for easy accessibility across an array of platforms.
SodexoMyWay's updated platform includes:
A localized, photo-forward design that enhances the dining program's image value
Improved e-commerce functionality including a built-in shipping and tax solution for local and national products
Simplified and intuitive user interface, with responsive design focused on rich content
Capability to integrate with systems external to Sodexo that support the customer journey
Ensured ADA compliance
Early adopter, Florida State University, was the first to use the updated platform for FSU's Seminole Dining Website. Aimed at improving quality of life, the platform makes accessing menus, nutritional information and campus dining operations seamless for students, parents and University faculty.
Click here to visit Florida State University's SodexoMyWay Dining Website.
About Sodexo USA
Sodexo USA is an American business that is part of a global, Fortune 500 company with a presence in 80 countries. Delivering more than 100 services across North America that enhance organizational performance, contribute to local communities and improve quality of life, Sodexo is a leading provider of sustainable, integrated facilities management and food service operations. It employs 123,000 Americans at 12,500 sites across the country and indirectly supports tens of thousands of additional U.S. jobs through its annual purchases of $9.2 billion in goods and services from small to large American businesses. In support of local communities across the U.S., the Sodexo Stop Hunger Foundation has contributed close to $30 million over the past 20 years to help feed children in America impacted by hunger.  To learn more about Sodexo, visit SodexoInsights.com and connect with us on Facebook and @SodexoUSA on Twitter.