SLAM Miami Student - and Aspiring Rapper - Uses Innovative Lab to Create Magic
SLAM Miami Student - and Aspiring Rapper - Uses Innovative Lab to Create Magic
Eighth grader utilizes Mapper's Delight learning app to combine his love of music with STEM.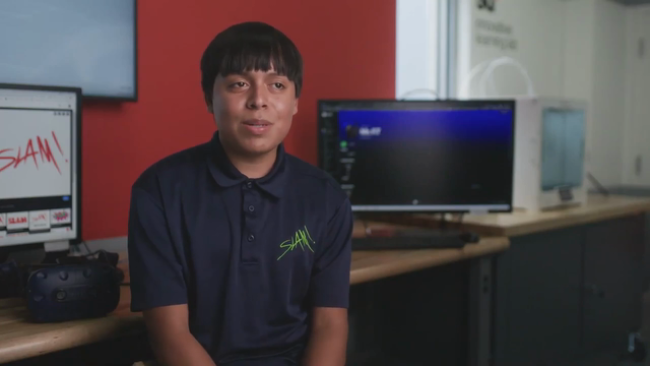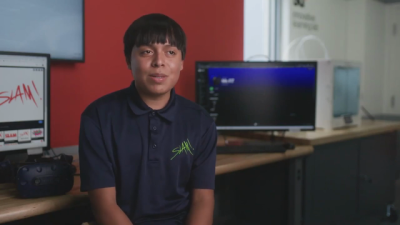 Thursday, December 9, 2021 - 2:15pm
Fabian Tercero shares why he loves the Verizon Innovative Learning HQ app Mapper's Delight.
Fabian Tercero, an eighth grade student at SLAM Miami, dreams big: He hopes to pursue his love of music and become a professional rapper one day. With the help of the Verizon Innovative Learning Lab at his school, he's inching his aspirations closer to reality by recording and publishing his own music using next-gen tech and a high-speed 5G connection.
Verizon Innovative Learning is a key program under Citizen Verizon, the company's responsible business plan for economic, environmental and social advancement.
Fabian credits the Verizon Innovative Learning HQ app, Mapper's Delight, with diversifying his musical palate and educating him about various genres of music. The augmented reality (AR) app opens with a 3D view of the world. Fabian then chooses where he wants to virtually travel, and wherever he lands, he learns about famous musicians from that area. As Fabian explains, it combines geography with music, engaging students in a way never before experienced. Mapper's Delight is free and available to any educator through Verizon Innovative Learning HQ.
"I really want my students to dream big. Access to this type of technology at a really young age allows students to realize they can do anything, and then with that realization, realize that they can be anything they want to be."
Rebecca Roque
SLAM Miami, a sports-centered charter school founded by rapper Pitbull, has a predominantly Spanish-speaking student population. Rebecca Roque, Verizon Innovative Learning Coach and Lab Mentor, explains, "We get a lot of students immigrating from other countries who have pretty limited technology skills. Sometimes it's the first time they get a device in their hands [or] use the internet, so it's pretty amazing."
SLAM Miami became a Verizon Innovative Learning School in 2017, and this past year, the school's 5G-powered Verizon Innovative Learning Lab was launched. The lab delivers new, immersive learning experiences that, through the power of 5G and the extremely low latency it can provide, can help students seamlessly connect with advanced technologies that require more bandwidth and faster data transfer rates.
Roque credits the Verizon Innovative Learning Lab with being "transformative" for her students. She clarifies, "I really want my students to dream big. Access to this type of technology at a really young age allows students to realize they can do anything, and then with that realization, realize that they can be anything they want to be."