ON Semiconductor Celebrates Being Recognized as Most Sustainable Company in the Semiconductor Industry in 2021 by World Finance
by Jean Chong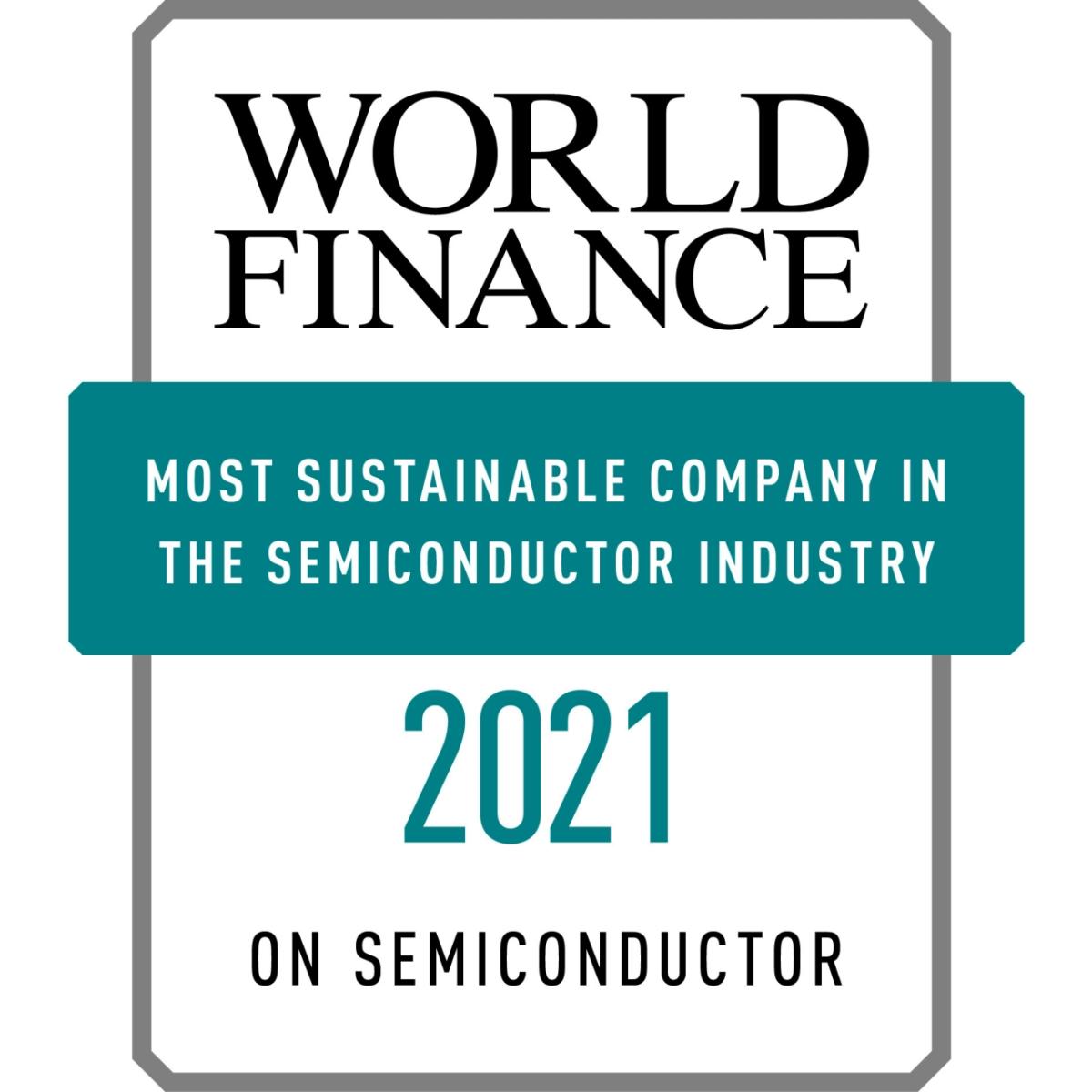 ON Semiconductor has been declared the winner of the 2021 World Finance Sustainability Awards Program in the category of the 'Most Sustainable Company in the Semiconductor Industry – 2021'.
Read on the ON Semiconductor blog
Another check mark on the award list for our busy corporate responsibility (CSR) team. ON Semiconductor has been declared the winner of the 2021 World Finance Sustainability Awards Program in the category of the 'Most Sustainable Company in the Semiconductor Industry – 2021'. This is the second consecutive year that we have won this award. World Finance is a print and online magazine providing comprehensive coverage and analysis of the financial industry, international business and the global economy.
A big part of being a sustainable manufacturer is to innovate and offer greener products and services. Our company's mission is to create energy-efficient technologies to help make the world greener, safer, inclusive and connected. Our products support electric vehicles, advanced driver-assistance systems (ADAS) and autonomous vehicles, efficient sensors used in windmills or other green applications. From using our best-in-class energy efficiency solutions to provide longer battery life IoT devices to our automotive devices for vehicle electrification and automotive power management, we are helping our customers and their consumers manage their contribution to climate change. Our business groups as well as research and development department drive efficiency and green applications. For reclamation, we are investigating new refining methods that consume less power.
Let's dive into the activities that make ON Semiconductor worthy of this award. We look at sustainability from several perspectives: economic, social, environmental and reclamation and recycle.
From an economic perspective, we monitor current and future trends in the macro economy, our research and development, our workforce skills and our manufacturing capabilities to develop our three- to five-year strategic outlook. Additionally, we are currently pursuing the recommendations of the Task Force on Climate-Related Financial Disclosures (TCFD), using its pillars as guide to a holistic approach to looking at risks and opportunities for the company regarding climate and climate financial issues and reporting. In 2021, we will look at long-term risks and opportunities related to climate. We will also publish our first Sustainability Accounting Standards Board (SASB) report as part of our 2020 Corporate Social Responsibility Report in July 2021.
From a social perspective, we are a member of the Responsible Business Alliance (RBA) as well as a signatory of the UN Global Compact. Internally, we have well-developed diversity and inclusion initiatives as well as an established human rights policy. Through the groups mentioned above and participation in industry groups such as CSRBoard.org, the Conference Board and others, we look at emerging issues and trends that affect any of our stakeholders. In 2020, we committed to support five sustainable development goals, reduced inequalities, climate action, responsible production with targets and metrics and continue to follow these in 2021.
From an environmental perspective, we look at our insurance carrier risk assessments of our properties, status of previous carbon emissions, water consumption, electricity consumption, waste management and leading indicators such as reduction of waste to landfill/incinerator ratio. To establish future goals, we research and analyze emerging issues and priorities throughout the company. Our wafer fabs and assembly and test operation sites have implemented five-year environmental conservation performance targets while all manufacturing sites provide annual green savings projects (e.g. water, electricity, chemicals, material optimization and recycling) and report progress on a quarterly basis.
Lastly, from a reclamation or recycle perspective, we constantly look for new and better methods to process our scrap, with the goal of reducing our carbon footprint, improving our profits, and adjusting our preparation methods to make the work less tedious for our employees. We minimize and are working to eliminate our waste going to landfills. We work with startup companies to help us find improved methods of processing items such as plastics, which has become a major problem in the industry. In 2020, we engaged with a recycling company in Phoenix, AZ tied to a power supplier, burning plastic waste and turning it into electricity. This program keeps 100,000 pounds of plastic from going to the landfill annually. We are also one of the few large electronics companies that has a centralized collection process, which reduces duplication of work (if done at each site), protects our intellectual property and increases revenue by offsetting manufacturing costs.
Our sustainability programs have been recognized several times over the years. Some examples are our Platinum award from Ecovadis for 2020, only awarded to the top 1% of companies assessed. This year we are ranked number 10 and the top-rated semiconductor company on Barron's 100 most sustainable companies for 2021. For the third consecutive time, we are listed on the Dow Jones Sustainability Index for North America. We are rated PRIME by ISS-Oekom. Additionally, we were listed on Bloomberg Gender Equality Index.  
Last but not least, we have to point out that World Finance chose us as the winner of the semiconductor industry for standing out from our competition for our resilient business operations during the pandemic. It is in the tough times that we know what people are made of. This award is a thank you to the tremendous work that has been done and continues to be done by all employees of ON Semiconductor!
Learn more about our sustainability operations, solutions and partnerships.