Robot Duck's Aim: Helps Kids With Cancer Via Power of Play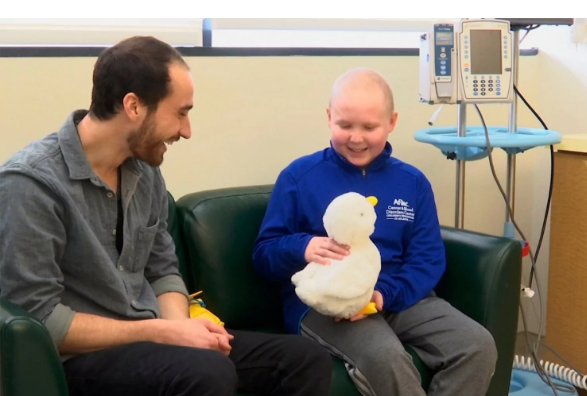 In this undated photo made from video, 12-year-old cancer patient Ethan Daniels at medical facility in Atlanta speaks with Aaron Horowitz, co-founder and CEO of Sproutel, who designed "My Special Aflac Duck" to promote emotional well-being by helping children living with cancer develop a sense of control and manage stress through interactive technology. (Image courtesy of Marina Hutchinson/Associated Press)
As originally published on The Washington Post website
By Marina Hutchinson | AP
A plush, robotic duck may soon become a fixture in the world of children who have cancer — a social robot that can be silly, happy, angry, scared or sick just like them, and help them cope creatively with their illness through the power of play.
The duck, developed by robotics expert Aaron Horowitz and his company, is undergoing testing and is expected to be widely distributed by the end of this year.
Read the full article on The Washington Post website.