Resources for Educators That Make Teaching Entrepreneurship Fun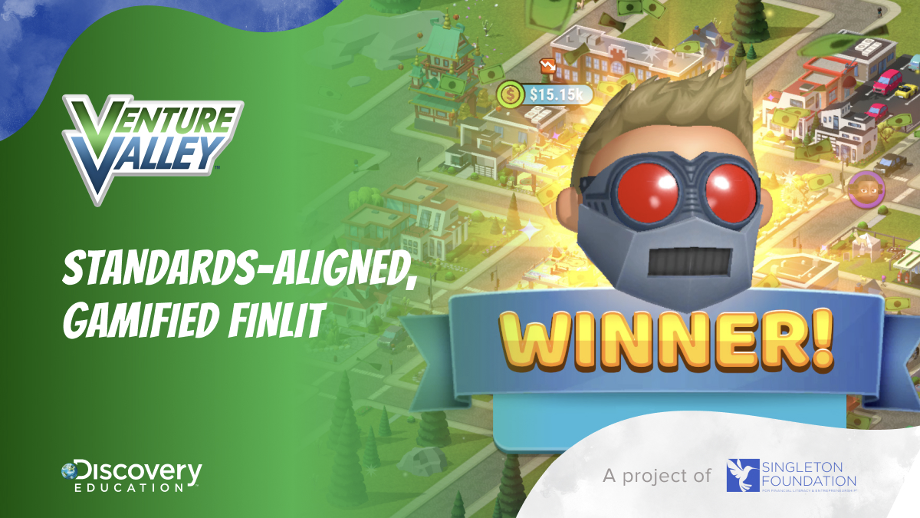 Right now, in the United States, there are approximately 31 million entrepreneurs, representing approximately 16% of the population. With new businesses starting every day to solve problems big and small, the ins and outs of entrepreneurship is a key skill for students to know.
National Entrepreneur Week (February 11-18) is the perfect time to kick off these conversations. Founded in 2006, National Entrepreneur Week is a congressionally chartered event that occurs annually In February to empower, celebrate, and educate about entrepreneurship.
Discover Venture Valley makes entrepreneurship relatable and fun for students while making teaching easy for educators.
Discover Venture Valley is an educational program between The Singleton Foundation's Venture Valley video game and Discovery Education. This teacher resource empowers students in grades 6-12 to discover and develop their entrepreneurial spirit by exploring financial and business basics. By engaging students through video game play and making lessons easy for teachers with educator resources, Discover Venture Valley helps build and improve basic business skills, financial literacy, and entrepreneurial concepts via the Venture Valley video game.
Venture Valley is a fast-paced business-building strategy game where players pit their business savvy against that of others. It is free to play on PC, iOS, and Android and features both competitive esports-style multiplayer play and a single-player campaign. With 35 unique missions, Venture Valley gives students a fun outlet to compete with friends in positive ways and practice entrepreneurship and fundamental business skills. Budding entrepreneurs experience the highs and lows of being their own boss but along with success, come rivals.
Teachers can take the learning even further with Discover Venture Valley's all-new classroom resources. This new series of interactive digital lesson plans immerses students in the essentials of finance, both personally and for business. With these standards-aligned resources, educators can easily help students break down the building blocks of success with multi-day activities that inspire students to start thinking more like an entrepreneur.
The digital lesson bundles feature grab-and-go presentations and detailed teaching plans full of ideas, questions, activities, and directions. During the lessons, students can dive into concepts like balance sheets, income statements, and cash flow statements, as well as key marketing concepts.
"Since the majority of my students, and most students in general, spend an inordinate amount of time playing video games, Discover Venture Valley was a no-brainer. When I introduced my students to the Venture Valley video game and its curriculum, they immediately jumped in and started exploring the game environment, mechanics, and entrepreneurial concepts. The game and lesson plans that go along with it are extremely engaging and present these topics in a way that resonates with students to help them build valuable real-world skills for the future," said Carrie Willis, STEAM & Technology Director, Valley Preparatory School.
Learn more about Discover Venture Valley at www.DiscoverVentureValley.com or within the Discovery Education K-12 learning platform.