Q&A With Leila Stansfield, VP of Global Strategy and Champion for Women in Leadership at Bacardi
Q&A With Leila Stansfield, VP of Global Strategy and Champion for Women in Leadership at Bacardi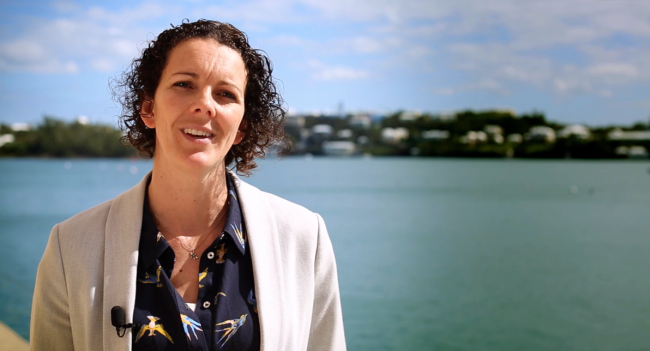 Friday, March 6, 2020 - 8:00am
In advance of International Women's Day this weekend, we spotlight the leader of Global Reflections at family-owned Bacardi. Leila Stansfield, VP of Global Strategy for the world's largest privately held spirits company in the world, is also responsible for promoting a diverse and inclusive environment, one that reflects the communities the Bacardi operates in. A strategic focus includes Women in Leadership. As a 10-year veteran of Bacardi, Leila has a broad experience, something she attributes to her ability to continue to grow personally and professionally and to understand the value of bringing different opinions and backgrounds into every conversation. Her roles at Bacardi have included strategy and planning, travel retail, finance and marketing and a prior job was at a top consulting firm. These days you will find her in Bermuda, the headquarters of Bacardi Limited, where she serves on the Global Leadership Team.
In this Q&A, Leila shares her perspective on women in leadership and some of the best advice she ever got to help her succeed in the business world.
Why are you personally invested in leading Women in Leadership?
I grew up not knowing that "Women in Leadership" was a thing. I have a hugely supportive family and I never considered that I should behave differently or expect anything different just because I was a girl. As I entered the workspace – I realized that life was a little more complicated. I looked up at leadership levels and didn't see people like me. Now, I get to be part of the change to make sure next generations have the tools, confidence and organizational support to move up the ladder.
At Bacardi, we're closing the gap in an industry that is predominantly male. When we look at leadership across the company, 37% of our top management and executive roles are women and the numbers have progressively increased since we launched a formal Women in Leadership program. Great progress, but we want to do better. That's why we actively focus on training, mentoring, recruiting practices and more to support a level playing field. My goal is that, in a few years, our Women in Leadership program will no longer exist as a formal initiative because it simply won't be needed, and we will have achieved equality in the number of women in senior roles.
What is a moment that made you want to 'pay it forward' to other women?
A memorable moment was the first time I gave a big presentation and I stood up in front of a room full of very senior men. I remember looking out and feeling terrified. Then I noticed there was one woman in the room and the whole time I was speaking she looked at me, smiled, nodded, and sent me vibes that said, 'You've got this'. It could have been anyone in the room, but it was her. That simple act gave me so much confidence and inspired me to pay it forward and do my bit to support other emerging leaders.
What advice do you have for women aiming for leadership positions?
Focus less on the title, and more on the experience you're getting. Constantly ask yourself 'Am I learning?', 'Am I developing?', and 'Am I having fun?'. You'll build a much more rounded skill base and open up more opportunities in the future. Plus, I think it's key to enjoy what you do – you'll achieve so much more if you're happy.
What can men do to help the cause of women in leadership?
Be part of the conversation. At Bacardi we are very deliberate about having men join our Women in Leadership program. They co-chair programs, speak on panels and serve as mentors, because we know they are part of the change we need. Without them, we will only move the needle so much. I love it when I hear men say they participate because they want the females in their lives have the same opportunities that they do. And that they hope that when their young daughters enter the workforce, gender equality won't even be a topic of conversations – it will just be.
Best professional advice you ever got?
To think of networking as making friends. I hated networking as I saw it as a political activity that people did to get ahead which made me uncomfortable, so I avoided it. Then my boss, who happened to be a very talented lady, asked me if I enjoyed meeting new people, which I did, and if I enjoyed talking to people, which I did. Once I forgot about having an agenda and just met people and talked to them for the fun of it, I felt more comfortable and my network grew naturally.
What advice do you give other women working in such male-dominated industries, such as spirits?
Be yourself! Don't feel the need to conform and act like everyone else. The real benefit of diversity is having people with different views and who act differently.
Hardest lesson you learned along the way?
Tricky, as there have been many! One of the hardest was when I realized that my leadership style was not fully reflecting my values. When I first started leading teams, I tried to be the leader I thought others wanted me to be, rather than being who I was inside. It felt really uncomfortable. After a while, I revisited my values and just did what felt natural. I was much happier, and I think my teams were happier too.
What are you most proud of in terms of culture at Bacardi?
Our founder's mentality. Everybody takes real ownership and throws all their energy into solving problems and accessing opportunities together. I learn so much from everyone around me, every day.
To learn more about People programs at Bacardi, including those that support Women in Leadership, read the latest CR Report. https://www.bacardilimited.com/corporate-responsibility/