Pro Bono Week 2021: Taproot Foundation Doubles Impact for Social Good
Taproot thanks those who celebrated Pro Bono Week with them, a time to recognize pro bono service around the world.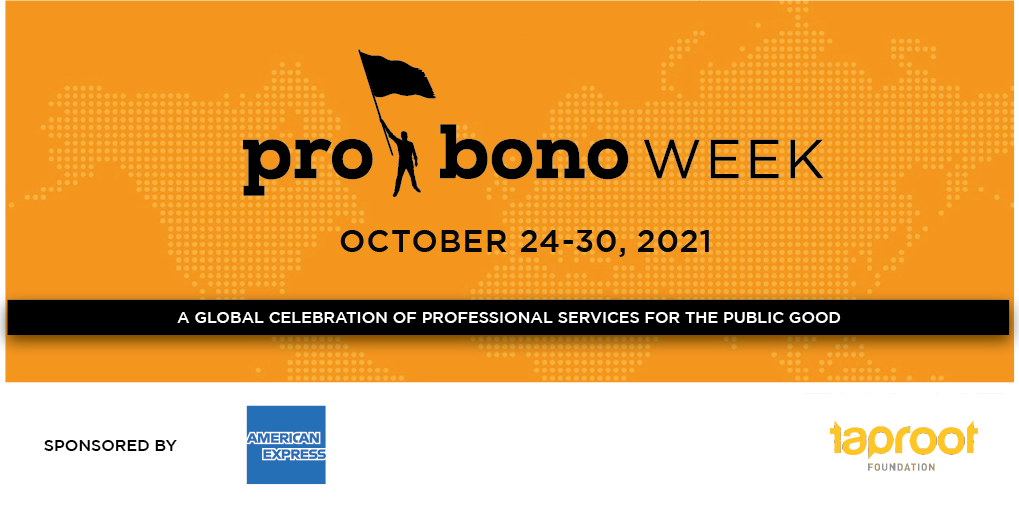 Pro Bono Week 2021: Taproot Doubles Impact for Social Good
Pro Bono Week (October 24-30) allows us to recognize the dedication of our volunteers who share their skills with nonprofits, along with the nonprofits striving to further their missions by collaborating with these volunteers.
We set an ambitious goal this year to create 100+ pro bono connections, doubling our average weekly impact. We are thrilled to announce that YOU helped us surpass our goal! 126 nonprofits, schools, and small businesses were matched with talented volunteers through our online platform, Taproot Plus.
Not only did volunteers connect with small businesses and nonprofits, but many attended our webinars to learn more about the value of pro bono service:
Get Your Nonprofit the Support You Need, For Free
Most social change organizations don't have access to the resources, funding, or staff expertise to fulfill their vital missions, especially with the continuing challenges from the pandemic. In this webinar, we shared how Taproot's network of over 85,000 skilled volunteers are available to provide HR, marketing, technology, and strategy support to help nonprofits build capacity.
Connect with Volunteers to Strengthen Your Small Business
Small businesses are the backbone of our economy, but many still struggle with the devastating pandemic, supply chain disruptions, and more. This webinar provided concrete steps for small businesses to find the support they need to survive—and thrive.
Make a Difference Using Your Professional Skills
The pandemic and other global crises continue to wreak havoc on social change organizations. But our talented volunteers are stepping up to meet their needs by sharing your skills.
We want to continue exceeding our weekly goals of connecting nonprofits with our global network of volunteers to further social good. Let's celebrate the impact of pro bono every day!
We would like to thank American Express for sponsoring Pro Bono Week 2021.