Principal® Sponsors the Premier Hockey Federation: Advancing Gender Equity in Sports
Principal® Sponsors the Premier Hockey Federation: Advancing Gender Equity in Sports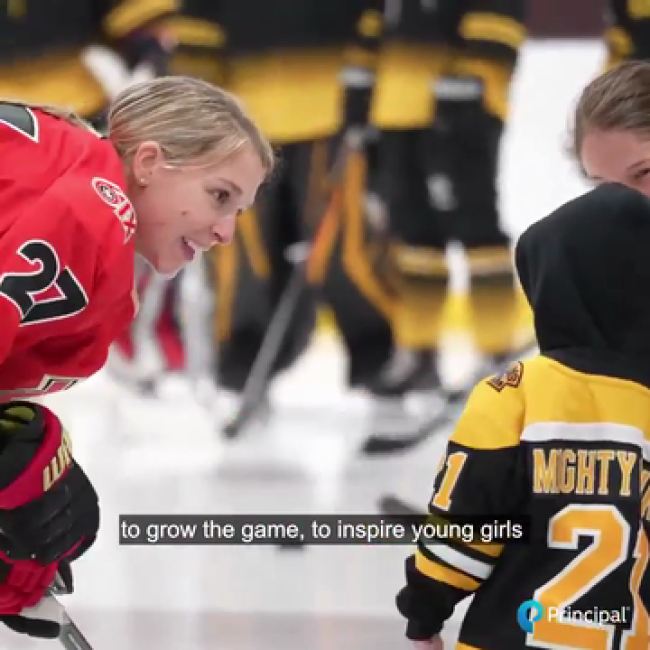 Monday, March 28, 2022 - 2:30pm
Professional hockey player Shiann Darkangelo balances the demands of owning a small business with playing pro hockey because it's her passion. "We're all in it for the same thing—to grow the game and to inspire young girls who hopefully won't have to do two jobs."
Principal is a proud sponsor of the Premier Hockey Federation, which designates 50% of its sponsorship revenue to increasing player salaries.
Principal has aligned its sports advertising and sponsorship strategy for 2022 to reflect its internal commitment to gender equity. Through its media investment, Principal is an active supporter of NCAA Women's and Men's basketball and professional tennis and golf across gender. 
About Principal Financial Group®
Principal Financial Group® (Nasdaq: PFG) is a global financial company with 18,000 employees passionate about improving the wealth and well-being of people and businesses. In business for more than 140 years, we're helping more than 49 million customers1 plan, insure, invest, and retire, while working to support the communities where we do business, improve our planet, and build a diverse, inclusive workforce. Principal® is proud to be recognized as one of the World's Most Ethical Companies, a member of the Bloomberg Gender Equality Index, and a Top 10 "Best Places to Work in Money Management." Learn more about Principal and our commitment to sustainability, inclusion, and purpose at principal.com.