PPE Allows Hospital Chaplain to Care for Patients, Doctors Alike
PPE Allows Hospital Chaplain to Care for Patients, Doctors Alike
A Truist Cares* grant has helped a rural health system keep its doctors, its nurses, and even its hospital chaplains safe while they serve on the front lines of the COVID-19 pandemic.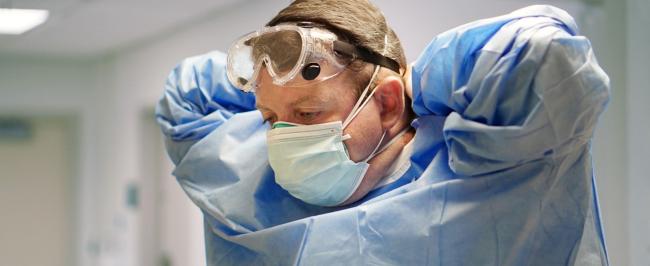 Thursday, November 5, 2020 - 5:10pm
In Albany, Georgia, hospital chaplain Will Runyon remembers what it was like when they realized they had their first COVID-19 patient back in March 2020.
"It was probably two weeks before we actually realized they were COVID-19 positive," he says. "So by the time we caught up with that fact, we had a wave of patients coming in and a whole bunch of employees who had been exposed."
Runyon, director of chaplain services for the Phoebe Putney Health System, has been a hospital chaplain for about five years. Before that, he served as a hospice chaplain for eight years. But with all his experience, he had never encountered an event like the COVID-19 pandemic.
"It was pretty scary being told, 'Hey, you've probably been exposed to this new disease that could possibly kill you,'" he says. "The things that were happening in New York City, a couple of weeks later, were happening to us here, in a town of 75,000 people." 
"Overnight, we became a hot spot, and it was terrifying," says Carolyn Higgins, president and chief fundraising officer of Phoebe Foundation, Phoebe's fundraising arm. "Apparently, it was a person who traveled here to attend a couple of funerals in Albany, and it just spread like wildfire."
Higgins canceled or postponed large fundraising events as the health system pivoted to ensure the safety of its workforce. But like most health systems across the U.S., they weren't fully stocked for a pandemic.
"The very first need was PPE, personal protective equipment," Higgins says. "Gowns, face masks, shoe coverings, eye protection, face shields, hand sanitizer, the touchless thermometers — these were all immediately needed, and we were short on everything."
Higgins says the health system went through about six months' worth of PPE in just five days. 
"There were a couple of times that we got down to a matter of days before we ran out [of PPE]," Runyon says.
Around this time, a $500,000 Truist Cares* grant was provided to Phoebe Foundation to help support the healthcare workforce. Higgins says this not only provided immediate relief in helping secure PPE, but it also prompted a wave of donations from other sources.
"It really helped bolster the morale of our team, this kind of support," Higgins says. "We felt like we were no longer alone, that we had partners in the community that stepped up to help us."
To date, Phoebe Foundation's coronavirus relief  fund has received about $3.5 million in total donations, about $1 million of which has been spent on PPE alone, says Higgins.
"The pandemic hit Southwest Georgia hard and early, and Phoebe Putney played a critical role in caring for the sudden influx of patients," says David Torris, Southern Georgia regional president at Truist. "As part of our larger response to COVID-19 relief needs through our Truist Cares* initiative, the $500,000 donation helped them stay ahead of demand and continue safely delivering lifesaving services in their community."
Caring for patients — and each other
Chaplains like Will Runyon play a crucial role in healthcare, not only for patients and their families but also for the workforce itself. Runyon spends his workdays in the hospitals visiting ICUs, ERs, and Phoebe's north campus, where most of their COVID-19 patients are located.
"When I go see a COVID-19-positive patient, I have to completely gown up — the whole goggles, mask, gown, gloves, the works, even shoe coverings," he explains.
"Every time you go into or come out of a room, you have to use hand sanitizer. You have to take off all the protective gear in a certain manner to keep from contaminating your skin. Then you clean your hands again after all of that."
While his team of chaplains, mostly volunteers, has been reduced due to concerns about the pandemic, Runyon says he's grateful that he's been able to continue visiting with patients himself. He knows other hospital chaplains who have not been allowed to enter rooms with patients because there isn't always enough PPE.
"I was never told that I couldn't be a chaplain the way I wanted to be a chaplain for that reason," Runyon says. 
Virtual visits
Since hospitals can't allow visitors during a pandemic, Runyon is often a critically ill patient's last line of communication with family or friends. He says donations like the Truist Cares* grant have also allowed his team to purchase — in addition to PPE — iPads for making video calls with patients' family members.
He recalls one patient's family in particular: "They were spread from Texas to Arkansas, some in Georgia, South Carolina — I think we had about 12 or 15 family members on the iPad at one time so she could tell them what she wanted. 
"Most importantly, she was able to tell them goodbye, even though they were all spread out across the country."
Healing the healers
As a beacon of spiritual and emotional support, Runyon also spends significant time with frontline hospital workers.
"You really go into a mode of just surviving every day," he says. "We spend a lot of time talking and crying and just being there for each other."
Luckily, Runyon says, Phoebe hasn't run out of masks during the pandemic — and its workforce has never lost hope, thanks in part to support like that of Truist Cares.*
"Getting a donation like this just means that there are human beings behind the name who care; they care what happens to the people who come to the hospital, the people who work at the hospital," Runyon says. "The fact is, we wouldn't be able to do what we do to this extent without that kind of help and support." 
Truist is proud to be a part of resilient communities that motivate us to build better lives every day. Seeing how our community partners have stepped up in the face of COVID-19 inspired us to form the Truist Cares* initiative, a $50 million commitment to help support youth, seniors, the workforce, small businesses, and increased connectivity. For more stories about the work our partners are doing, visit truist.com/truistcares
*About Truist Cares: Truist Cares is a cooperative effort between Truist Financial Corporation; Truist Foundation, Inc.; and Truist Charitable Fund to provide communities, organizations, and individuals disaster relief and assistance during the COVID-19 crisis.
About Truist
Truist Financial Corporation is a purpose-driven financial services company committed to inspire and build better lives and communities. With 275 years of combined BB&T and SunTrust history, Truist serves approximately 12 million households with leading market share in many high-growth markets in the country. The company offers a wide range of services including retail, small business, and commercial banking; asset management; capital markets; commercial real estate; corporate and institutional banking; insurance; mortgage; payments; specialized lending; and wealth management. Headquartered in Charlotte, North Carolina, Truist is the sixth-largest commercial bank in the U.S. with total assets of $504 billion as of June 30, 2020. Truist Bank, Member FDIC. Learn more at Truist.com.