The Power of One: Tis the Season to Mentor Youth & Spark STEM Passion
by Jessica Anderson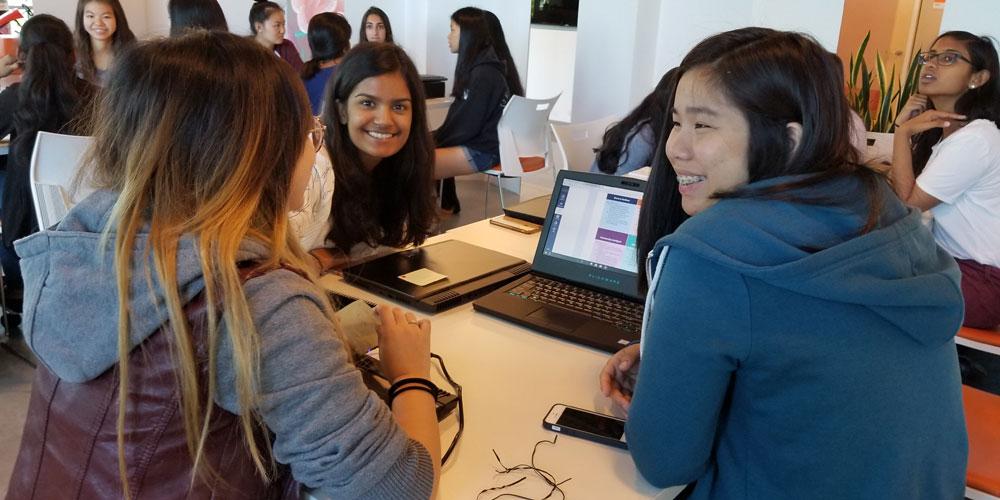 Originally published on Direct2Dell
Each week, 13-year-old Jailimar spends a few hours with her Girls Who Code team to learn the finesse of coding.
There is such a thing, she explains. By building her own website – one that can teach you how to cook – she is gaining the skills to work through coding kinks.
"You encounter a lot of problems in coding, but you have to work through it – so that helps with problem-solving in other subjects," she says. "For my website, we were having trouble finding the right tag to align the picture correctly, so our mentors helped us figure that out. It's fun to eventually get it right."
Jailimar is a great spokesperson for the things that make coding cool – and the value of Science, Technology, Engineering, and Math (STEM) mentors!
She participates in the free after-school club offered by Girls Who Code (GWC) for 6th- to 8th-grade girls – this one offered at Worcester Polytechnic Institute (WPI) in Worcester, Massachusetts. In a few weeks, Jailimar and her team will share their completed websites with their families to celebrate the completion of their GWC projects.
Emily Stiles, a senior analyst on the Dell Data Sciences team will be there to celebrate, too. Stiles has been mentoring Jailimar and other program participants for the past several months by attending their weekly sessions. A number of Dell professionals mentor with GWC, as part of the WPI-based program and elsewhere.
This is Stiles' first volunteer gig since joining Dell four months ago. Dell promotes skills-based volunteering to Dell team members by connecting them with organizations in need of their unique skills.
A typical volunteer session for Stiles involves helping the girls to reason through their ideas and figure out how to translate them into a language the computer can understand. At the end, a quick 'stand-up' meeting encourages each girl to talk about what they were able to achieve. This is when frustrations are shared – and ideas are bounced around.
Stiles says coding often involves working with a team. Her job at Dell taps into her expertise to perform advanced analyses on the many different kinds of data Dell collects. That data can reveal things like how our Dell technology is performing. Coding is the tool to mine the data. But like the young girls she has met, Stiles came into her computer science education with no previous experience.
"My first course showed me that anyone with a computer and a desire to learn could code. When the opportunity arose to volunteer, I thought it was a great chance to ignite the spark for learning code in young girls who might not realize it is even a possibility," Stiles explains.
Stiles helps guide conversations with the girls around how computer science drives the technological and data-driven world we live in. It's clear these talks resonate with Jailimar, an 8th grader. She points out how doctors rely on technology throughout their days now – and how that technology relies on coding. And, how coding will continue to grow in importance given technology's increasing role in our lives.
Very intuitive. Given her point, it's little surprise that there's been such a push to educate more people – especially girls and people of color – in Computer Science and programming. The IT sector continues to be a growing place to find a job. Even for those who don't plan to become programmers, understanding code is like understanding a popular language – it's at the center of how we communicate in this digital world!
Still, as Stiles points out, computer sciences and coding are intimidating to some. This is where the power of mentorship comes in.
"I think it's important now more than ever for STEM professionals to pass their knowledge and love for coding onto the next generation through mentoring," Stiles says. "When kids see how passionate we are about coding, they become passionate about it too."
The future belongs to those who can build digital technologies — and those who can use them to solve problems. We need everyone's participation. We're challenging team members, partners & leaders to spend 1 hour with a girl talking about careers in technology. Do they know technology is the backbone of business today? Are they aware of technology's role transforming industries & addressing society's biggest challenges? Start the conversation. Ignite change.
"I am trying to find things that will help them in the future. I feel as a mother I want to make sure my daughters understand they can be whatever they want to be, even in a male-dominated industry and I'm glad GWC is advocating for more women in tech," Yolimar says.
And this is where I'll make my own plug. Many nonprofits like GWC are in need of volunteers with the professional skills our team members possess, such as translation, marketing or IT training. So in recognition of the Hour of Code initiative, we're rallying behind our Dell Power of One Mentor Challenge to encourage anyone – including our employees – to spend one hour with one young person and talk to them about what it's like to have a career in STEM and why they should consider it. See what kind of spark you can ignite!
Find out more about Dell's efforts to involve girls and women in STEM fields.
This article shares one example of how Dell is committed to driving human progress by putting our technology and expertise to work where it can do the most good for people and the planet.  We call this our Legacy of Good.
Explore our FY17 Annual update on our 2020 Legacy of Good Plan at legacyodgood.dell.com.