Positive Impact Launch White Paper Demonstrating How The United Nations Sustainable Development Goals are a Business Opportunity for the Global Event Industry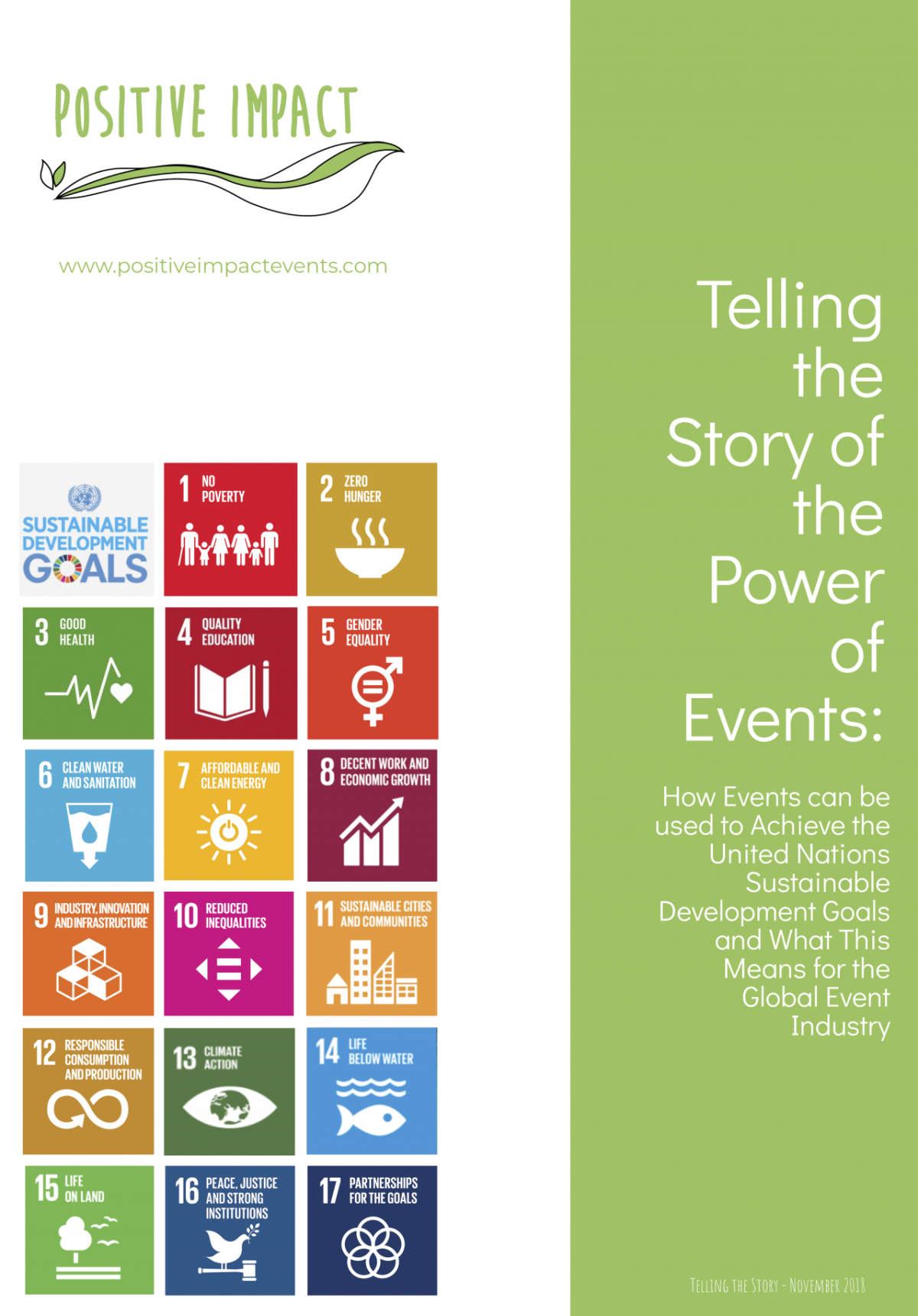 December 17, 2018 /3BL Media/ - Four United Nations staff attended this year's IBTM World, in what is believed to be an industry first, to engage with the global event industry as events are increasingly recognised as a route to achieving the United Nations Sustainable Development Goals.
Dennis Winkler from UNFCCC commented "I was happy to be attending IBTM for the first time this year. It was a good opportunity to see and hear what is happening throughout the industry and exchange good practice for the sustainable organisation of conferences'.
Following on from the 2017 white paper to support the United Nations Year of Sustainable Tourism, Positive Impact launched an annual white paper, sponsored by IBTM World to further the conversation of how strategically impactful the event industry could be.
Highlights from the white paper include:
The prediction that in 2019 that plastic, legacy, measurement and circular economy will become buzz words for the industry.
10 opportunities for anyone to collaborate and take action, including using materials created with support from SITE Foundation which will help any event professionals to map their own sustainability journey.
The white paper also signposts to practical action the industry can be taking. For example any examples of best practice sustainability initiatives shared on social media using #shareapositiveimpact will be filed in an online library of examples of how events can be used to achieve the United Nations Sustainable Development Goals.
Fiona Pelham CEO of Positive Impact explained 'the more examples of events creating a legacy the stronger the business case for business' to increase the role of events in their business strategy'.
Portfolio Director Shane Hannam said 'This year IBTM World went beyond providing education on sustainability, we connected sustainability leaders with our industry, supported our exhibitors with tools to measure their impact and continued to collaborate with Positive Impact to provide industry thought leadership'.
Throughout IBTM World education sessions and meet ups in the sustainability area gave attendees the opportunity to act. For example attendees shared their ideas on how to address the role of plastic in the event industry as part of research for a significant campaign to address plastic waste supported by Monterey County Convention and Visitors Bureau.
To receive a copy of the report, please visit:
https://www.positiveimpactevents.com/positive-impact-ibtm-world/
For all media enquiries, additional comment and request for interview please contact:
Bev Ridyard, Head of Marketing and Culture bev@positive-impact-events.com Tel 07525 135 420
About Positive Impact
Positive Impact is a not for profit launched in 2004 to create a sustainable event industry and tell the story of the power of events. Positive Impact provides education and collaboration opportunities and has over 300 volunteer ambassadors, various annual best practice sharing campaigns including #CSRshareDay which reaches over 1.6 million people and a recently launched World Peace Day.