Pioneering the Use of Closed-Loop Recycled Gold in Our Products
Pioneering the Use of Closed-Loop Recycled Gold in Our Products
Dell expands its closed-loop recycling program from plastics to now include precious metals, keeping these valuable materials out of landfills and in the economy.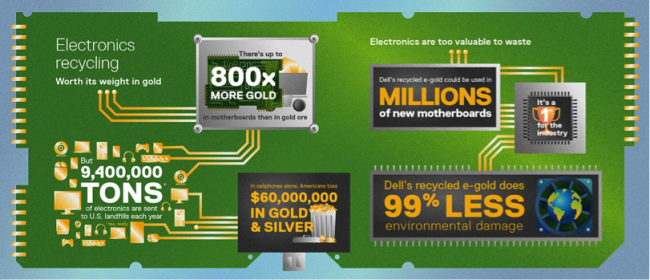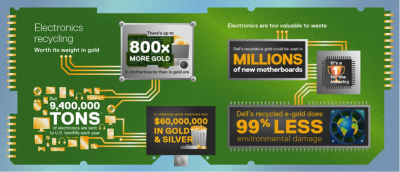 Tuesday, July 10, 2018 - 12:55pm
The world's middle class is projected to grow from today's population of more than 3 billion to over 5 billion by 2030. While moving families out of poverty is a boon to their health and prosperity, increased demand for consumer goods threatens to strain our world's natural resources.
That's why Dell is finding new ways to move toward a circular economic model. A circular economy keeps materials in use for as long as possible — maximizing their value and reducing waste — in contrast to the "take, make and dispose" cycle of the traditional linear economy. As we design our products, packaging and operational processes, we continually look for opportunities to use recovered materials instead of raw materials. Going a step further, we also look for opportunities to "close the loop" by recycling materials from end-of-life electronics into new Dell products.
In FY18, Dell became the first PC manufacturer to use recycled gold from e-waste in its products. We debuted this in the Dell Latitude™ 5285 2-in-1 at the Consumer Electronics Show in January 2018, and these units will be shipping to customers in the second quarter of FY19. We are exploring options to expand the use of closed-loop gold in other parts of our portfolio.
Gold is the latest addition to our portfolio of reclaimed, recycled-content and closed-loop materials used in Dell products. We have used recycled-content plastic in various displays and OptiPlex desktops since 2008, and in 2014 we pioneered the use of closed-loop plasticsfrom our e-waste recycling streams. In FY18, we also launched production of a closed-loop polycarbonate/acrylonitrile butadiene styrene (PC/ABS) in an EMC storage product. In addition to these materials, we have incorporated reclaimed carbon fiber from the aerospace industry, repurposing it into select laptop designs. These efforts all support our 2020 Legacy of Good goal to use 100 million pounds of recycled-content plastic and other sustainable materials in our products.
We chose to work with gold because tiny gold electronic components add up to a surprisingly big impact. In the U.S. alone, consumers throw away $60 million in gold and silver annually by not recycling their phones. This treasure trove is even larger when considering that global e-waste recycling rates are still at about 15 percent. What's more, the gold recycling process we use in our supply chain does 99 percent less environmental damage than virgin mining operations.
Electronics recycling: Worth its weight in gold
That is one of the reasons we are also keen to encourage more technology recycling. After we harvest our recycling stream for electronics that can be refurbished or stripped for parts, we "mine" the remaining e-waste for gold the same way we mine for closed-loop plastics. At present, these materials are collected from Dell's North American recycling streams through our commercial Asset Resale and Recycling Services program and through our Dell Reconnect partnership with Goodwill, which enables consumers to take their used computers and electronics to more than 2,000 U.S. Goodwill locations for recycling.
Additionally, we partnered with actress, activist and entrepreneur Nikki Reed to raise awareness of the importance of recycling old technology. To help demonstrate why these materials should be kept in the economy rather than sent to landfills, Nikki and her company, BaYou with Love, developed the Circular Collection, a jewelry line made from a portion of the gold recovered from Dell's recycling program.
This story shares one example of how Dell is committed to driving human progress by putting our technology and expertise to work where it can do the most good for people and the planet.
Explore more at legacyofgood.dell.com.