NRG Energy INFOGRAPHIC | 2017 Sustainability Achievements At-A-Glance
NRG Energy INFOGRAPHIC | 2017 Sustainability Achievements At-A-Glance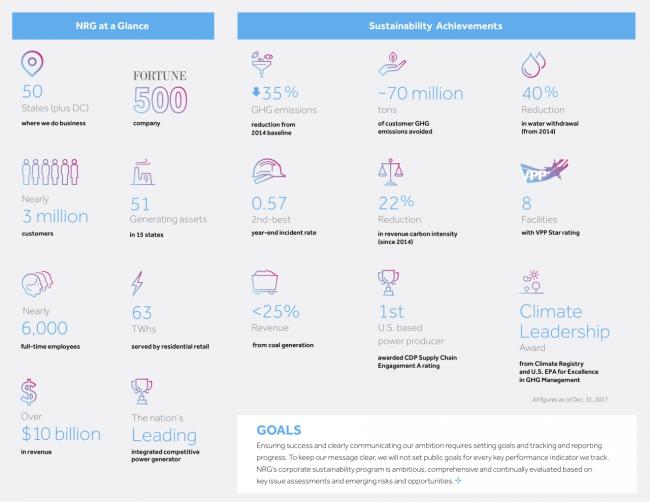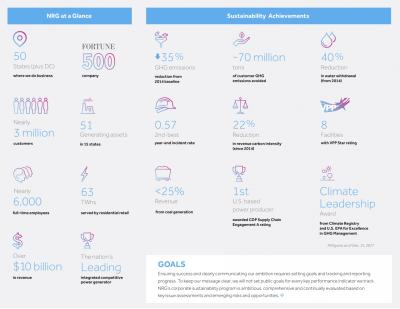 Wednesday, June 27, 2018 - 8:30am
Sustainability is at the heart of NRG's mission. It is a business opportunity to meet evolving market demands in a rapidly changing industry. Our sustainability efforts focus on driving business results, reducing risk and enhancing our brand value. To help create a sustainable energy future, we prioritize our work into five key pillars:
Sustainable Business
 
Sustainable Customers
 
Sustainable Suppliers
 
Sustainable Operations
 
Sustainable Workplace
Our sustainability efforts closely align with our business lines and are organized with cross-functional engagement and strong governance. Each pillar comprises business activities that create value for NRG and its stakeholders.
We are committed to positively affecting our communities and reducing the environmental footprint of our fleet while ensuring long-term competitiveness. That includes providing sustainable energy solutions to businesses and residential customers, retrofitting existing plants with environmental controls, executing coal-to-gas conversions and evaluating carbon capture technologies. Most importantly, we maintain an unwavering commitment to safety and reliability.