NRG and Goldman Sachs Come Together to Inspire the Next Generation at the Goldman Sachs Local College Collaborative
NRG and Goldman Sachs Come Together to Inspire the Next Generation at the Goldman Sachs Local College Collaborative
Empowering investment in the next generation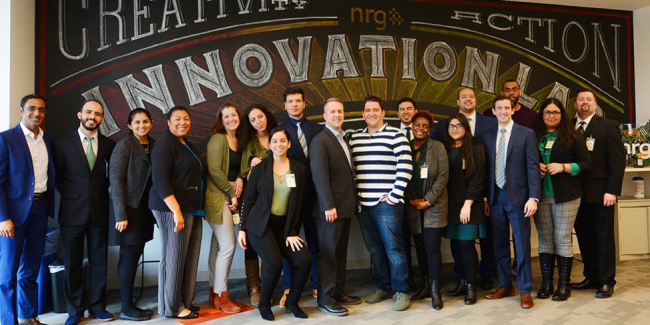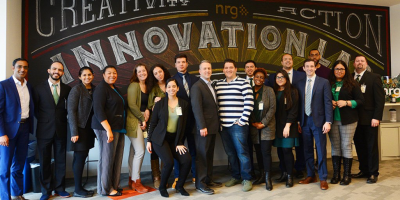 Monday, May 6, 2019 - 9:30am
At NRG, we believe empowering future generations for success is the most rewarding investment an organization can make. That's why we are honored to work with our distributed customer, Goldman Sachs, on their third annual Local College Collaborative program.
Goldman Sachs and faculty from participating schools started the Local College Collaborative in 2016 to provide students in their surrounding community broad-based leadership and career-readiness training. The curriculum was created internally and inspired by Goldman Sachs' commitment to support local students and schools while assisting with workforce development. Each year, Goldman Sachs selects a total of 40 students from the Borough of Manhattan Community College, Hudson County Community College, New Jersey City University and St. Peter's University to participate in the program. 
The main deliverable of the program tasks participating students with developing solutions to case studies proposed by a preassigned partner company ranging from issues pertaining to financial analysis, market segmentation, sustainability considerations and more. To expose students to diverse perspectives and develop the soft skills necessary to begin any career, the curriculum also hosts a speaker series for students to hear from Goldman Sachs executives on topics such as bringing your authentic self to work, effective networking, career exploration and public speaking.
"The Local College Collaborative program is an innovative approach to workforce development that pairs high-potential, local students with Goldman Sachs employees who volunteer as their coaches. The unique perspectives of our working professionals challenge students to explore future career paths, work collaboratively, refine essential workplace skills and become more competitive candidates in the job market. It is thanks to NRG and the incredible companies we partner with each year that we can provide students and our employees with this kind of thoughtful experiential learning," said Eric Ragone, Environmental, Social and Governance analyst at Goldman Sachs and Program Lead for the Local College Collaborative. 
On March 15, volunteer Goldman Sachs coaches and students from Hudson County Community College (HCCC) used their collective energy towards addressing a challenge posed by NRG: increasing awareness about consumer choice in competitive northeast markets. Before the presentation, NRG hosted the team at our headquarters in Princeton, New Jersey to do a site tour of our LEED Platinum Certified building, and receive real-world advice on growing their careers from NRG leadership. 
"Get out there, get real-world experience. Engage in co-op programs, be sure to network. It's a smaller world than you think, folks you come into contact with through school, past employment, or through your own personal social network – that network that you build is something that throughout your career, in the beginning and in later stages, is invaluable for you to tap into – not just to continue to grow, but to also find future opportunity," said Jarred Finamore, Sr. Manager Human Resources.   
After receiving real-world feedback, the team comprised of four Goldman Sachs volunteer coaches and nine students from HCCC presented their initial findings on NE Competitive Markets and engaged in a spirited Q + A with our leadership teams on how to make their case challenge solution even better for their final presentation in May. 
"I was really impressed with the ideas brought to the table by the entire Hudson County Community College team. They really took their time to research the energy landscape and had great recommendations on channels that NRG could consider in the future to best communicate," said Stephanie Baldean, Sr. Manager Channel Marketing East Retail. 
On May 3, the program will conclude with a final presentation, where students showcase their case study and findings to an audience of Goldman Sachs executives.  We're really looking forward to the presentations and final ideas to come.
"Keeping NRG's power values of customer-focus and collaboration in mind, we're excited for another opportunity to partner with Goldman Sachs and Hudson County Community College on May 3rd in NYC.  The HCCC students displayed an inquisitive approach to their initial presentation – we expect them to flourish during their final showcase," said Matt Orlando, Human Resources.
Photoraphy by Samantha Mae Sweeney