National Geographic Hosts 'Evening of Exploration' Gala in London, Highlighting Commitment to Exploration in Europe and Africa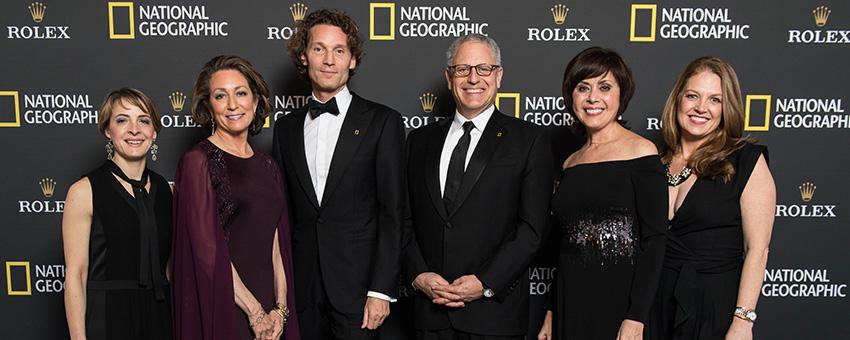 21st Century Fox Social Impact
National Geographic recently hosted an "Evening of Exploration" at the Natural History Museum in London, the biggest event the organization has ever held in Europe. The gala was an opportunity to celebrate National Geographic's 130 years of groundbreaking storytelling with National Geographic Explorers, National Geographic leaders, and luminaries from across Europe and Africa.
"Understanding and informing our world has been at the heart of National Geographic since our founding in 1888 when 33 of Washington, D.C.'s, top scientific and intellectual leaders — many the millennials of their time — joined forces to increase and diffuse geographic knowledge," said Gary Knell, President and CEO of the National Geographic Society, in his opening remarks. He recounted National Geographic's history of focusing on exploring, educating and inspiring, in addition to funding many explorers and advocates.
"Today we continue to support scientists, explorers and storytellers all over the globe, and we work each and every day to shine a spotlight on the challenges facing our planet using the global presence of our media megaphone to tell the stories of the courageous men and women trying to protect our natural world," Gary added. National Geographic has funded hundreds of explorers across Europe and Africa and continues to look for opportunities to invest in new explorers and grantees in the region.
Dr. Enric Sala, National Geographic Explorer in Residence; Adjany Costa, National Geographic Emerging Explorer; and Charlie Hamilton James, one of National Geographic's most prominent photographers, spoke about the importance of pushing toward a healthier and more sustainable future. Dr. Jane Goodall, founder of the Jane Goodall Institute and U.N. Messenger of Peace, was the keynote speaker for the evening.
The gala dinner was co-hosted by physicist and National Geographic Magazine Guest Editor Dr. Brian Cox, and actress and campaigner Joanna Lumley. Guests from National Geographic included Gary Knell, CEO of the National Geographic Society; Declan Moore, CEO of National Geographic Partners; Jan Koeppen, President of Fox Networks Group, Europe & Africa; and Jonathan Baillie, Chief Scientist and SVP of Global Grants, along with senior platform, brand and institutional partners from across Europe & Africa.
Other guests included actress, environmentalist and fellow National Geographic Magazine Guest Editor for 2018 Lily Cole; actress, producer and National Geographic Magazine Guest Editor for 2018 Archie Panjabi; director of the Tate and National Geographic Guest Editor for 2018 Dr. Maria Balshaw; Brett Morgen, director of "Jane"; and Bryan Burk, producer of "Jane"; Sarah Sands, Editor of "The Today Programme" on BBC Radio 4; Tina Daheley, journalist and presenter for the BBC; Jo Coburn, senior broadcast journalist and host of BBC News Channel's "The Daily Politics" show; Siobhan Kennedy, Business Editor for Channel 4 News; Christiane Amanpour, Chief International Correspondent for CNN; John Ryley, Head of Sky News; Ian King, Business Correspondent for Sky News; and theater producer Sally Greene.
National Geographic Partners returns 27 percent of its proceeds to the nonprofit National Geographic Society to fund work in science, exploration, conservation and education. The Society now has an endowment of $1.2 billion, and in 2017 it funded more than 600 grants to cover the fields of education, technology, journalism, photography and mapping.
"We have the people, the tenacity, and the organization to push forward, to advance the world's science and research, to tell stories that build awareness and spur action, to educate and to inspire change," Gary told the evening's guests. If we work together we can and we will achieve our ultimate goal: a planet in balance."