Monsanto Makes the Adoption Experience Easier for Employees
Dave Thomas Foundation for Adoption ranks Top 100 employers annually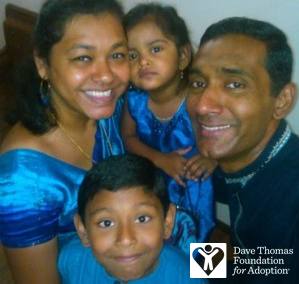 Each year the Dave Thomas Foundation for Adoption ranks the nation's Top 100 Best Adoption-Friendly Workplaces.
Throughout November, National Adoption Month, we are sharing the adoption stories from our top adoption-friendly partners. This year Monsanto was 71st on the list and shared one employee's adoption journey.
Anik is a scientist for Monsanto and told the Foundation that Monsanto's benefits made the entire journey easier.
"Adoption can be an emotionally stressful journey. Our experience was made much easier thanks to the support I received from my manager and colleagues at Monsanto. When we brought our daughter home, not only was I able to take paternity leave, but I was encouraged to take time off to spend with the family and bond with her. Monsanto provides the same benefits to both our children, adopted and biological, and I am thankful to my colleagues and team who were there to support me all the way."
The Dave Thomas Foundation for Adoption is committed to dramatically increasing the number of adoptions from foster care. However, the Top 100 Best Adoption-Workplace survey recognizes employers who offer benefits for any type of adoption. To view the entire list of Top 100 Best Adoption-Friendly Workplaces, visit www.adoptionfriendlyworkplace.org
If you'd like to submit your employer for the 2018 list, email info@davethomasfoundation.org and request to be put on the mailing list. The 2018 survey opens in January.