Medtronic: Karen Parkhill on Empowering Women, Business Transformation
Medtronic achieved 100% gender and ethnically diverse pay equity in the aggregate in the U.S., 99% globally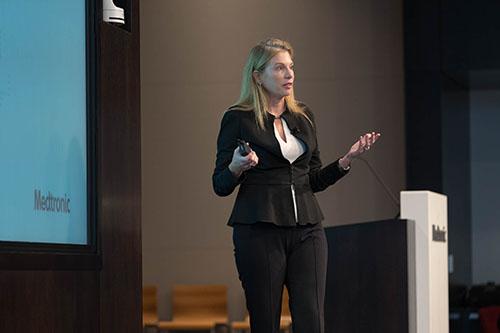 In her six years as chief financial officer at Medtronic, Karen Parkhill has helped advance women's representation at all levels of the company.
She's proud of the progress. As of 2022, women make up 51% of Medtronic employees, 43% of managers and above, and 36% of its board of directors.
But for Parkhill, that's still not enough.
"The medical device industry has many great women in senior levels, but we need more," she said in a recent episode of the MedtronicTalks podcast. "Where women lead, the world is better off."
For Parkhill, those words are at the heart of her personal focus on mentoring and developing a rising number of women executives. Her commitment to inclusion, diversity, and equity led her to support the company's international pay equity efforts and Medtronic has achieved 100% gender and ethnically diverse pay equity in the aggregate in the U.S. and 99% globally. She also serves as the Executive Sponsor of the Medtronic Women's Network's hub for women vice presidents as well as Executive Sponsor of the Medtronic PRIDE Network for LGBTQ+ employees and allies.
Parkhill began her career at JP Morgan in investment banking and rose to CFO of its commercial banking business.  She went on to become vice chairman and CFO at Comerica, before stepping into the healthcare technology industry as CFO at Medtronic, where she's helped to drive transformation across both the finance function and the company.
"It wasn't daunting to me to learn a new industry, but it was my next, new challenge," said Parkhill, adding that the company's higher purpose to help patients provided the real appeal of joining Medtronic. "What we do to alleviate pain, restore health, and extend lives really does change lives."
Hear more from Karen Parkhill about her observations of the MedTech industry, the progress Medtronic has made, and what she expects from the future in this episode of the MedtronicTalks Podcast. And learn more about the company's efforts to remove barriers and shape equitable outcomes in the Global Inclusion, Diversity & Equity 2022 Annual Report.