Mayor Cantrell Welcomed the Johnson & Johnson Global Pro Bono Team to New Orleans
Mayor Cantrell Welcomed the Johnson & Johnson Global Pro Bono Team to New Orleans
Johnson & Johnson, in Partnership With Pyxera Global, Launches Its Third Global Pro Bono Year With the New Orleans Mayor Engaged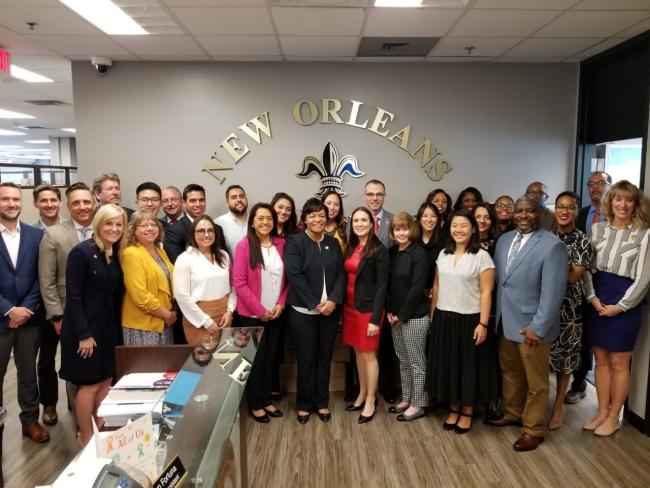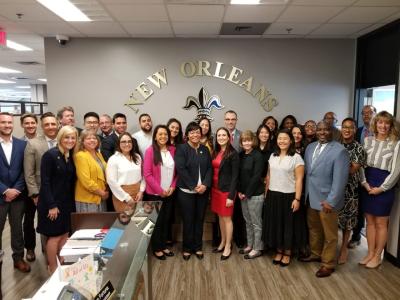 Tuesday, April 30, 2019 - 9:05am
April 30, 2019 /3BL Media/ — The Mayor of New Orleans, LaToya Cantrell, welcomed the Johnson & Johnson Global Pro Bono team to New Orleans for the program's official kickoff event at City Hall on April 29. Johnson & Johnson has designed its Global Pro Bono program in collaboration with PYXERA Global to tackle healthcare and community issues by harnessing the power of its most powerful resource—its people. The mayor's attendance shows that the city believes cross-sector partnerships are needed to improve the lives of the citizens of New Orleans.
The 12-person cohort will engage the skills of employees from Brazil, Colombia, USA, and Canada. The teams will work for four weeks with four organizations in the New Orleans area: CresentCare to align key initiatives with the strategic vision of the organization for maximum community impact; Priority Health Care to create a strong marketing strategy in order to support customer acquisition; the City of New Orleans to identify effective and efficient processes to improve operations; and lastly, with SBP to develop a performance management program that will better hire, train, and retain a diverse workforce. 
"This program design is impactful because of the triple benefit. For participants, it's an unparalleled global leadership development opportunity.  For the non-profits that host, it's expertise (through consulting) that would otherwise be unavailable to them. For the companies who participate, it's insight into new markets, developing authentic reputations in CSR, and a powerful way to engage and develop employees, all while including diversity and inclusion in the new economy," said Gavin Cepelak, Vice President of Global Pro Bono at PYXERA Global.
This is the third year for the Johnson & Johnson Global Pro Bono program. The New Orleans team is the first, however, to be held in the Continental USA.  In addition to the New Orleans team, Johnson & Johnson will send two additional teams – to Antigua, Guatemala and Buenos Aires, Argentina, respectively – later this year. The program aims to enable good health, which is the foundation of vibrant lives, thriving communities, and forward progress.
###
About PYXERA Global (@PYXERAGlobal)
For nearly 30 years, PYXERA Global has leveraged the unique strengths of corporations, governments, and social sector organizations to solve complex problems, on the ground, and attain mutually beneficial goals. Initiatives include a wide range of services, from short term immersive skills-based volunteering to long-term integrated supply chain and community development efforts that transform lives and livelihoods, including the Corporate Champions for Education, a collaborative, multi-company approach to global pro bono. The PYXERA Global team is passionate and dedicated to navigating challenges and pinpointing purposeful global engagement opportunities for its clients and partners.