Lessons Learned on the Path to Sustainable Urban Logistics
Major European cities have become a testing ground for the next phase of city delivery.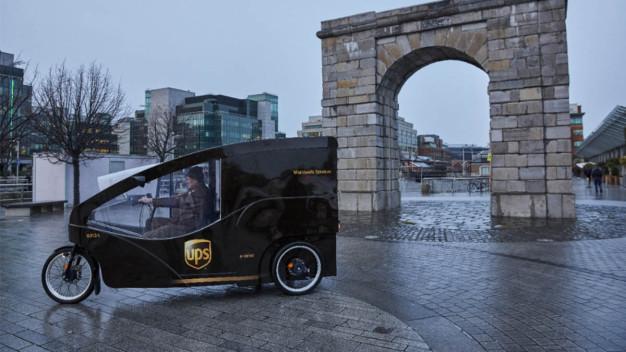 Crystal Lassiter | UPS 
UPS Chief Information and Engineering Officer Juan Perez is leading transformation on
the future of our network
– how we are integrating technology to connect the facilities, fleet, drivers and information systems fueling a more sustainable global network.
From disrupting our industry – and ourselves – with our new technologies to overhauling our approach to city delivery, there's much to discuss in this period of transformation.
I recently took a trip to Europe to demonstrate how strategic leadership prompts tactical changes in day-to-day actions. I visited Munich and London, two classic cities with bold sustainability campaigns – and pressures – to cut emissions, congestion and pollution.
With urban populations and global reliance on e-commerce surging, now is the time for bold action. The United Nations estimates that two-thirds of the world's population will live in cities by 2050.
To help mitigate quality-of-life challenges, more cities are introducing regulations requiring new models of transport such as pedestrian-only or reduced-emissions zones, which is yet another test for how logistics providers move goods in and out of urban areas.
For example, London's ultra-low emission zones, once implemented in 2019, will charge a daily fee to encourage drivers of high-polluting vehicles to switch to a lower-emission alternative.
During my trip to Europe, I saw first-hand how our fleet is evolving and embracing these measures to meet customers' logistics needs.
Schnitzel and solutions
My first stop was in Munich, where – after sampling the schnitzel – I toured the UPS Eco Hubs, essentially mini distribution centers in the city center. The three Eco Hubs are loaded with the day's packages then dropped off in a central location in the city. UPS drivers then deliver from the container using electrically assisted cargo bicycles to make zero-emissions deliveries – and with much less noise.
We pioneered this model in Hamburg when the city approached us for logistics solutions that would work in the city's pedestrian-only zones. In collaboration with the city and the local retailer association, we piloted this program in 2012 and have since replicated the model in other cities across Europe and most recently in Dublin.
It didn't take long in Munich to see the benefits of a system designed to respond to the demands of e-commerce. It was faster, more efficient and more in sync with the businesses and residents who call Munich home.
After Munich, I traveled to London. Sadly, I missed the Royal Wedding. But I did see another marvel: smart-grid and energy-storage solutions for electric vehicles in our Central London center (it received slightly less press coverage).
While electric vehicles have many advantages, charging them has been a challenge. There are limits on the amount you can charge at once on an electric grid, and it's expensive to upgrade electrical infrastructure.
These challenges didn't deter our partners in London. We reached out and formed a consortium with UK Power Networks and Cross River Partnership to design a solution.
Together we came up with a radical new charging technology that expands our electric fleet without upgrading the electrical grid.
Powering new innovations
The new technology helps us route power to charge vehicles based on demand needs of the facility, enabling us to continue to work toward our first all-electric city fleet.
Removing the power constraint is also allowing us to invest in new electric-based technologies. In London, that means engaging with the Low Impact City Logistics Project for electrically assisted deliveries by bicycle and on foot.
This project is part of a £10 million investment by Innovate UK into improving the delivery experience. Together with Fernhay, Skotkonung, and the University of Huddersfield, we are piloting the use of electrically powered trailers, which carry up to 200 kilograms when attached to a bicycle.
Crowdsourcing progress
During my travels, I met city partners, vehicle vendors and UPSers on the ground driving change.
It reminded me that cities and UPSers are confronting the same challenges. We also share the same goals: reducing urban congestion and pollution, promoting efficient logistics and enhancing quality of life for those we serve.
While there is no silver-bullet solution to every issue, we're committed to working with all stakeholders to test new solutions, scale what works and learn from what doesn't.
That is how we get closer to truly sustainable urban logistics.