Leading the Way to a Brighter Future, Coast to Coast
Leading the Way to a Brighter Future, Coast to Coast
PNC's 2021 Corporate Responsibility Report illustrates how the financial services institution creates positive social and environmental impact and delivers on its commitments to stakeholders.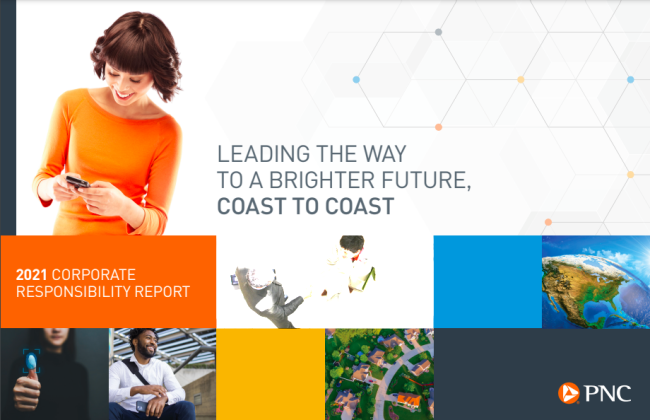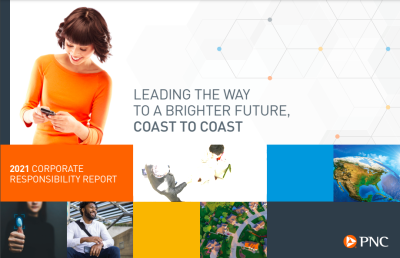 Thursday, June 23, 2022 - 9:15am
As a Main Street Bank, PNC is committed to delivering on each of our strategic priorities while looking out for the best interests of all of our stakeholders, including our customers, communities, employees and shareholders. We believe that our success will be proportional to the prosperity we help to create for each of these stakeholders. This belief, along with our corporate values, shapes how we do business.
The 2021 Corporate Responsibility report tells you more about how we do business. In our sixth year of reporting, we want to share how PNC continues to progress with our evolving corporate responsibility commitments year after year, and strives to meet the needs of an increasingly diverse set of stakeholders from coast to coast.
"This really is our PNC story," said Richard K. Bynum, chief corporate responsibility officer. "Our commitment to creating a positive, lasting impact for all of our stakeholders is interwoven into how we operate as a business. It's in every part of how we show up for work each day, how we function, and how we engage with each other and our customers, communities and shareholders."
The report outlines how we manage our business responsibly — with integrity, transparency and accountability. Learn how we deliver for our stakeholders, from promoting financial access to bringing our $88B Community Benefits Plan to life to bolster economic opportunity across our markets. And find out how we strive to be good stewards of the environment through activities such as our "4+1" Climate Action Strategy that's designed to set us on a pathway to finance the transition to a low-carbon economy.
"In any story you read about what PNC is doing, ESG — environmental, social and governance – might not be front and center, but it's an inseparable part of it," said Lora Phillips, director of ESG for the Corporate Responsibility Group.
"It's how we build a talent-focused culture full of opportunities for our employees, how we strengthen our communities, how we deliver exceptional customer experiences, and how we strive to put doing what's right ahead of anything else. That's how we earn our stakeholders' trust, and how we differentiate ourselves in the marketplace."
PNC's ESG practice helps to bring the right teams together within PNC to tackle meaningful issues from a cross-functional and enterprise perspective. The team advocates for ways the bank can apply its resources effectively and collaboratively, helps coach the business on setting public goals and commitments, and provides a framework for telling our story in a way that is holistic and focused on driving improvement year-over-year. The team also works to manage and understand stakeholder expectations.
Read about the progress we have made on our ESG priorities and targets, and the goals we've set for 2022 and beyond.