LBG Canada Data Stories: Corporate Community Investment Has Economic Impact (Part 2)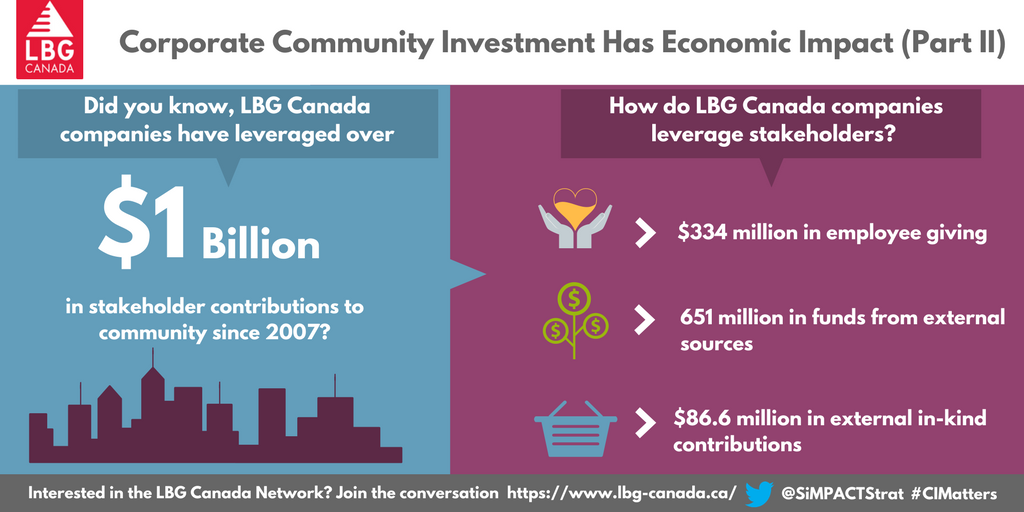 Corporate Community Investment Has Economic (Part 2)
Did you know that LBG Canada companies have leveraged over $1 Billion in stakeholder contributions to community since 2007?
So, how do LBG Canada companies leverage stakeholders?
$334 million in employee giving
$651 million in funds from external sources
$86.6 million in external in-kind contributions
To learn more, please visit: https://www.lbg-canada.ca/blog/2018/01/24/corporate-community-investment-has-economic-impact-part-2/
About LBG Canada
LBG Canada is a network of corporate community investment professionals from many of Canada's leading companies, who work together to apply, develop and enhance the use of the LBG Model and measurement framework in Canada. Participation in LBG Canada encourages companies to focus on strategy, measurement and reporting to demonstrate the business value achieved through investment in community. LBG Canada is facilitated by SiMPACT Strategy Group.