Kimberly-Clark's Alison Lewis on Resilient Leadership: Cultivate a Growth Mindset and Embrace Intellectual Humility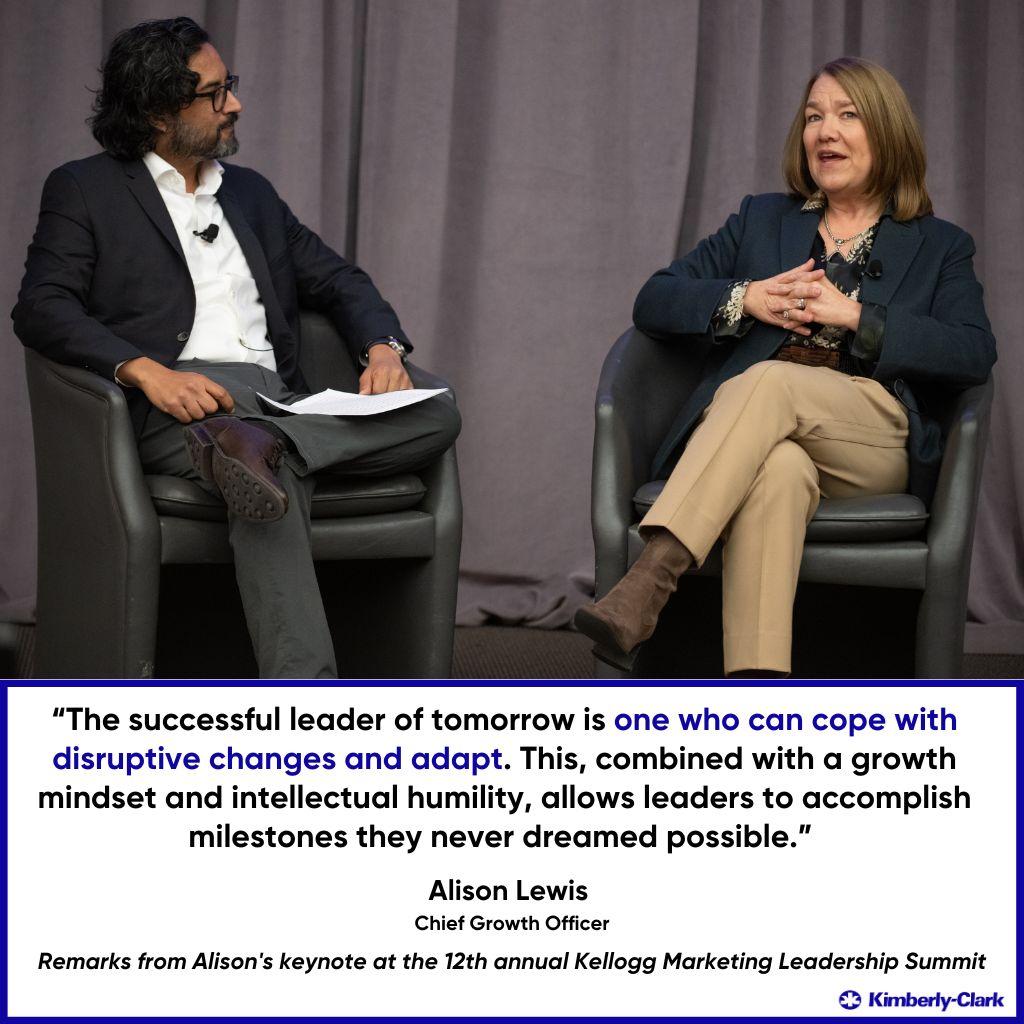 Photo credit: Mary Rafferty
Alison Lewis, Kimberly-Clark's chief growth officer, recently participated in a keynote presentation moderated by Pree Rao from Egon Zehnder at Northwestern University's 12th annual Kellogg Marketing Leadership Summit. During her remarks, she discussed the value of leading with resiliency and authenticity in a volatile, uncertain, complex and ambiguous (VUCA) world.
"The successful leader of tomorrow is one who can cope with disruptive changes and adapt. This, combined with a growth mindset and intellectual humility, allows leaders to accomplish milestones they never dreamed possible," she said.
Alison also shared how Kimberly-Clark emerged stronger from the pandemic through purposeful brand building, the power of saying "I don't know" as a way to expand learning, and the importance of staying close to the consumer while pivoting quickly to stay ahead.

About the Kellogg Marketing Leadership Summit 
Last month, The Kellogg School of Management's Center for Marketing Leadership at Northwestern University, in partnership with Egon Zehnder and McKinsey & Company, convened senior marketing leaders at the Evanston campus of Northwestern University for the 12th annual Kellogg Marketing Leadership Summit.
By invitation only, the summit was an interactive and intimate discussion among renowned faculty and marketers who lead some of the world's most important organizations. The event featured C-suite keynotes, engaging panel sessions and cutting-edge research.
This year's theme was 'R2 – Radical Shifts x Resilient Leadership.' We are facing so many dramatic shifts, including digitization, evolving customer needs, new hybrid working models, the rethinking of supply chains...the list goes on and on. How can marketing leaders respond to these changes? 
At this year's summit, speakers and attendees explored resiliency amid these shifts – for brands, for teams, and for themselves. Together, they explored the ability to bounce back from this complex interplay of challenges, and how they could ultimately grow as leaders.