Kimberly-Clark Asks You to Pause When You Flush This World Toilet Day
by Rishi Dhingra, Kimberly-Clark Global Sector Leader for Family Care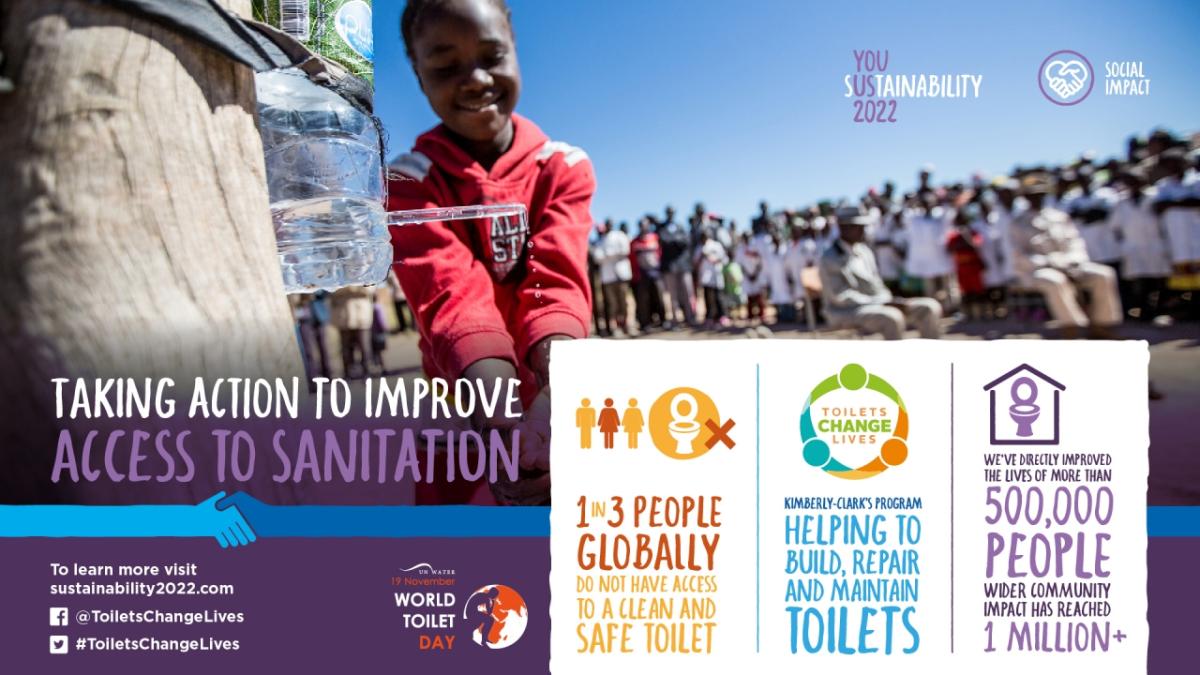 Globally, 1 in 3 people don't have access to a clean and safe toilet according to the World Health Organization. This Sunday, on World Toilet Day, we are encouraging people to pause while they flush and consider how the lack of basic sanitation facilities profoundly affects peoples' lives.
Around the globe, one child dies every two minutes from diseases caused by poor water, sanitation and hygiene. Millions of girls miss school every month because they do not have access to adequate sanitation facilities to manage their periods privately and with dignity. Women and girls often have to wait until dark to defecate and urinate, often in secluded spots, exposing them to risk of violence and attack.
Kimberly-Clark believes that access to sanitation is an essential for a better life and that toilets change lives. Our Toilets Change Lives program, which launched in the U.K. in 2014, has expanded it to involve more than 15 countries around the world. The program, delivered in partnership with organizations such as UNICEF, WaterAid and Water For People, provides funding and expertise to build, repair and maintain toilet infrastructure, along with hygiene education and behavior change programming.
As a global personal care company, we bring decades of experience and expertise in understanding the interconnected issues associated with hygiene, sanitation and water. What we've learned from undertaking the Toilets Change Lives program is that no single entity can solve this issue alone; rather it takes, and will continue to take, true collaboration. What has helped us to scale-up the Toilets Change Lives program is the involvement of our consumers, retail partners, NGOs and employees.
Communities in countries like Angola, Bangladesh, India, South Africa, Brazil, Bolivia, Peru, Guatemala, Honduras and Nicaragua have already benefited through The Toilets Change Lives program. A few examples of the projects include:
In the UK, Spain, Switzerland and The Netherlands, Kimberly-Clark's Andrex, Scottex, Hakle and Page brands are partnering with UNICEF to affect change in Angola. Through its Toilets Change Lives program, Kimberly-Clark is contributing to UNICEF's Water and Sanitation work in Angola. Donations to date have helped over 240,000 people in Angola gain access to sanitation, through efforts to empower communities to build their own clean, safe toilets . By the end of this year, the goal is to help an additional 45,000 people in Angola. Watch the video
The Toilets Change Lives program in the UK has recently expanded to involve WaterAid where work is underway to improve public sanitation in two urban centers in Bangladesh. The public toilets being built and renovated will serve over 100,000 people in the first year. Watch the video
In India, Kimberly-Clark is working with the Charities Aid Foundation to repair and maintain toilets in schools and mobilize children as change agents to bring hygiene education into their families' homes. To date, the program has directly benefited over 30,000 school children and teachers across more than 100 schools, increasing enrollments at some schools by up to 40 percent.
In Latin America, Kimberly-Clark's Scott and Suave brands are partnering with Water For People to bring sanitation services, safe drinking water and/or hygiene education to more than 25,000 people across 32 communities and 21 schools in Bolivia and Peru.  This year, the partnership has expanded into 3 new markets – Guatemala, Honduras and Nicaragua.
We plan to grow this program and involve more people and partners, including our suppliers, as we believe everyone deserves the dignity of a clean and safe toilet.
For more information about Kimberly-Clark's Social Impact goals visit Sustainability2022.com or to learn more about the Toilets Change Lives program visit @ToiletsChangeLives on Facebook.