KeyCorp 2022 ESG Report Highlights Teammate Volunteerism
2023 Neighbors Make The Difference Day To Be Held on Tuesday, June 13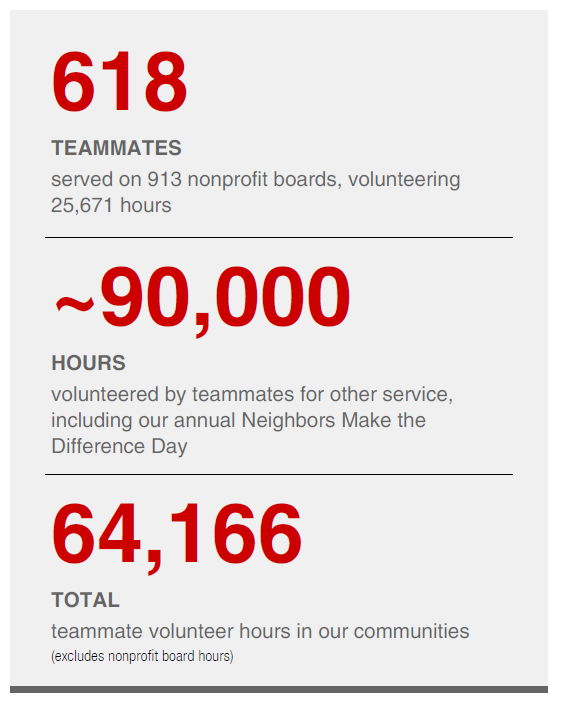 Originally published in Key's 2022 Environmental, Social, and Governance report
Giving back to communities is central to who we are. KeyBank teammates  generously gave their time and talent by serving their neighbors and neighborhoods throughout 2022.
Neighbors Make the Difference Day®
Our annual Neighbors Make the Difference Day – a designated day for employee volunteerism – first launched in 1991. It is the hallmark of Key's commitment to its communities and a leading corporate volunteerism effort in America.
On Tuesday, June 7, 2022, more than 5,000 teammates volunteered in-person and online, with health and safety precautions, in communities for Neighbors Make the Difference Day. Team members completed 554 projects in 348 communities from Maine to Alaska, helping to make our 31st annual day of volunteerism one of our best yet.
Thirty-one years of Neighbors Make the Difference Day success relies on a coordinated and targeted team approach. From a national director to regional site coordinators, there are many partners who coordinate and execute Key's day of volunteerism.
Volunteerism at Key is not limited to one day; our teammates bring our values-forward and purpose-driven culture to life every day in their communities. In large part because of their commitment, Key was named a Civic 50 Financial Sectors leader for volunteerism and civic engagement.
In 2022, our teammates:
Spent nearly 90,000 hours volunteering in their communities, including participating in more than 550 events during our 31st annual Neighbors Make the Difference Day
Served as board members with 913 nonprofits
Contributed more than $4.5 million through the 2022 United Way Campaign and other nonprofit donations, including matching gift donations from Key; special programs in 2022 included support of tragedies in Buffalo and Colorado Springs, the war in Ukraine, and natural disaster relief in Florida and California
To learn more about Key's teammates commitment to volunteerism, read the 2022 Environmental, Social, and Governance Report here.
***
On Tuesday June 13, 2023, thousands of KeyBank teammates across the country will leave their bank offices to volunteer for various local community organizations, projects, and causes for Neighbors Make the Difference Day. 
This year marks the 32nd annual Neighbors Make the Difference Day and is one of KeyBank's most visible community volunteer projects. The number of volunteer hours on June 13 is expected to be more than 16,0000.