Keep Nacogdoches Beautiful Celebrates America Recycles Day with Ribbon Cutting
Keep Nacogdoches Beautiful Celebrates America Recycles Day with Ribbon Cutting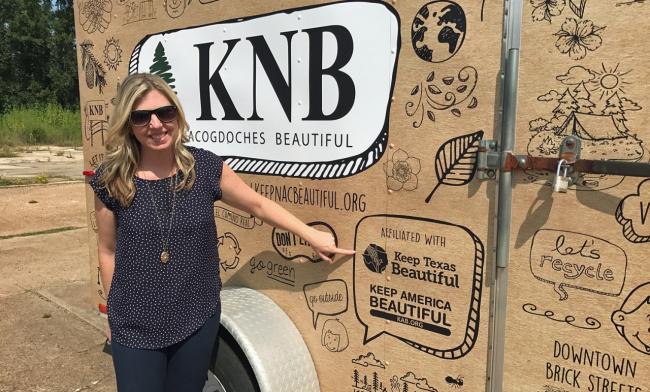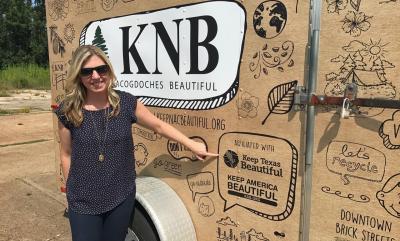 Friday, November 10, 2017 - 4:00pm
Keep Nacogdoches Beautiful celebrated recycling -- and America Recycles Day -- with a Nacogdoches County Chamber of Commerce ribbon-cutting to announce its enhanced electronics recycling trailer.
With help from two local sign makers, Keep Nacogdoches Beautiful (KNB) enhanced its electronics recycling trailer with a decorative wrap, creating an education tool in the process.
"The new artwork on our trailer is representative of our mission to reduce waste and promote beautification and recycling," said Katie Blevins, KNB Executive Director. "It's a conversation starter that gives us the opportunity to share that message with the community."
America Recycles Day educates people about the importance of recycling to our economy and environmental well-being, and helps to motivate occasional recyclers to become everyday recyclers. A Keep America Beautiful national initiative, America Recycles Day takes place on and in the weeks leading into Nov. 15, and is the only nationally recognized day dedicated to promoting recycling in the U.S.
Contact
http://www.twitter.com/kabtweet
http://www.facebook.com/keepamericabeautiful
http://www.instagram.com/keepamericabeautiful
http://www.youtube.com/kabnetwork