John Deere Named a Winner of Fast Company's 2021 World Changing Ideas Awards for the Rayuwa Project in Nigeria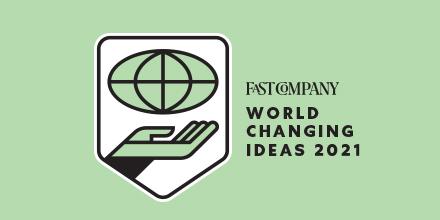 WASHINGTON, May 4, 2021 /3BL Media/ – Fast Company has selected PYXERA Global partner John Deere as the winner of the Corporate Social Responsibility Award for its 2021 World Changing Ideas Awards, in recognition of the Rayuwa project. Launched in partnership with John Deere, PYXERA Global, and smallholder farm families in northern Nigeria, Rayuwa works with community members to unlock their potential to sustain themselves and their communities.
Smallholder farmers produce more than 95% of agricultural output of Nigeria, Africa's most populous country. "Rayuwa,"which means "life" and "livelihood" in Hausa, is designed to unlock the world-changing potential of smallholder farmers by combining two interventions essential to farm family success: agricultural training to increase food security and profitability; and youth education to inspire opportunity and equity. Farmers with more education are more productive, profitable, and adaptable to shocks—like the COVID-19 pandemic. Through its World Changing Ideas Awards, Fast Company honors innovative approaches like Rayuwa that reveal a deep commitment to tackling the world's greatest challenges.
"There is no question our society and planet are facing deeply troubling times. So, it's important to recognize organizations that are using their ingenuity, impact, design, scalability and passion to solve these problems," said Stephanie Mehta, editor-in-chief of Fast Company. A panel of eminent Fast Company editors and reporters selected winners and finalists from a pool of more than 4,000 entries, making it the most popular and competitive year yet for the awards.  
Rayuwa recently launched as a pilot project in 11 villages in northern Nigeria. In 2021—following its successful "proof of concept"—Rayuwa expanded to 25 villages. By combining agricultural training and youth education, Rayuwa does something unique—it invests simultaneously in the farmers of today and tomorrow.
"In every measure, this award is a testament to the skill, ingenuity and resilience of Rayuwa's farm families and the exceptional Rayuwa staff," said Nate Clark, President of John Deere Foundation. "They have changed the world, and we at John Deere are privileged to serve them."
RAYUWA – TRANSLATING PURPOSE INTO PRACTICE
Rayuwa's unique approach centers on three principles: being deeply rooted with the people it serves, being made stronger through the freedom of ingenuity, and expanding through proven success. To stay true to these, Rayuwa recruits homegrown talent to teach its agriculture and education programs and leverages its deep relationships with community members to innovatively deliver the greatest value in the face of shocks like COVID-19.   
Rahila Sama'ila, for example, who has been farming for forty years, describes Rayuwa's difference best: "When Rayuwa first came to our village, my neighbors and I doubted their intentions because of all the disappointments we had suffered in the past from the other projects and organizations that have offered to help. I participated in their trainings in plant spacing, seed sowing, fertilizer application, and how to protect ourselves when using agrochemicals on our farms. My yields increased 20% this year."
Rahila's experience is reflective of how Rayuwa's farmers and youth have thrived despite the enormous challenges of 2020:
Rayuwa farmers reduced their rate of food insecurity during the "hunger season" from 63% to 53%, compared to the doubling of food insecurity in Africa. 
Rayuwa farmers increased total earnings by USD$1.3 million due to improved yields, despite surging extreme poverty in Nigeria. 
Rayuwa youth earning top scores in letter and number recognition have increased by 60% and 77% respectively, with a projected increase in lifetime earnings through better education topping USD$1.9 million. 
Rayuwa's success in agriculture and education has inspired 300 youth to return from the cities to farm and learn, breaking long-term trends in urban migration. 
Rayuwa's impact, however, cannot be measured by these numbers alone. It is the way that Rayuwa achieves results—earning trust by delivering value—that sets it apart. In Sama'ila's words, "I feel safe with the Rayuwa team, even in these challenging times. They are honest people and keep their promises."
About the World Changing Ideas Awards
World Changing Ideas is one of Fast Company's major annual awards programs and is focused on social good, seeking to elevate finished products and brave concepts that make the world better. A panel of judges from across sectors choose winners, finalists, and honorable mentions based on feasibility and the potential for impact. With the goals of awarding ingenuity and fostering innovation, Fast Company draws attention to ideas with great potential and helps them expand their reach to inspire more people to start working on solving the problems that affect us all.
 
About PYXERA Global
For 30 years, PYXERA Global has facilitated mutually beneficial partnerships between the private, private, and social sectors worldwide to drive social impact that enriches lives and livelihoods, inclusively, equitably, and sustainably. Our Enterprise and Community Development team works with entrepreneurs and enterprises of all sizes and industries – from smallholder farmers to Micro, Small, and Medium Enterprises in the circular supply chain – to accelerate business growth, human capital, and community development.
For more information on PYXERA Global, please visit: www.pyxeraglobal.org
Contact
Katie Levey
Vice President of Public Relations
Email: KLevey@PYXERAGlobal.org