Jens's Story​: ​The Power of Precision Medicine, Personalized Care & A Brave Kid
by Heather Wilson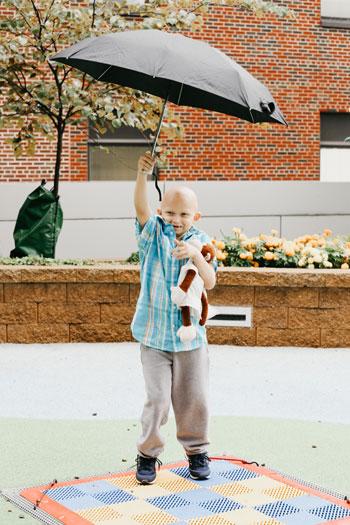 Jens plays outside of the Helen DeVos Children's Hospital. His stuffed monkey, Ivy, is his well-loved travel buddy.
Originally published on Direct2Dell
Jens Hildreth is a fun-loving 8-year-old. He smiles a lot. He is on the move – a lot.  And he asks questions – a lot! Sam, when is the kid's library open? Hey Bill, when is your partner coming to the security desk? Jens seems to know everyone at Helen DeVos Children's Hospital (HDVCH) in Grand Rapids, Michigan.
Jens is here often. In the past year, he and his parents have made the six-hour flight from their home in Alaska over 10 times so Jens may receive care for his neuroblastoma, a rare pediatric cancer without a cure. At age 4, Jens was diagnosed after doctors found an orange-size tumor wrapped around his kidney. Jens has been through a lot since the difficult surgery to remove the tumor.
Right now, Jens is feeling pretty good. He takes medication daily to bolster his immune system and he receives chemotherapy once a month near his home. Remarkably, all of his current treatment is designed specifically for his tumor and his genes – and this means less harsh side effects and a kid who feels well enough to jump all around the hospital to see his friends.
Jens receives treatment as part of his involvement in the world's first precision medicine clinical trial for pediatric cancer run within the Dell Precision Medicine Program, run by the Beat Childhood Cancer Consortium at HDVCH and the Translational Genomics Research Institute (TGen). Jens's recent bone marrow aspiration test showed cancer cell detection at zero – and that's a big deal.
How did Jens get to this point?
Dr. Giselle Sholler, Jens's doctor in Michigan, asks you to envision a computer monitor with numerous images of DNA and RNA strands, showing the genetic codes causing cancerous tumors to grow. Doctors can then learn how to break these codes by using drugs.
This information is made possible after a process called "genomic sequencing," where a piece of a child's tumor is studied using very specialized computing technology that can analyze more than 200 billion data points.
Dr. Sholler is the director of the Haworth Innovative Therapeutics Clinic at HDVCH. She's also the director of the pediatric oncology research program there, and the chair of the Beat Childhood Cancer Consortium.
Jens's tumor was analyzed by the TGen bioinformatics team in Phoenix, Arizona. Here, the team uses Dell's high-performance computing solution to analyze patients' tumors as part of TGen's partnership with Dr. Sholler and the Beat Childhood Cancer consortium.
While this analysis at TGen is happening, a piece of the tumor is also at the hospital lab, where Dr. Sholler and her team use it to grow more cells in culture, in order to test which drugs the tumor cells respond to.
Once this process is complete, a broad team of experts from all over the world convene and talk about the patient's information – all digitally stored in the KIDS Cloud, a cloud-based Dell solution that enables medical professionals from TGen and all the Beat Childhood Cancer clinical trial sites to collaboratively review information and create treatment plans.
"We discuss the patient's case, the genomics, what DNA mutations do we see… what drugs might target those. Together we come up with a personalized treatment plan," Dr. Sholler says.
Since Dell began its partnership with TGen in 2011, over 150 critically ill patients have received precision medicine-based treatment based on genomic sequencing. Dell provides funding, technology and expertise that enable researchers and doctors to accelerate and improve treatment plans. Recently published trial results show that the precision medicine approach stabilized or reduced tumors in 64 percent of children with neuroblastoma.
Mapping one human genome
Neuroblastoma is an aggressive cancer. Many children relapse. So when doctors discovered Jens's tumor had returned in 2016, precision medicine was vital to garnering better insights for more effective treatment – that could be prescribed faster.
Dell's funding and technology helped TGen reduce the time it takes to do a whole genome sequencing analysis from multiple weeks to eight hours.
Jens's mom, Joelene Kacena, recalls how this time-saving technology provided hope to her family at a very critical stage.
"When doctors are trying to figure out what to do next, you think of the cancer every minute, every hour," she says. "The anxious part of me was saying, Hey, my kid's cancer is multiplying and growing as we speak. So when we learned about the precision medicine approach, I was totally wowed."
For Kacena, her son's experience with precision medicine has meant many positive things. A happier, healthier Jens. The ability to work again at her job in the local library. More laughs shared by all three of her sons, playing together.
"He's better and we're so, so happy for that," Kacena says. "I want more families and children to know about this approach and to benefit. I hope this flourishes and flourishes and becomes a natural protocol."
As part of our work with TGen, we learn about remarkable young patients, and their families with extraordinary courage. Meet more of these special people here.
Explore more on delltechnologies.com:
CUSTOMER STORY: Speed is imperative in the fight against rare diseases. For Translational Genomics Research Institute (TGen) and its Center for Rare Childhood Disorders, the Phoenix-based research and treatment center, shortening the "diagnostic odyssey" is only the beginning.
TRAILBLAZERS PODCAST: From X-Rays to wearables, better healthcare means peering deeper into the human body. Join Walter and guests Dr. Daniel Kraft, Reenita Das, Dr. Jeffrey Trent, Anne Wojcicki and Dr. Giselle Sholler as they explore how wellness is becoming more personal, and more proactive.
This article shares one example of how Dell is committed to driving human progress by putting our technology and expertise to work where it can do the most good for people and the planet.  We call this our Legacy of Good.
Explore our FY17 Annual update on our 2020 Legacy of Good Plan at legacyodgood.dell.com.