IWBI Announces the Works with WELL Program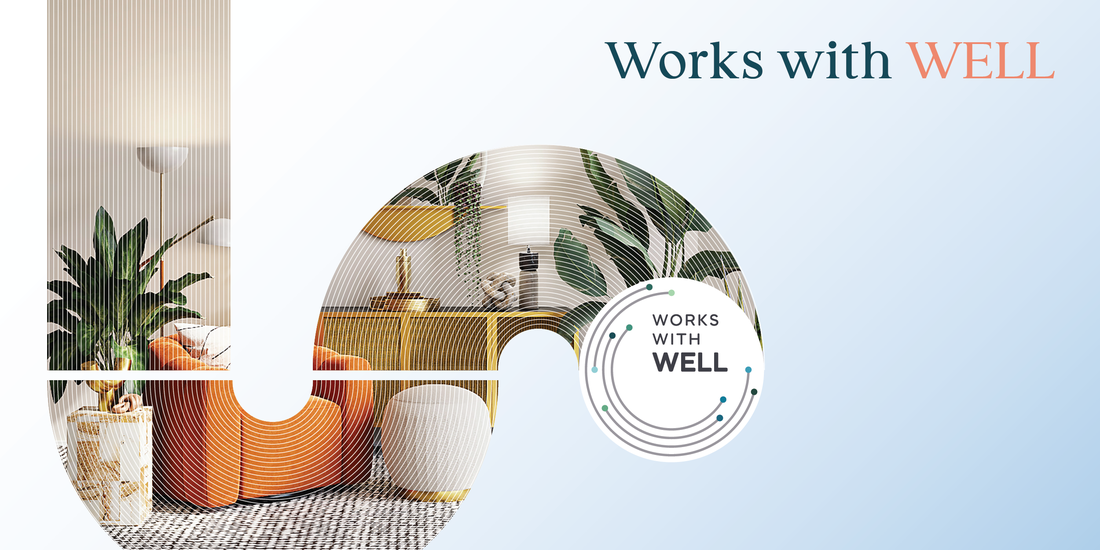 Nearly 40 companies have already enrolled more than 1,000 products in the new licensing platform designed to help companies showcase how their products align with WELL, the world's leading rating system for healthy buildings, organization and communities
WASHINGTON, D.C. and NEW YORK, September 25, 2023 /3BL/ - In response to rising industry demand for healthy building products and solutions, the International WELL Building Institute (IWBI) today unveiled the Works with WELL offering, a new product licensing program designed to help product manufacturers validate and showcase how their products align with WELL strategies based on IWBI licensing criteria. Already, nearly 40 early-adopting companies have enrolled more than 1,000 products in the new program.
Through the new offering, companies are able to submit their products for the Works With WELL trademark to show that their products align with specific features or thresholds in the WELL Building Standard (WELL). To earn the mark, products must go through a third-party document review to validate that their products meet the licensing criteria. By achieving Works with WELL, companies are able to demonstrate their commitment to advancing products and solutions that support human health and well-being.
Announced at the WELL Summit taking place at Union Market in Washington, D.C., the launch of the Works with WELL program coincides with a global surge in the adoption of WELL programs. To date, WELL has been adopted by nearly 44,000 projects spanning 4.85 billion square feet of real estate across 127 countries. Thousands of organizations, including more than 25 percent of the Fortune 500, have embraced WELL to guide their health leadership journey.
"Increasingly, companies want to demonstrate how their products support health and well-being," said Jessica Cooper, IWBI Chief Product Officer. "To help foster that potential for health leadership, we wanted to provide a robust platform for companies to validate how their products align with health-focused features in WELL."
With increased global focus on health in buildings, the Works with WELL platform will also serve as a resource for project teams around the world looking to better understand how products and solutions can help them support WELL certification.
Several leading organizations in the global manufacturing community from 10 countries – including but not limited to Panasonic, Johnson Controls, Teknion, Naava, Trane Technologies, Siemens, and View Inc. – provided valuable industry input to help shape the program based on market needs.
"Wellness is a defining factor in how we develop and manufacture our products," said Patrick Keese, president of Milliken's Floor Covering Business, a leading diversified manufacturer serving the flooring industry and an early adopter of the Works with WELL program. "We are excited about the Works with WELL program because it provides third-party validation that our products align with health-centric initiatives."
Many manufacturers around the world who are helping drive innovation to support the healthy building sector have already signed on to pursue Works with WELL recognition. Dozens of manufacturers have demonstrated their leadership as early adopters, with more than 1,000 products having already earned or working to earn the Works with WELL trademark.
Products developed by early adopters offer solutions for air and water quality, lighting, smart building technologies, flooring, wall coverings, furnishing and biophilic products, as well as solutions that promote mental health, movement, nourishment and community engagement and more. These products are situated around the feature requirements under the 10 WELL concepts: Air, Water, Nourishment, Light, Movement, Thermal Comfort, Sound, Materials, Mind and Community.
A product directory will be made accessible to the general public later in 2023 following the launch of the Works with WELL program.
Early adopters with products that have earned the Works with WELL trademark include:
Airthings
Air Aurora Air Purification Technology (Shanghai)
Babylon Micro Farms
Clear Inc.
Guangdong Eagle Brand Industrial
Hollingsworth & Vose (Suzhou)
Kaiterra
LogiSon Acoustic Network
Motko
Natura
Numa Products
Ostuni Lighting
Pathogen Reduction Solutions
ProCoat Products
Shanghai Matsu Furniture (Group)
Shanghai PAALER Environment Protecting Technology
Shanghai Puen Lighting Electric Appliance
Shaw Industries Group
Sloan
TREND
Wellstat
Other early adopters engaged in the process pursuing product alignment with WELL features include:
Arwin Technology
Biamp Systems
BIAXIS NEO CO.
Blade Air
Excel Dryer
eyrise B.V.
Global DWS
Guangdong ODAS Home Technology Co.
Huizhou CDN Industrial Development Co.
Intelligence Air
Jiangsu Insona Communication Technology Co.
Lighting Recipe Studio Limited
Milliken & Company
Shanghai DST Technology Co.
Shanghai Lamett SPC Technology Co.
Sunon Technology Co.
About the International WELL Building Institute
The International WELL Building Institute (IWBI) is a public benefit corporation and the world's leading organization focused on deploying people first places to advance a global culture of health. IWBI mobilizes its community through the administration of the WELL Building Standard (WELL) and its WELL ratings, management of the WELL AP credential, the pursuit of applicable research, the development of educational resources, and advocacy for policies that promote health and wellbeing everywhere. More information on WELL can be found here.
International WELL Building Institute, IWBI, the WELL Building Standard, WELL v2, WELL Certified, WELL AP, WELL Score, The WELL Conference, We Are WELL, the WELL Community Standard, WELL Health-Safety Rating, WELL Health-Safety Rated, WELL Performance Rating, WELL Performance Rated, WELL Equity Rating, WELL Equity Rated, WELL and others, and their related logos are trademarks or certification and rating marks of International WELL Building Institute pbc in the United States and other countries.
Media contact
media@wellcertified.com