The Impact Podcast With John Shegerian Features Kimberly-Clark's Lisa Morden
The Impact Podcast With John Shegerian Features Kimberly-Clark's Lisa Morden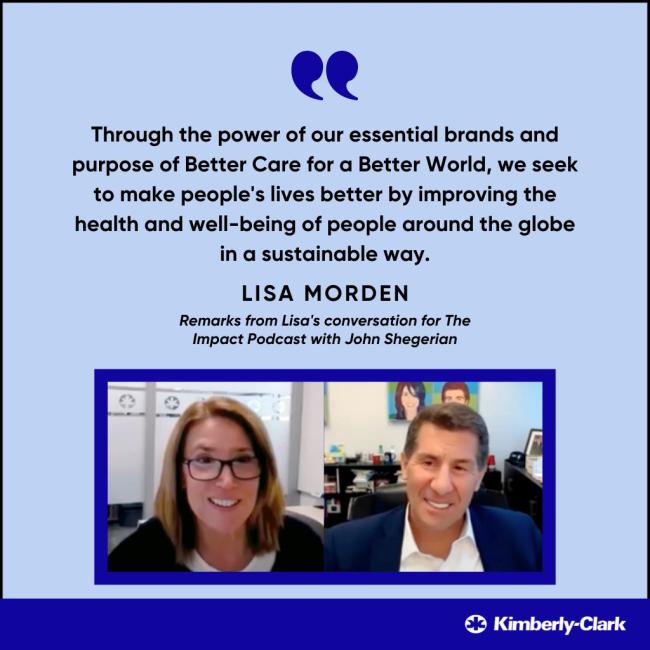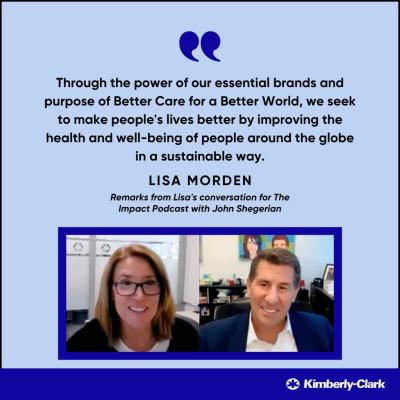 Monday, October 17, 2022 - 8:30am
Lisa Morden, Kimberly-Clark's vice president of safety, sustainability and occupational health, was a recent guest on The Impact Podcast with John Shegerian. In this episode, Lisa shared Kimberly-Clark's biggest sustainability challenges and opportunities, how growing up in a small town in the heart of Canada's boreal forest influenced her views on safeguarding natural resources, and why sustainability is a team sport.
Listen to the full episode here. The Impact Podcast with John Shegerian has featured over 1,500 guests who all share in common a passion for making our world a better place.
About Kimberly-Clark
Kimberly-Clark (NYSE: KMB) and its trusted brands are an indispensable part of life for people in more than 175 countries. Fueled by ingenuity, creativity, and an understanding of people's most essential needs, we create products that help individuals experience more of what's important to them. Our portfolio of brands, including Huggies, Kleenex, Scott, Kotex, Cottonelle, Poise, Depend, Andrex, Pull-Ups, GoodNites, Intimus, Neve, Plenitud, Sweety, Softex, Viva and WypAll, hold No. 1 or No. 2 share positions in approximately 80 countries. We use sustainable practices that support a healthy planet, build strong communities, and ensure our business thrives for decades to come. To keep up with the latest news and to learn more about the company's 150-year history of innovation, visit kimberly-clark.com.