Humanity-Centric Innovation: Redefining Purpose to Build a Better World
Humanity-Centric Innovation: Redefining Purpose to Build a Better World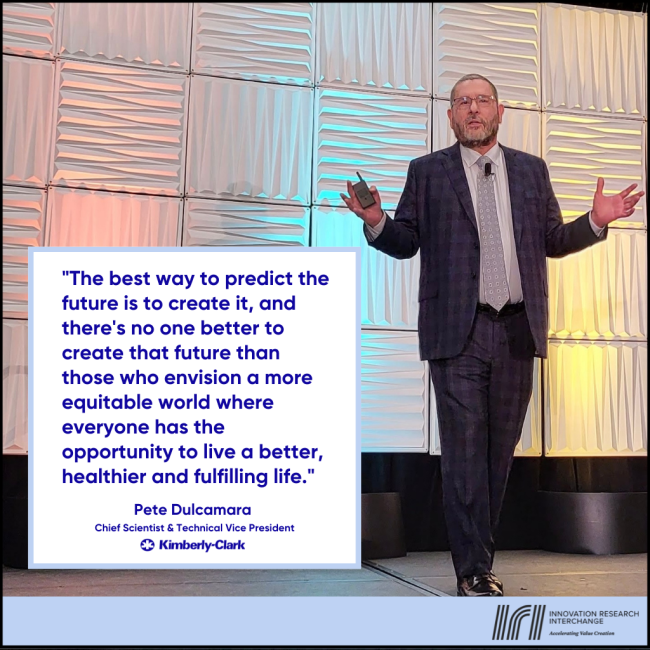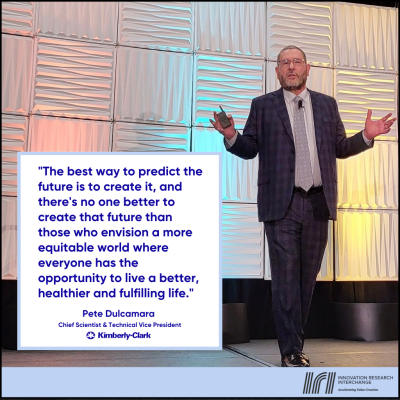 Friday, June 10, 2022 - 10:00am
Kimberly-Clark's chief scientist, Pete Dulcamara, recently spoke at the 2022 Innovation Research Interchange (IRI) Annual Conference in New Orleans and delivered a keynote about a new model for humanity-centric innovation that can transform the benefits and value of products we use every day – and extend those benefits to billions of underserved people around the world.
The presentation provided a provocative overview of the challenges facing humanity and the new business models and exponential technologies shaping our future. It was delivered with visuals and data that prompted attendees to reflect on new opportunities to build a purpose-driven organization and deliver innovation that creates a better future for people around the globe.
For more on Pete's vision for humanity-centric innovation, check out his 2021 TEDxOshkosh talk. 
About Kimberly-Clark
Kimberly-Clark (NYSE: KMB) and its trusted brands are an indispensable part of life for people in more than 175 countries. Fueled by ingenuity, creativity, and an understanding of people's most essential needs, we create products that help individuals experience more of what's important to them. Our portfolio of brands, including Huggies, Kleenex, Scott, Kotex, Cottonelle, Poise, Depend, Andrex, Pull-Ups, GoodNites, Intimus, Neve, Plenitud, Sweety, Softex, Viva and WypAll, hold the No. 1 or No. 2 share positions in 80 countries. We use sustainable practices that support a healthy planet, build strong communities, and ensure our business thrives for decades to come. To keep up with the latest news and to learn more about the company's nearly 150-year history of innovation, visit kimberly-clark.com