Humana Ranked #1 Health Care Provider for Corporate Responsibility on Forbes and JUST Capital's JUST 100
Rankings based on issues that matter most to Americans when it comes to how they view large companies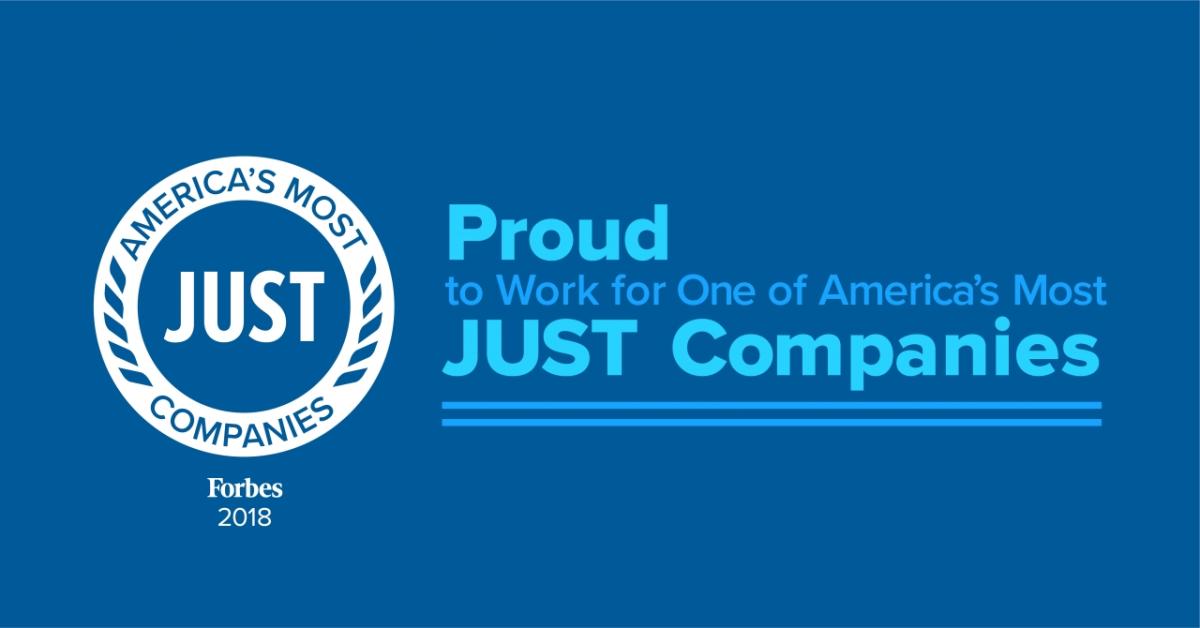 LOUISVILLE, Ky., December 10, 2018 /3BL Media/ – Humana Inc. (NYSE: HUM) has been ranked No. 1 among Health Care Providers for its corporate citizenship, according to Forbes and JUST Capital in their new "JUST 100." The JUST 100 ranks publicly traded companies in the U.S. based on how they perform against the American public's definition of just corporate behavior.
Humana ranked No. 1 out of 16 companies in the Health Care Providers category and No. 11 out of 890 companies overall. Humana has topped the Health Care Providers category in the JUST 100 each of the three years Forbes and JUST Capital have produced the rankings.
"At Humana, we're fortunate to have so many employees who care so much about helping people live healthier lives," said Bruce Broussard, Humana President and Chief Executive Officer. "This commitment to people's health is what motivates so much of our work at Humana, and I'm sure it's the main reason people view our company as a trusted corporate citizen. As we continue to grow the care-delivery part of our business, it means a lot to us to be recognized as America's most just health care provider."
The JUST Capital rankings encompass the largest publicly traded companies in the U.S., and are based on one of the most comprehensive surveys ever conducted on public attitudes toward corporate behavior – involving 9,000 American respondents in 2018 and more than 81,000 over the past four years.
"Trust in our institutions is more important than ever right now. The JUST 100 recognizes companies that are doing right within society," said Forbes Chief Content Officer Randall Lane. "The rankings help companies gauge their progress on benchmarks that go far beyond quarterly earnings."
To create the JUST 100, Forbes asked survey respondents what they want companies to focus on, and how companies should prioritize the following aspects of business behavior: worker treatment, customer treatment, quality of products, environmental impact, community engagement, job creation, management leadership, and shareholder treatment.
The new JUST 100 List will appear in the December issue of Forbes magazine and is currently available online here.
To learn more about Humana's corporate citizenship efforts, read the company's 2016-2017 Corporate Social Responsibility Report, which was published in August 2018.
About Humana
Humana Inc. is committed to helping our millions of medical and specialty members achieve their best health. Our successful history in care delivery and health plan administration is helping us create a new kind of integrated care with the power to improve health and well-being and lower costs. Our efforts are leading to a better quality of life for people with Medicare, families, individuals, military service personnel, and communities at large.
To accomplish that, we support physicians and other health care professionals as they work to deliver the right care in the right place for their patients, our members. Our range of clinical capabilities, resources and tools – such as in-home care, behavioral health, pharmacy services, data analytics and wellness solutions – combine to produce a simplified experience with the goal of making health care easier to navigate and more effective.
More information regarding Humana is available to investors via the Investor Relations page of the company's website at humana.com, including copies of:
Annual reports to stockholders
Securities and Exchange Commission filings
Most recent investor conference presentations
Quarterly earnings news releases and conference calls
Calendar of events
Corporate Governance information.
###