How Women Leaders in Technology Transform the Non-Profit World
By Leon Kaye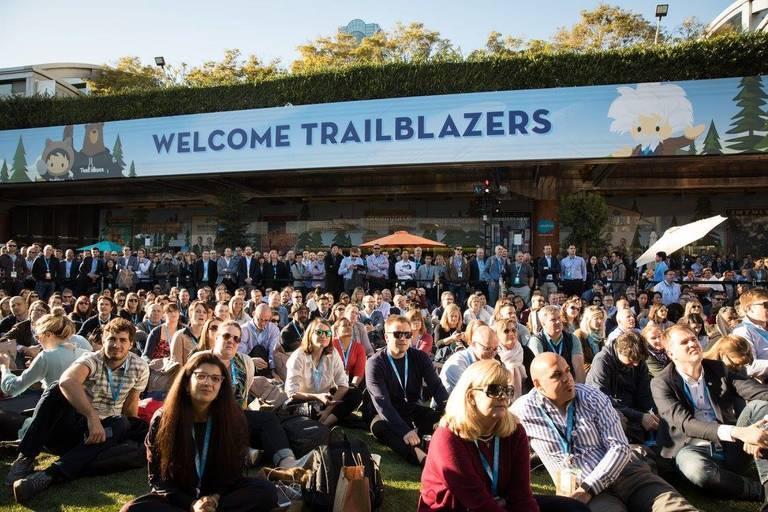 Originally published on TriplePundit
In recent years, the nonprofit sector has witnessed more women ascending to technology management positions. These leaders are on the front lines of discussions on management and employee engagement. And at a time when many organizations are shifting to a social enterprise model, technology remains central to NGOs' missions.
During the Dreamforce conference in San Francisco, TriplePundit had the opportunity to listen to some of these leaders during events Salesforce.org organized for the non-profit and education sectors.
These women are particularly inspiring in how they are pushing social change worldwide, while inspiring a cultural shift within their own organizations. As more donors and foundations seek results – which can have various definitions as in impact, reach or changes in policy –  women leaders harness software to transform lives, and at the same time, help their organizations become far more nimble.
And they are doing so in areas as diverse as refugee assistance, tackling social and economic problems, or finding a cure for disease.
One example is Jennifer Douglas, Executive Vice President and Chief Information Officer of the National Multiple Sclerosis Society. During a career that first started in the corporate world and eventually led to her working within the nonprofit sector, Douglas found that a huge part of her job is connecting everyone to the organization's mission. Information technology is critical as colleagues need to able to see and demonstrate the MS Society's results.
"Technology is not about the tool itself; it's about the organization's strategy," Douglas said during a Dreamforce Idea Forum earlier this week.
For example, the MS Society's adoption of social media is not just about the show-and-tell on Twitter or Facebook, but it has also become a means for the organization to raise more money for scientific research. "The embrace of social media has allowed us to raise millions of dollars," said Douglas.
Of course, Douglas and many of her counterparts still face plenty of challenges as they are tasked with measuring their impact. Nevertheless, her move to the nonprofit sector has been a day-to-day rewarding experience for Douglas, as she told the audience that her work with the MS Society has been a way for her to give back.
Seeing those results makes the challenges worthwhile to Douglas, even as she watches her role shift constantly in order to keep the MS Society at the forefront of efforts to prevent and cure this disease. "We're developing an ecosystem that really connects our constituents all the way from the volunteer to the fundraiser to the person who has MS," she told 3p during an interview during the conference.
Em Fackler of the International Rescue Committee (IRC) embarked on a journey similar to that of Douglas. After a successful career as a software engineer, she found a second career with the organization that has supported 28 million of the 68 million displaced people worldwide.
When she was considering the offer from the IRC, Fackler received a fortune cookie that gave a final nudge: "You will have a major impact on a significant humanitarian issue of our day," read the message that helped her make that leap.
Of course, the performance record Fackler built over the years made her invaluable to the IRC's mission. "Marrying technical issues with problem-solving really guided my career as I moved to the NGO sector," she told the Dreamforce audience.
And such problem-solving skills are crucial to Fackler and her team as the NGO wades through the various problems refugees confront worldwide and the different stakeholders to which the IRC must answer. "Different groups have different perspectives on refugees," she said.
As she strives to make technology more vital to the IRC's mission, Fackler seemed to downplay how being a woman affects her leadership style. Nevertheless, many women managers could relate to how she approaches working with her colleagues.
"It's not really 'woman-specific,' but it's about putting employees first," she explained during an interview with 3p. "And in the case of the IRC, putting our beneficiaries and clients first. For my employees worldwide, how can I best ensure that they're focused on what they want to do, which is to support the mission of the IRC?"
Many women would respond that having their voices heard in the first place is a huge challenge in this space, whether they work within the technology sector or have such a function within their organization. Khuloud Odeh, Chief Information Officer of the Urban Institute, echoed Douglas and Fackler in inspiring women to not only make their voices heard, but to consider a career in technology.
"For women in technology, having that seat at the table is a powerful way to make a difference," said Odeh.
The importance of technology in an organization's strategy can actually help a budding technology professional find herself in a decision-making role. "Almost all companies today are a tech business, and now we see this in the NGO world," she reminded the Dreamforce audience.
But what about someone who is interested in a technology career, and wants to make a difference, but does not necessarily have the experience? Odeh reminded everyone of the old adage that what is studied in college is not necessarily going to become the profession in which that student eventually finds herself. "It's not about your background – it's about your passion," she said.
Furthermore, the way in which technology is interwoven into just about every function within an organization means that any profession will have to be prepared to ask questions and learn. In Odeh's words, "The best thing you can do with your team is to be comfortable being uncomfortable."
Once a management position in technology is landed, however, many women still wonder if they will be listened to. To then end, Odeh offered some sage advice to both the men and women in the audience: "Good leaders always make sure to ask their team members questions so they feel included."
And in the end, said Fackler, women in technology have to remember to find the will to speak up. "The more we speak, and the more comfortable we are speaking up, the more everyone benefits, as all of our ideas are valuable."
Image credit: Jakub Mosur Photography/Dreamforce Facebook
Based in Fresno, California, Leon Kaye has written for TriplePundit since 2010. He has lived across the U.S., as well as in South Korea, Abu Dhabi and Uruguay. Some of Leon's work can also be found in The Guardian, Sustainable Brands and CleanTechnica. You can follow him on Twitter (@LeonKaye) and Instagram (GreenGoPost).