How One Leader Is Aiming Higher To Increase Asian American Representation
Innovation leader Mani Prakash advocates for an inclusive culture at Medtronic and beyond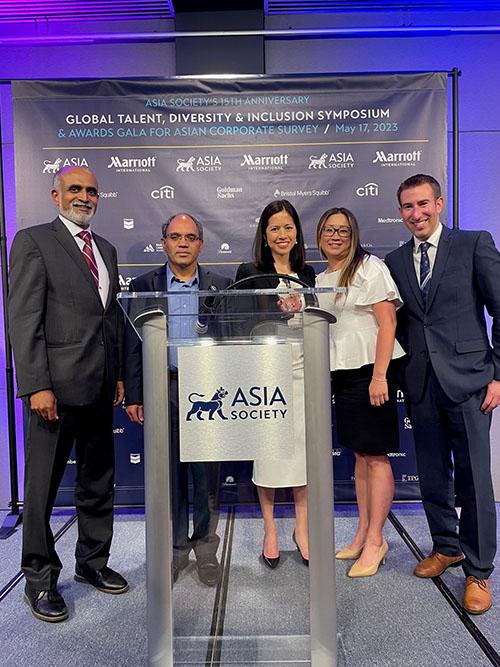 During Asian American and Pacific Islander (AAPI) Heritage Month in May — and all year long — we come together to foster belonging among Asian and allied employees.
Mani Prakash remembers being approached after speaking at a conference. The attendee was surprised and inspired to see a South Asian in the spotlight at such a prestigious event.
That's when he realized he could make a bigger difference for other people of Asian descent at Medtronic. Shortly after, the vice president of research and development joined the Asian Impact at Medtronic Network (AIM) and is now co-chair of the global Network that has 20 local hubs and 4,800+ members across the Americas, Asia Pacific, and EMEA.
During his time in that role, he's focused on developing talent through mentorship. He also sees the need to continually create value for patients through increased representation across Medtronic – not just in our engineering departments.
"It's about ensuring diversity in all our teams," Prakash said, adding that increased representation in customer- and patient-facing roles is key.
Important conversations about health disparities are more likely to happen if our teams are diverse, he said.
This commitment to inclusion, diversity, and equity (ID&E) accelerates innovation and helps bring our lifesaving technologies to more patients around the world. And Prakash is just one Medtronic employee actively making AAPI history and fostering belonging for Asian-descent colleagues.
Medtronic was also recently honored for its ongoing commitment to ID&E and the Asian-descent community. Recognized consistently by Asia Society since 2014, this year Medtronic won two awards from Asia Society's biennial 2023 Asian Corporate Survey.
This recognition is especially meaningful because it's heavily based on anonymous feedback from our AAPI employees, authentically reflecting our ID&E culture and progress that employees themselves are feeling.
Best Employer for Supporting AAPI Employee's Belonging and Inclusion
Best Employer for AAPI Employee Growth and Advancement
 As we continue to break down barriers, there are a couple of key things to consider during AAPI Heritage Month and beyond, Prakash said.
The AAPI community is not a monolith
Often, people act as if being Asian American is one culture, Prakash said. But both in the AAPI community and in India, there are hundreds of cultures.
"To many people I'm just an Indian who speaks Indian, but there's a decent amount of diversity in India," he said.
It's important to understand and get to know the culture of the people you work with.
"That creates better teams," he said.
While not a monolith, the barriers and challenges people of Asian descent face are often shared experiences – and an opportunity to learn and build solidarity.
Avoid stereotyping
"Oh, you are an Asian so you must be good at math. Maybe you should be an engineer," is a common refrain, Prakash said.
He sees that thinking as an obstacle to increasing representation across fields, and it can keep employers from giving people a chance.
"We have to broaden our thinking," he said.
The AIM Network is encouraging people to AIM Higher, both within and across communities this AAPI Heritage Month. Read more about our year-round actions and impact in our Global Inclusion, Diversity & Equity 2022 Annual Report.