How a Local Agency Removes the Barriers That Keep Underserved Families in Poverty
How a Local Agency Removes the Barriers That Keep Underserved Families in Poverty
In one of the country's most impoverished regions, a local nonprofit and a Truist Cares* grant bring hope and opportunity to single-parent households, homeless youth, and others in need.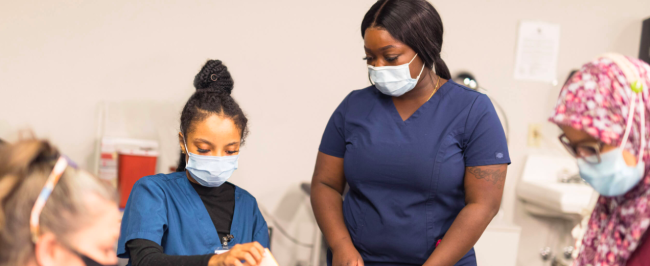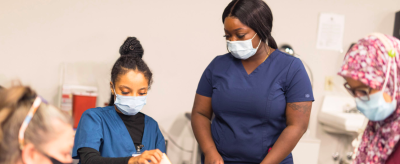 Friday, October 9, 2020 - 3:00pm
In February 2020, while most of America enjoyed 3.5% unemployment and unprecedented economic prosperity, Kentucky resident Iyeshia Lattimore was barely getting by. She was working third shift in a low-wage, high-stress job in a nursing home — 12-hour days and an inconsistent schedule, with two kids at home. 
Kentucky has the fifth-highest poverty rate in the country — one in five children there lives in poverty. In the northern part of the state, just across the Ohio River from Cincinnati, Lattimore was driving two hours every day, from home to childcare, then to work, then back. She was exhausted and feeling stuck. She missed real, quality time with her children. Through tears, she says, "I wasn't eating well, I couldn't sleep. I lost myself. I was just trying to push through."
Then, COVID-19 hit.
"[The U.S.] went from 3.5% to 14.7% unemployment, and the state of Kentucky experienced the highest rate of joblessness in the U.S.," says Talia Frye. Frye is the workforce innovation director at Brighton Center, a nonprofit organization that for more than 50 years has provided families in Northern Kentucky with wraparound support to help them achieve self-sufficiency.
"There's incredible income inequality in our nation," says Frye. "We are connecting with people to get them connected to education and training, and ultimately a career that's going to allow them to take care of themselves and their families."
Through roughly 40 different programs, Brighton Center helps individuals and families with needs such as adult and early-childhood education, workforce development, substance abuse recovery for women, affordable housing, financial education, and youth services.
Each of these needs is interconnected. To truly assist someone in attaining self-sufficiency, Brighton addresses each of them using a 360-degree approach. According to Brighton Center, in the five years before COVID-19, they helped more than 27,000 individuals meet basic needs, cared for more than 4,300 children in their facilities, connected with more than 1,500 youth who were homeless or had run away from home, and provided workforce services to more than 34,000 individuals — 93% of whom found steady employment.
Truist Cares* provided a $25,000 grant to Brighton Center, as part of a $50 million financial relief commitment to communities in response to the pandemic. According to Brighton Center, the grant has helped the nonprofit handle the nearly 400%† increase in the number of families accessing emergency assistance services.
"Brighton Center understands the importance of connecting people to the resources and education needed to help break the cycle of poverty," says Calvin Barker, Kentucky & Ohio regional president at BB&T, now Truist. "As part of our larger response to COVID-19 relief needs through our Truist Cares* initiative, the $25,000 grant to Brighton Center has helped the nonprofit respond to the significant increase in demand for their services amid the spike of unemployment in Kentucky to over 15% during the initial stages of the pandemic."
"I thought it was impossible."
When Lattimore found Brighton Center, she was looking for training and education that would provide the skills and certifications she needed to get a better job — a job that would allow her to spend time with her kids. She sought an opportunity to do more professionally and fulfill the potential she knew was inside of her, but she couldn't see the path forward.
"Attending school full time, training full time, and working full time, it doesn't work for a single mom," says Frye. "Iyeshia had to make some really tough choices to make her hopes and dreams possible. And with that came barriers."
"I thought it was impossible, honestly," says Lattimore. "But my mother gave me her full support. And I thought, 'OK, I'm going to do this.' Because time goes by and you'll ask, 'What did I do with my life? A year already went by and I'm still stuck in the same position.' I didn't want that anymore."
Removing barriers takes a wraparound approach
How does a single parent afford to stop everything and go to school full time? Brighton's trained staff know all too well the barriers to success because many of them are alumni of these programs who once experienced the very same struggles as people like Lattimore. 
When they first met, Jonika Greene, an alumna who is now the learning supervisor at Brighton, sat Lattimore down to talk through her barriers.
"Iyeshia was nearly paying market rent," says Greene. "It got to the point where, for her to pay her rent, she would have to keep working like she was and miss out on the training we were offering."
As Greene dug deeper, she learned that Lattimore was facing eviction.
"There's nothing more important to a mother than to have a nice home for your children," says Greene.
Thanks in part to the Truist Cares* grant, Brighton provided Lattimore with rental assistance so she could avoid eviction while they found a better housing situation for her family. The center's Northern Kentucky Scholar House, which offers affordable housing for single-parent families enrolled in their education programs, was the perfect fit.
While Lattimore is in training, her two-year-old son Corey spends time at a five-star early-childhood education center located on site. What used to be a two-hour commute — from home to childcare to work and back again — became no commute at all. It's all on the same city block. Best of all, Lattimore has a consistent schedule that allows her to be home in the evening with her children.
"I get up, get us ready, walk my son to daycare, and I go straight to school," she says. "It's just unbelievable. We know exactly what we have to do each day. I wake up happy now. I can make breakfast in the morning. We plan dinner. I'm just organized." Lattimore sighs happily. "I can take a bath because my kids are in bed on time." 
Training for the job, training for life
Brighton's Center's Center for Employment Training (CET) is a fast-track program that concentrates what would be a two-year certification at another institution into six to nine months. It's intensive, but according to Brighton Center, 80%† of graduates find job placement within three months of completion. This is partly due to Brighton's strategic work, offering training for positions in high demand in the area that have a good starting wage and an opportunity for advancement. Because of her experience in healthcare and her passion for the profession, Lattimore chose medical assisting.
"Our program is built on four cornerstones," says Greene, "adult education, success skills, career development, and skills training, which are fully integrated. So day one, we're assessing their needs for basic adult education, like math, science, or reading. We're looking at their success skills, how developed they are, their professionalism. And we're introducing them to skills training in a way that makes sense from the very first day that they start."
"Sixty percent of our training is hands-on," Greene says. "We do all of our clinicals in house. So we run a mock office, where we play doctor. Trainees play patients. They learn how to draw blood — I'm their first 'stick.' They administer injections. So it's very real, and we do all of that to help them get over that fear, so when they go on externship, they know where things are and how the office operates."
In her classes, Lattimore was thriving, not only showing proficiency with the subject matter, but leadership in the group.
"She is very direct," says Greene, smiling. "She always spoke up in class, gave her opinion, and did it gracefully, and without fear."
For the other trainees in the room, Lattimore's presence became a boon. 
"Iyeshia has a very bright smile and loves to laugh," says Greene, smiling again. "That is necessary for this environment because a lot of folks we work with come in and they're scared. They're being challenged. Some lack confidence and feel like they're too old, too young, or maybe they feel like they should be working instead of going to school. But Iyeshia, you would've never known she was struggling to pay rent. Her confidence was contagious, something you want everybody to catch. That's when I approached her about becoming a CET ambassador." 
As new trainees start each week at Brighton Center, ambassadors like Lattimore welcome them on a Zoom call and talk through their questions, concerns, and fears. Anytime a funder or visitor needs a tour, Lattimore and the other ambassadors lead. She became a mentor among her peers, an example to the group.
"We find that, especially in healthcare, employees train each other," Greene says. "Nobody's supervisor jumps in and teaches them how to do things. They're training each other. So that is something that we found value in, and it's made our folks really strong because we teach them to be mentors from day one. 'If you know it, then you should know it well enough to teach it.'"
A wraparound approach to career placement
As the pandemic continued into summer, Lattimore's training was wrapping up. Potential employers visited Brighton Center to review the trainees as potential candidates for their fellowship programs, which pay trainees a stipend for a month-long externship. St. Elizabeth Healthcare, one of the largest healthcare employers in Northern Kentucky opens in a new tab , came knocking on Lattimore's door. After a lengthy group interview, Lattimore was a clear standout. "They didn't even hesitate," says Greene, "they said, 'We want her.'"
"I thought my interview skills were great until I took the career development class," Lattimore says, laughing. Brighton Center helps trainees build their professional profile and resume, write a cover letter, learn how to talk about themselves, and develop interview skills, even inviting employers to come for mock interviews.
Lattimore is set to start her externship this fall, where, if all goes to plan, she'll be offered a job at St. Elizabeth. But that's not where Brighton leaves her story.
"Medical assistant is a great starting place, but this is just Iyeshia's first step," says Frye. "The team has trained Iyeshia how to advance in the field, take on leadership in the office, demonstrate her soft skills, be on time, let people know what her intentions are, and access employer awards for continuing education."
For 18 months after completion, Brighton staff coach trainees like Lattimore. "We'll say something like, 'OK, Iyeshia, you're coming up on 12 months; it's time to start thinking about next steps. What are you thinking?'"
And as you might imagine, Lattimore is already 10 steps ahead.
"I'm not stopping at a medical assistant," she says. "I'm going back to nursing school. I'm going to become a registered nurse. I'm going to get a house for my kids. They need a backyard — space to run."
Building better lives through better partnerships
"We've had a long history with BB&T, now Truist — both from a financial standpoint, as well as volunteerism and leadership," says Jennifer Hansert, Brighton's grants administrator. Both organizations have deep focus on improving lives and local communities, so Brighton was a natural fit for a Truist grant during the pandemic.
(Truist) reached out to us and we were able to say, 'This is our most pressing need,' in order to meet the immediate needs of our customers."
The nonprofit also used funds to pivot key services during the pandemic, such as adding a drive-thru line for their emergency food pantry.
"This grant was an incredible gift, at an incredibly challenging time," says Hansert.
Truist is proud to be a part of resilient communities that motivate us to build better lives every day. Seeing how our community partners have stepped up in the face of COVID-19 inspired our $50 million Truist Cares* commitment to help support youth, seniors, the workforce, small businesses, and increased connectivity. For more stories about the work our partners are doing, visit truist.com/truistcares.
*About Truist Cares: Truist Cares is a cooperative effort between Truist Financial Corporation, Truist Foundation, Inc., and Truist Charitable Fund to provide communities, organizations and individuals disaster relief and assistance during the COVID-19 crisis.
†Data provided by Brighton Center
About Truist
Truist Financial Corporation is a purpose-driven financial services company committed to inspire and build better lives and communities. With 275 years of combined BB&T and SunTrust history, Truist serves approximately 12 million households with leading market share in many high-growth markets in the country. The company offers a wide range of services including retail, small business and commercial banking; asset management; capital markets; commercial real estate; corporate and institutional banking; insurance; mortgage; payments; specialized lending; and wealth management. Headquartered in Charlotte, North Carolina, Truist is the sixth-largest commercial bank in the U.S. with total assets of $504 billion as of June 30, 2020. Truist Bank, Member FDIC. Learn more at Truist.com.