Helping Nonprofits Within the Food System Tap Into Pro Bono
Check out the latest nonprofit tool from Taproot Foundation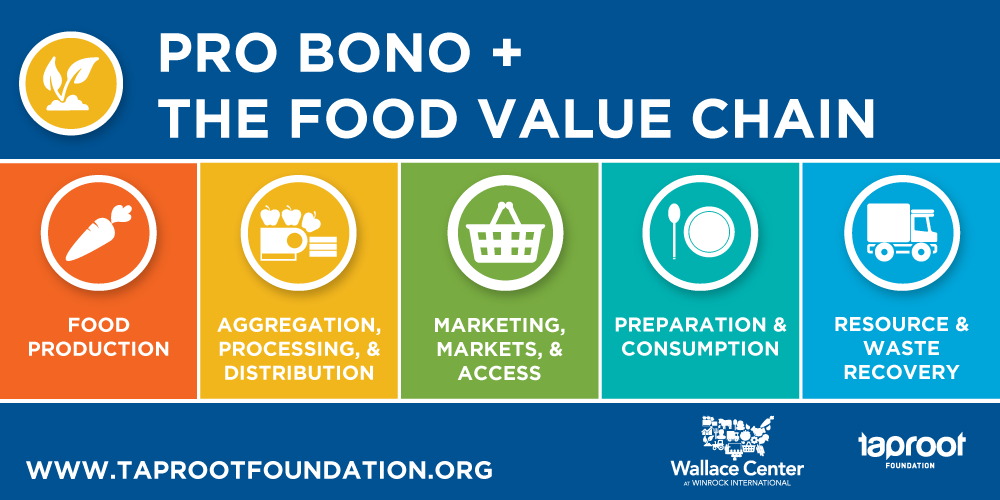 Download Pro Bono + The Food Value Chain here
If your nonprofit works along the food value chain, you know that trying to address the complex problems of hunger and food insecurity is as tough as it gets. It can be hard to figure out solutions to your unique capacity needs—and breaking down nuanced challenges into manageable chunks of work can feel like just one more task you don't have time for. Pro bono can help.
Taproot Foundation teamed up with the Wallace Center to design Pro Bono + the Food Value Chain, a new tool that inspires nonprofits working within the food system to tap into pro bono support.
Pro Bono + The Food Value Chain in action
Let's use a nonprofit that works within the Food Production category to bring this tool to life.
Challenge: The nonprofit wants to grow fresh produce as an earned income strategy but profitability of production is a key challenge.
Models: What programs and best practices could this organization use to increase their profitability? A good place to start might be in establishing or revisiting financial models for various types of operations, like a greenhouse or hydroponic facility. This is a sizeable project in and of itself, so next they identify…
Tools: What tools might be helpful in sussing out a financial model that's the right fit? A production financial calculator could support the organization's profitability research of existing or new programs.
Skills: Whether the organization goes all in with a financial models project or chooses to break down the project into smaller chunks by starting with a financial calculator, they know their skilled volunteer will need to have expertise in finance, business development, data analysis, and a keen eye for tracking things like cost of goods sold.