Hear Her Story: Q&A With Maria Frohmader, VP Textiles & Garment Dyeing at Gildan
Hear Her Story: Q&A With Maria Frohmader, VP Textiles & Garment Dyeing at Gildan
A Passion for Continuous Improvement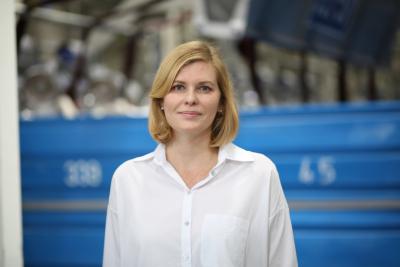 Wednesday, March 13, 2019 - 8:00am
Maria, a Canadian Honduran, shares her seventeen year journey at Gildan. From manager to VP, read the story of this woman's rise to leadership and her advice on how to get there.
Q: Tell us about your career journey:
After finishing my Textiles Technical degree in Switzerland, I came back home to Honduras and worked in a textile mill. In 2002, I was excited to interview for a job with Gildan, a Canadian company that had operations in Honduras.
Soon after I started, Gildan opened up a second mill and I was sent there to manage the plant temporarily. Six months later, management brought in a Production Manager to oversee the plant. I was not happy with the decision; I wanted to be the one to manage that plant. So I took my fate into my own hands and asked for the position.  To my surprise they gave me the position and I became Gildan's first female plant manager.
After a few years, and increasing responsibility for other facilities, I decided to leave Honduras and relocate to Canada. The Company found me a new role in the Montreal IT department that leveraged my manufacturing experience and allowed me to stretch my professional experience. Although I liked living in Canada and learning new skills in IT, I knew my heart remained in manufacturing. When an opportunity came up to return, I moved back to our manufacturing hub in Honduras without hesitation, where I have been in the VP role for the last year now.
Q: Tell us a little bit about your team:
I am very proud of my team and my peers. We complement and support each other in a very unique way and I know that's what makes us strong.
Everyone here is so passionate and proud to work for Gildan. Despite the size of the organization, it feels like a tight knit family. I've spent years working with the people here; we know each other well and are comfortable working together. We're family.
Q: What makes you excited to come to work every day?
Results.
I'm very goal oriented, I love to see progress and enjoy knowing that my team and I reach our daily objectives. It's extremely rewarding to see the positive impact we've had on the company over the years.
I also enjoy the challenge of knowing that there is more to be done. I am happiest on the manufacturing floor. Multiple times each day you'll see me escape from my office and make my way to the shop floor. I talk to our operators, understand the challenges they face and see what I can do to improve their work process. It's all about always improving and optimizing what we are already doing.
Q: What advice do you have for women who are trying to advance in their careers?
Early on in my career I was really lucky to have a supervisor who empowered me from the start and gave me the room to grow. He taught me to communicate my ideas and never be scared to give my opinion. That's the advice I would give to other women, don't be afraid to speak up and make yourself heard. If you want something in your career, ask for it.
Click here to read the other stories of the women featured in this series.