Hear Her Story: Q&A with Karina Valenzuela, Manager of Organizational Development at Gildan
Hear Her Story: Q&A with Karina Valenzuela, Manager of Organizational Development at Gildan
Focusing on the growth of our people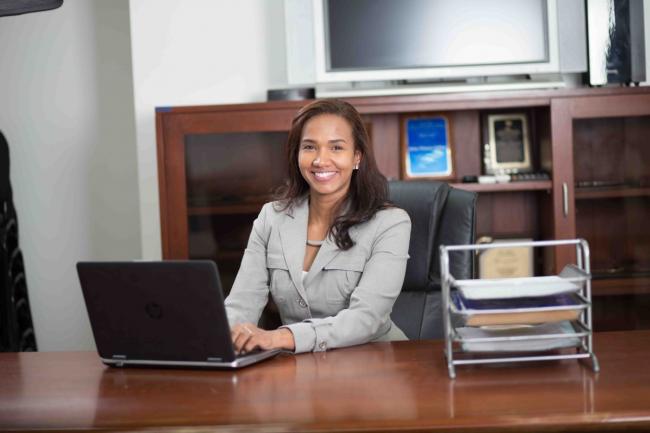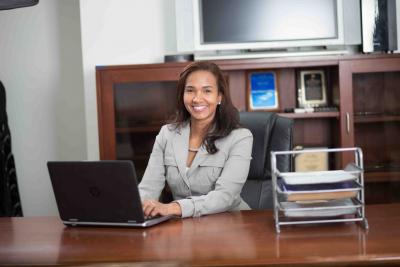 Wednesday, March 20, 2019 - 8:00am
Meet Karina, manager of organizational development in the Dominican Republic. Karina shares with us her passion for developing people but also on her own self development. Here is her story:
Q: Tell us about your life at Gildan:
I just celebrated my 5th anniversary at Gildan and I can't believe it! When I started working at Gildan I thought to myself "let me accept this challenge" but I never thought I would stay this long. The people here made me fall in love with this place. I think you can tell a lot about a company from the way they treat their employees and in turn how employees treat their peers. There is a sense of togetherness and respect for people at all levels of the organization. Whether you're a janitor, an executive or an operator on the manufacturing floor, everyone will treat you equally and care for you deeply. That's what I love about working here.
Q: Can you tell us a bit about your role as an Organizational Development Manager?
I think my role boils down to helping transform Gildan from a place you come in to work, to a place where people feel valued and where they can grow professionally and personally.
Our CEO, Glenn Chamandy, has always said "our success starts and ends with our people".  That's not just something we say, it's what we live and breathe every single day! My role in HR is to create and support a culture that brings this statement to life, so that it defines who we are as a Company and becomes part of our DNA.
Q: Where does your passion for HR comes from?
In college, I studied psychology because I loved to learn about people and the way they think. This naturally turned into a career in human resources. I believe that everyone has their own story, their own uniqueness and I love working with individuals to build a development plan and see them grow. Knowing that I've been able to contribute to their advancement makes me proud.
Q: What is your proudest moment at Gildan?
From an organizational development standpoint, the team and I have made a significant amount of progress in the last 5 years.
I'm proud of all the work we've accomplished, the processes and strategies we've built and the environment we've created around employee development.
Today, organizational development is recognized as a key strength of the HR function and we all embrace a transformational mindset to ensure our employees are equipped with the right knowledge and tools to reach their full potential.
Q: What challenges have you faced along the way?
Early on in my career at Gildan, my manager sat down with me and told me that some people on my team found my feedback harsh. I'm naturally result-oriented and like to work fast but at the time I was working in a vacuum, and not particularly considering the impact on my peers.
When I got this feedback, it was a wakeup call. From that point on, I knew that I would need to actively work on building my people skills and eventually enrolled in a coaching certificate.
I'm really grateful that my manager was able to give me such transparent feedback and then gave me the room to learn and grow. Surprisingly, in that moment I felt really empowered.
Q: Sounds like you've had some amazing people guide you. Have you had any mentors that helped you along the way?
 Yes, absolutely!
I'm very lucky, I've have three individuals who have truly been strong supporters of my career at Gildan. Vileika Ramirez, Freddy Barrantes and Mike Albright have all played a role in making my five years at Gildan a success.
They have all given me the opportunity to be heard, given me constructive feedback and more importantly believed in me. Knowing you have great mentors who want you to grow and to succeed is truly empowering.
Q: Do you have advice to individuals trying to succeed in their career?
I would say that often limitations or barriers you face are in your mind. If you have discipline and a clear vision of what you want in your career also in life, no obstacle can stop you from getting there. You need to actively decide to pick yourself up and dust yourself off when things go wrong.
I've had a lot of challenges in my life but I now have a wonderful husband, two loving daughters, and a great career.
Q: What values do you hope to transmit to your daughters?
Wow, that's an important question. As a mother, I've given it a lot of thought.
I want them to find their own happiness, whatever that may be. I want them to feel good about themselves and the life they build, no matter what other people think. Lastly, I want them to value discipline and hard work because I know that these will help them build a foundation for a good life.  
Click here to read the other stories of the women featured in this series.