Have You Ever Volunteered Your Skills? Taproot Foundation Needs Your Feedback
Taproot is conducting a survey to learn what drives the volunteer community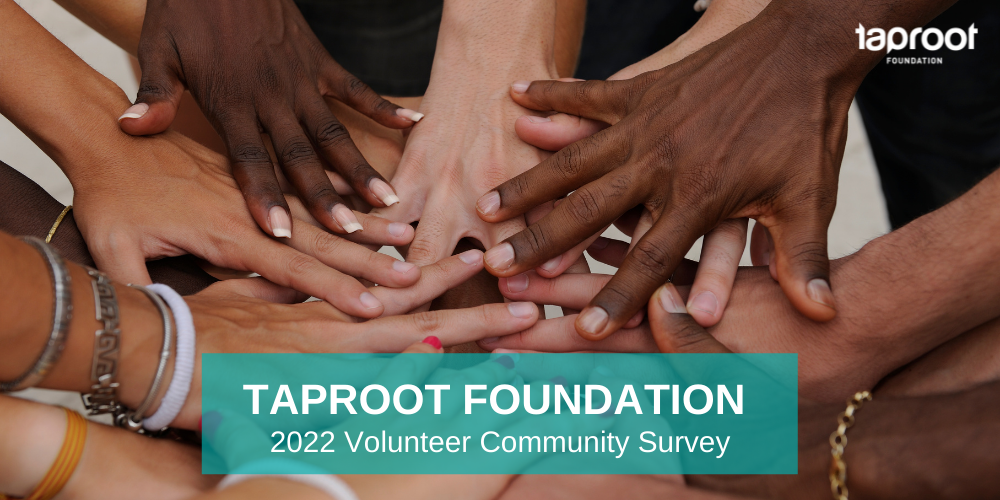 Taproot is conducting a survey to learn what drives the volunteer community
Participate in Taproot's Volunteer Community Survey
Taproot Foundation's work wouldn't be possible without their passionate and dedicated volunteer community members. If you've ever volunteered your skills through Taproot's programs, your company, or independently—they need your insights!
Taproot is conducting a wide-scale volunteer survey to gather feedback that will fuel the development of future programs, tools, and networking opportunities for all volunteers.
This survey will take less than 15 minutes to complete and will help improve their services and build a stronger community.
Some of the survey questions include:
What motivates you to give back?
What would enable you to volunteer more frequently?
How could Taproot better support your volunteerism?
When you complete the survey, you won't just be helping move the field of skills-based volunteering forward, you'll also have the chance to secure a $50 donation to a cause near and dear to your heart! Five survey-takers will be randomly selected to win a GlobalGiving gift card.
So make your voice heard!
Take Taproot's 2022 Volunteer Community Survey now.
About the Taproot Foundation
Taproot Foundation, a U.S. based nonprofit, connects nonprofits and social change organizations with passionate, skilled volunteers who share their expertise pro bono. Taproot is creating a world where organizations dedicated to social change have full access—through pro bono service—to the marketing, strategy, HR, and IT resources they need to be most effective. Since 2001, Taproot's skilled volunteers have served over 8,400 social change organizations providing more than 1.8 million hours of work worth over $260 million in value. Taproot has offices in New York City, Chicago, San Francisco, and Los Angeles, and co-founded a network of global pro bono providers in over 30 countries around the world. www.taprootfoundation.org @taprootfound