Guest Post: Timberland Talks Responsible Materials at the Textile Exchange Sustainability Conference
By: Zack Angelini, Manager of Environmental Stewardship, Timberland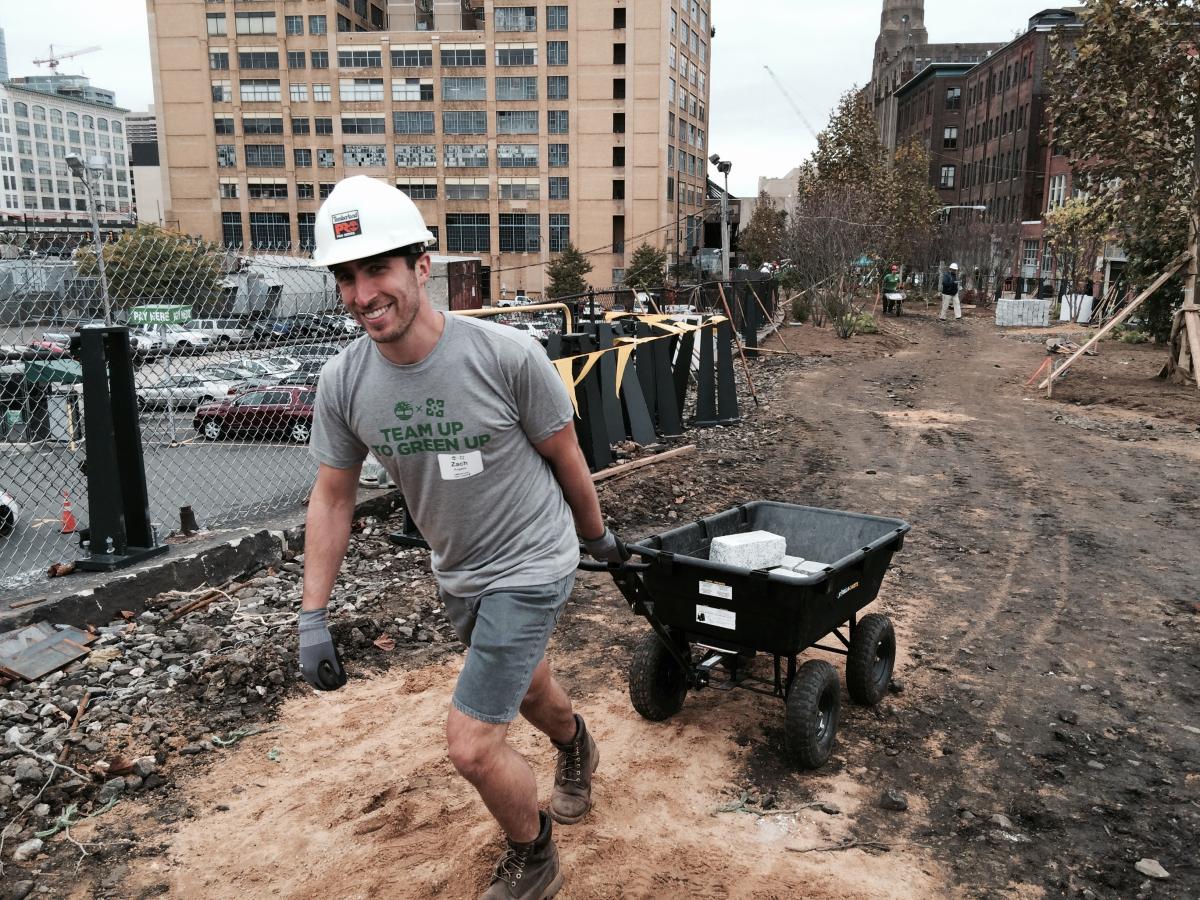 Zack Angelini pulled on his boots to serve at Timberland's recent Urban Greening initiative in Philadelphia, PA.
At Timberland, we strive to be Earthkeepers in everything we do. We work hard to make our products responsibly, to protect the outdoors, and to serve the communities around the globe where we live, work and explore. My role focuses on responsible product.
As one of the leading footwear and apparel brands in the world, we recognize that the majority of our environmental impact lies within the products we make and the materials we choose. But within these materials also lies our greatest opportunity to make a difference.
Last year's Textile Exchange Sustainability Conference in Hamburg, Germany, was my introduction to the broader footwear and apparel industry. I had just started at Timberland a month prior, and with a background in environmental engineering and life cycle assessment, I was eager to better understand the environmental challenges faced by the world's largest footwear and apparel companies and how we can address them.
With a year under my belt at Timberland, I was excited to attend the latest conference in Washington D.C. last week and not just learn from the industry, but also share Timberland's history of sustainability work and the exciting projects we have on the horizon. The pre-competitive collaboration and dynamic between brands to learn and share best practices is what makes the Textile Exchange conference one of my favorite industry events.
For Timberland, we shared our commitment to source 100% of our cotton from more sustainable sources, discussing the benefits we see to our brand, as well as the challenges we have faced along the way. We also shared the progress we've made on our journey to help reintroduce organic cotton to Haiti through a unique agroforestry program which benefits the environment and farming communities alike.
Several discussions during the conference focused on sustainable agricultural practices and how they allow us to go beyond minimizing the environmental impacts of our products. These practices are an exciting next step in sustainability because they have the potential to create real environmental and social benefits within the supply chain. Not only can we source agricultural materials that demand fewer inputs and use resources more efficiently, but we can support those practices that promote biodiversity and sequester carbon into the soil, acting as a carbon sink rather than a carbon emitter.
By analyzing the life cycle of our products, we can understand the environmental impacts of each stage of production and identify those stages where we can minimize our impact in a major way. When we look to incorporate more sustainable material options we can use quantitative data to ensure those materials truly minimize our impact. Textile Exchange provides a space to share the latest research and innovations in sustainable materials and foster relationships between the industry's largest brands and most innovative new suppliers.
Luckily, this work does not end when the conference does. We are excited to stay involved with various working groups within Textile Exchange such as the Responsible Leather Initiative, Recycled Polyester Working Group, and Carbon Insetting Task Team. I look forward to the results of this work and for the progress we'll be able to report on at next year's conference in Milan, Italy. 
About the author: Zack Angelini is the manager of environmental stewardship at Timberland. In this role, Angelini analyzes the company's environmental impacts using life cycle assessment methodology. His findings inform the product and operations teams and help improve environmental sustainability across the company in the most effective ways possible. Angelini participates in industry-wide organizations, such as the Outdoor Industry Association Sustainability Working Group, the Textile Exchange, the Leather Working Group, and the Sustainable Apparel Coalition, through which he shares the company's challenges and successes and works collaboratively to solve sustainability issues across the industry. He holds a bachelors of science in environmental engineering and a masters of science in civil engineering from the University of New Hampshire, where he concentrated his studies on life cycle assessment.