Global Health Corporate Champions Have Openings Available for February Cohort
Employees from the Leading Corporations are Teaming up to Improve Health in Rwanda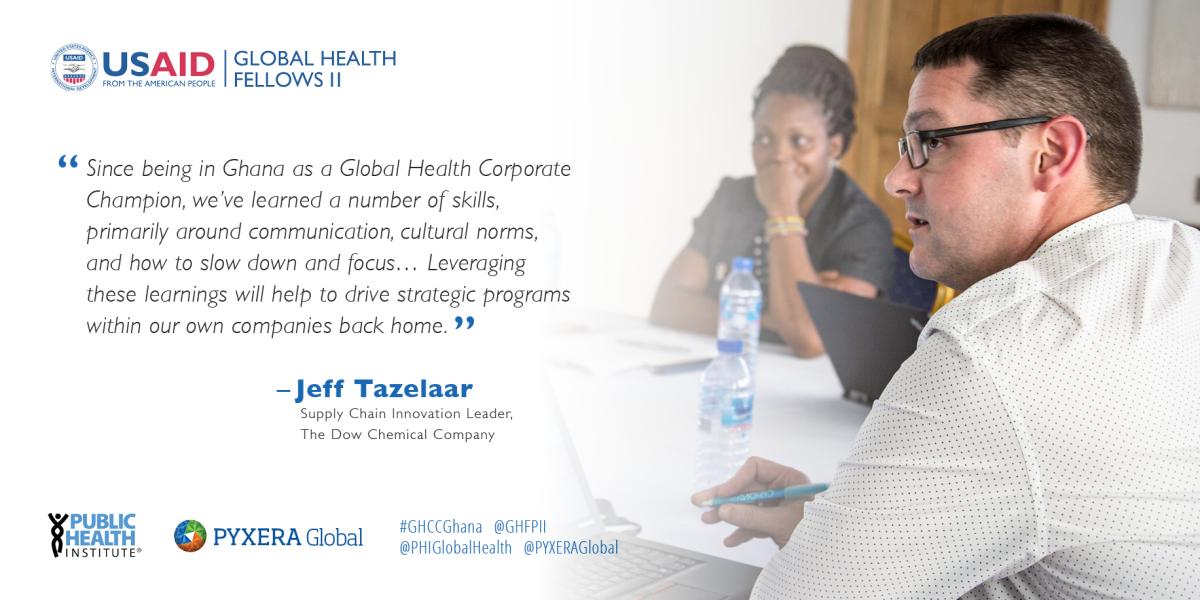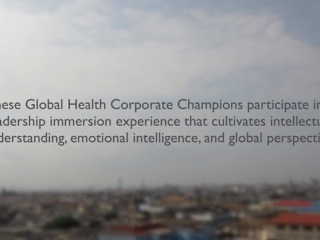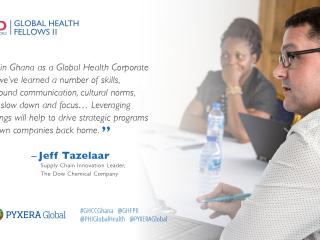 Global Health Corporate Champions Have Openings Available for February Cohort
WASHINGTON, D.C., October 2, 2017 /3BL Media/ – The third cohort for Global Health Corporate Champions (GHCC), an activity of USAID's Global Health Fellows Program (GHFP) II, is filling up as corporate volunteers prepare to travel to Rwanda in February, aiming to make a difference in local organizations in order to improve community health. A few slots remain.
"The Global Health Corporate Champions initiative is an incredible opportunity to leverage the corporate sector's boundless pool of talent to help tackle pressing global health issues," said GHFP II Program Director Sharon Rudy, Ph.D. "By tapping into these corporate leaders' business and organizational expertise, we are reinforcing USAID's culture of innovation and sending a message that the business community is a key partner in improving health outcomes around the world. The Global Health Corporate Champions is a wonderful example of public-private partnerships in action and GHFP II is proud to support this work."
The GHCC cohort will include 13-16 professionals on a four-week pro bono assignment to leverage their collective expertise in business and operations to build organizational capacity in key organizations in Kigali, Rwanda, working to increase clean water and sanitation, improve food and nutrition security, and strengthen health systems. The Global Health Corporate Champions is a rare win-win-win activity, as participants gain extraordinary and accelerated professional experience; local organizations build capacity with the infusion of talent, thereby better serving their local community; and the sponsoring companies gain authentic reputations for social responsibility, insights into new markets, and employees with honed global leadership skills.
WE Communications participated in the last cohort and has committed to the next. Vice President Chrissy Vaughn was one of the champions to travel to Accra Ghana in February 2017 and reports the difference her participation makes in relationships with current and future employees.
 
"We have already seen it paying dividends in terms of employee engagement. I did a road show at the Portland office, and employees are saying to me, 'I want to know what I can do now so that I can have this opportunity.' It's such a great opportunity to use something so meaningful to retain employees, and get them to infuse this perspective into their jobs and lives, and it's so valuable in terms of attracting new candidates—hands down!  I can't tell you how many people who don't work for WE Communications find this an incredible opportunity."
 
PIMCO has also re-upped their commitment, having sent skilled employees into the fields as health champions in both 2016 and 2017.  Sarah Middleton, PIMCO Foundation Executive Director explains,
 
"GHCC offers cultural immersion, cross-company collaboration, and an opportunity to problem-solve in an entirely new way – all facets that gave our PIMCO employees a multi-dimensional leadership experience unlike any other. Our participants returned home with new approaches to their work and relationships, and a renewed appreciation for the power of collaboration. We are excited to join again in 2018."
 
In addition to PIMCO and WE Communications, SAP, The Dow Chemical Company, and PwC have led the way by contributing expertise to this innovative, collaborative, and affordable approach to increase the capacity of local organizations, pro bono. To hear more about the first-hand experiences from these past participants, check out the recent post, "Taking Global Bono to the Next Level."
Openings are still available for interested companies to place individual employees. To be a part of the 2018 activity, or to learn more about the program, go to the Global Health Corporate Champions Website.
#####
About Global Health Fellows Program (GFHP) II
@GHFPII
The Global Health Fellows Program (GHFP) II is USAID's premier fellowship program that identifies and supports diverse, technically excellent professionals at all levels to achieve the Agency's health priorities. USAID Global Health Bureau leverages GHFP II to address its immediate and emerging human capital needs to support and sustain the effectiveness of its current and future health programming. As new global health challenges emerge and complex initiatives are created to meet them, the ability to respond effectively is critical. GHFP II is implemented by the Public Health Institute and its partners Global Health Corps, GlobeMed, Management Systems International, and PYXERA Global.
About PYXERA Global
@PYXERAGlobal 
For more than 27 years, PYXERA Global has leveraged the unique strengths of corporations, governments, social sector organizations, educational institutions, and individuals to enhance the abilities of people and communities to solve complex problems and attain mutually beneficial goals. 
The PYXERA Global team is passionate and dedicated to navigating challenges and pinpointing purposeful global engagement opportunities for its clients and partners. Initiatives include a wide range of services from local content development to global pro bono programs and integrated community development efforts that transform lives and livelihoods.