Freeport-McMoRan's Red Conger Named 2018 Copper Man of the Year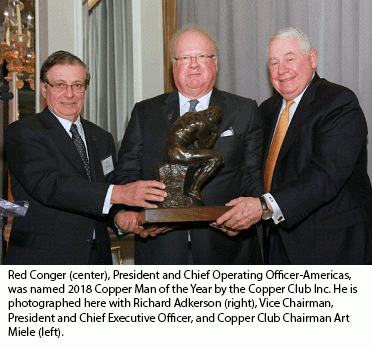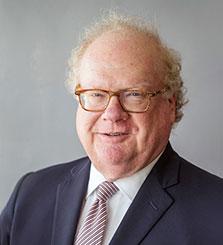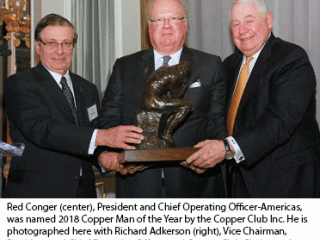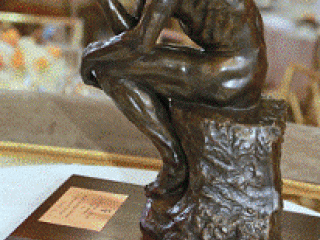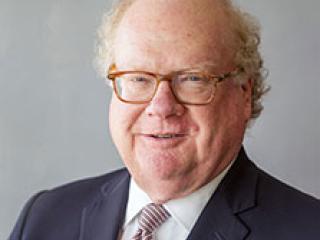 June 29, 2018 - The Copper Club Inc. has honored Red Conger, Freeport-McMoRan's President and Chief Operating Officer-Americas, with its 2018 Ankh Award, also known as the Copper Man of the Year, for four-plus decades of leadership and service to the copper industry.
Recipients of the Ankh Award are chosen for their outstanding individual achievements in and contributions to the copper industry.
After earning his mining engineering degree from the Colorado School of Mines, Conger began his mining career at the Kennecott copper mine in Bingham Canyon in Utah in 1977. This led to a 20-year career with Phelps Dodge Corp. overseeing all aspects of mining and processing at several North America operations and all South America operations. During that time, Conger progressed through a multitude of senior management roles before becoming president of Freeport-McMoRan Americas in 2007, following Freeport-McMoRan's acquisition of Phelps Dodge the same year. He assumed the role of president and chief operating officer in July 2015.
Conger is past chairman of the National Mining Association and has been a member of the Executive Committee since 2007. In 2017, he was the honored recipient of the Charles F. Rand Memorial Gold Medal in recognition of his continued leadership in safety, change management and production efficiency and for his contributions to Society for Mining, Metallurgy & Exploration. Conger is also a former commissioner on the New Mexico Mining Commission and has served on an Arizona water review commission.
For information about Freeport-McMoRan's workforce safety and health, please see fcx.com.
Please see their 2017 Working Toward Sustainable Development report for more information on all of their social, economic and environmental efforts.