Four Discovery Education Services Named Best of 2022 in the Tech & Learning Awards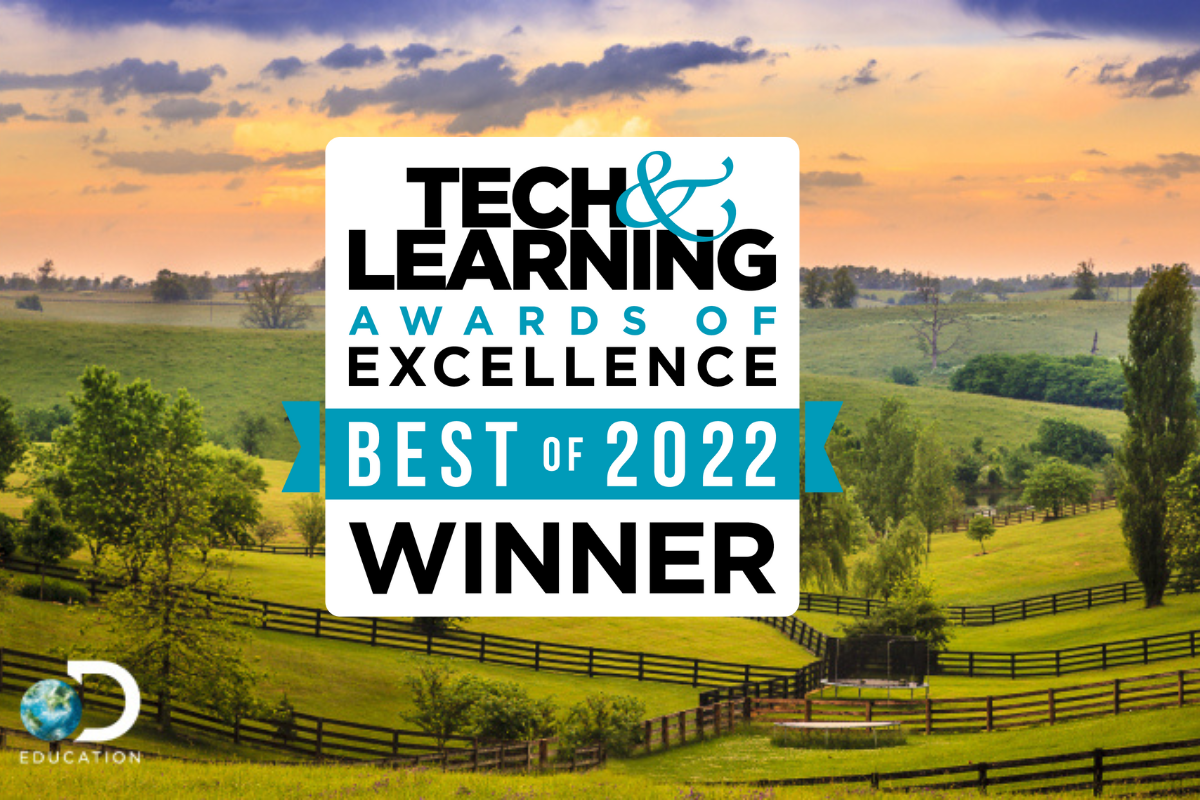 CHARLOTTE, N.C., January 31, 2023 /3BL Media/ - Discovery Education has been honored with four 2022 Tech & Learning Awards of Excellence. In the latest "Best of 2022" edition of this prestigious award program, the Discovery Education K-12 learning platform and Pivot Interactives won in the Secondary category (6-12), and Mystery Science and DoodleMath won in the Primary category (K-5). The Tech & Learning Awards of Excellence: Best of 2022 celebrate educational technology from the last 12 months that have excelled in supporting teachers, students, and education professionals in the classroom, for professional development, or general management of education resources and learning. Discovery Education is the worldwide edtech leader whose state-of-the-art digital platform supports learning wherever it takes place.
For over 41 years, the Tech & Learning Awards of Excellence have recognized exceptional products and services within education technology. The Best of 2022 Award entries were judged based on its feature set, innovation, perceived value, and ease of use, following which it was deemed to be a standout within the sector and selected as a winner.
In the Tech & Learning Awards of Excellence Awards: Best of 2022, Discovery Education was honored in the following categories:
Discovery Education's K-12 Learning Platform – Secondary  
Discovery Education's K-12 learning platform connects educators to a vast collection of high-quality, standards-aligned content, ready-to-use digital lessons, intuitive quiz and activity creation tools, and professional learning resources. Providing educators an enhanced learning platform, the Discovery Education platform facilitates engaging, daily instruction in any learning environment. The flexible K-12 learning platform is designed to work within school systems' existing infrastructure and workflows and provides safe, secure, and simple access methods for educators and students.

Pivot Interactives – Secondary 
Pivot Interactives — which joined the Discovery Education family of services in 2022 — makes teaching science with active learning and scientific phenomena engaging and easy. Pivot Interactives provides users with more than 10,000 authentic, interactive video-based science activities crafted by Pivot's expert curriculum team and teacher community. These resources, tied to state and national standards, are infused with research-based teaching practices and are simple to integrate throughout the instructional cycle. Easy-to-follow instructions guide students through data collection, measurement, data analysis, and interpretation, while feedback provided by both open-ended and auto-graded questions reinforces correct ideas.

DoodleMath – Primary 
DoodleMath is an interactive math app for ages 4-14 that also joined the family of Discovery Education services in 2022. Designed to be used for just 10 minutes a day, it is proven to double a child's rate of progression in math. DoodleMath uses the latest advances in learning and motivational psychology to scaffold learning, raise attainment, and boost confidence in math. Available on tablets, phones, desktops, and laptops, DoodleMath has been proven to boost confidence and ability in math. Filled with thousands of interactive exercises, it explores numerical reasoning and problem-solving in a fun, approachable way, giving children core skills they can use in the classroom and beyond.

Mystery Science – Primary 
Discovery Education's Mystery Science — which joined the family of Discovery Education services in 2020 and recently won SIIA's Best Science Instructional Solution CODiE award for Grades PK – 8 — provides K-5 educators simple to use, open-and-go, hands-on lessons that inspire students to love science. Each lesson begins by posing a question commonly asked by young students. Students then explore these questions through interactive videos featuring real-world visuals fostering a sense of wonder and actively supporting student engagement in the accompanying discussion prompts. Then, students participate in easy to prepare hands-on labs that use simple science supplies commonly found in classrooms or at home. Mystery Science contains everything teachers need to get students engaged in hands-on science and make that subject the best class of the day.
"Each year the Awards of Excellence grow to include a more diverse range of products and companies. With this being the case, judging and finding our winners becomes a tougher decision with each award," said the awards' editorial team. "All of our judging is performed by industry experts, meaning those who have impressed and won the award should be truly proud of their achievement. Well done from all of Tech & Learning."
Educators using Discovery Education's services benefit from the support of the Discovery Educator Network as they transform students' learning experiences with dynamic digital media. A global community of education professionals, the Discovery Educator Network connects members across school systems and around the world through social media, virtual conferences, and in-person events, fostering valuable networking, idea sharing, and inspiration.
"Thank you to Tech & Learning for honoring Discovery Education services for excellence in 2022," said Scott Kinney, Chief Executive Officer of Discovery Education. "These awards are an inspiration and validation to our team, and they will further motivate us to create state-of-the-art services that will prepare learners for tomorrow by creating innovative classrooms connected to today's world."
For more information about Discovery Education's award-winning digital resources and professional learning services, visit www.discoveryeducation.com and stay connected with Discovery Education on social media through Twitter and LinkedIn.
###
About Discovery Education 
Discovery Education is the worldwide edtech leader whose state-of-the-art digital platform supports learning wherever it takes place. Through its award-winning multimedia content, instructional supports, and innovative classroom tools, Discovery Education helps educators deliver equitable learning experiences engaging all students and supporting higher academic achievement on a global scale. Discovery Education serves approximately 4.5 million educators and 45 million students worldwide, and its resources are accessed in over 100 countries and territories. Inspired by the global media company Discovery, Inc., Discovery Education partners with districts, states, and trusted organizations to empower teachers with leading edtech solutions that support the success of all learners. Explore the future of education at www.discoveryeducation.com.
Contacts 
Stephen Wakefield 
Email: SWakefield@discoveryed.com 
Phone: 202-316-6615
Grace Maliska 
Email: GMaliska@discoveryed.com 
Phone: 240-839-4239