Force for Good: VMware Releases 2017 Global Impact Report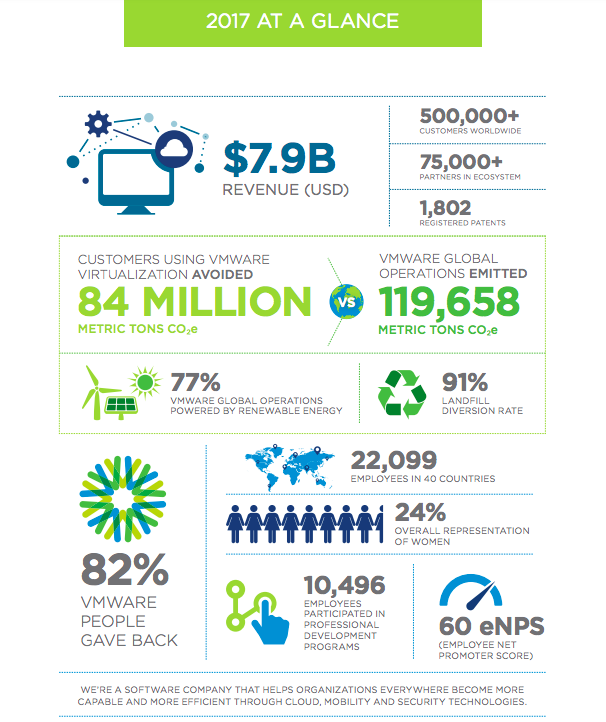 At VMware, we recognize that all parts of our business have an impact — from the products we create and the people we employ to our environmental footprint. We are striving to have a net positive impact by putting back more than we take and involving all parts of our business in the challenge. We've set ambitious goals to scale our global impact, and we know that every action counts. The stories told in our 2017 Global Impact Report demonstrate our commitment to "leaving ahead" a better future by highlighting our progress in 2017 to drive environmental and social impact in support of our business and 2020 goals:
Product: 
Incorporate sustainability into every product release by focusing on solutions that help customers positively impact the environment and society.
Deliver technology that provides customers and partners with data that enable informed choices around cleaner clouds.
Integrate sustainability into our customer experience.
Planet: 
Commit to a science-based target for our global carbon emissions reduction.
Reach 100 percent renewable energy for our global operations and carbon neutrality.
Institute aggressive water conservation in the water-stressed regions within our portfolio.
Achieve over 90 percent waste diversion globally and zero e-waste to landfill from our operations.
Procure 50 percent of our business operations from diverse, sustainable and socially responsible suppliers.
People: 
Increase our representation of women and underrepresented groups so that we reflect the communities we live in and serve; inspire and support the broader community of women and diverse talent in technology.
Create a vibrant employee experience that promotes innovation and ingenuity and connects employees across our global community.
Develop global environmental and social responsibility programs that bridge work and home and help employees incorporate wellness and sustainability into their lives.
Inspire over 85 percent of our global employees to give back in their communities. 
Since our founding in 1998, we have been driven by the desire to challenge the status quo. We believe that software has the power to unlock new opportunities for organizations, people and the planet, and we are committed to creating transformative technology to power a better future. Our pioneering virtualization and cloud infrastructure solutions have transformed data centers and continue to power the apps, services and experiences that are changing the world.