Five Reasons to Register for the 2018 International Women's Day Forum Today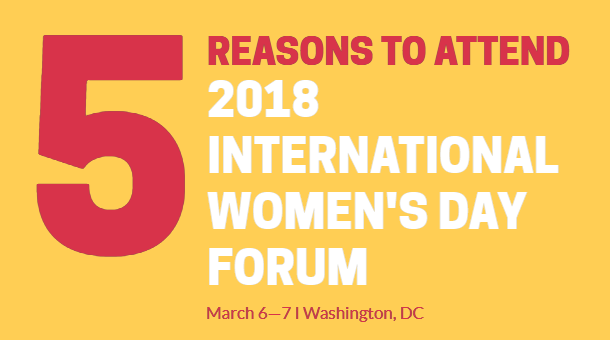 On March 6—7, the U.S. Chamber of Commerce Foundation and the U.S. Department of State will host  the 2018 International Women's Day Forum, Partner With Purpose: Business for Gender Equality, in Washington, DC. This event will convene the business community, civil society, and government representatives to discuss how to advance women's empowerment around the globe. Here are a list of five reasons you should register to attend the 2018 International Women's Day Forum, and why you should do it today!
Get Inspired
Our entire program is designed to inspire action and spark innovative ideas that will help drive gender equality in the workplace, community, and marketplace. Attendees will leave feeling motivated and inspired to achieve greater change within their organizations and communities.
Expand Your Professional Network
Gather with 300+ private and public leaders all in one room to share ideas and collaborate to form long-term partnerships with purpose. Get connected with like-minded individuals who are all working to achieve the same goal. Facilitated networking opportunities will be available before, during, and after the forum, so there will be ample time to meet new faces and strengthen relationships.
Access to Incredible Speakers
Hear from the best speakers in the industry as they share real-life examples of how they are working to achieve gender quality within their workplaces and communities across the globe. Featured speakers include senior level professionals from leading companies such as Walmart, Abbott, PwC, Qualcomm, PIMCO, International Finance Corporation, Arconic, Thomson Reuters, and many more.
Curated Content to Help Grow Your Work and Have Greater Impact
This year's forum will focus on how private and public stakeholders can combine their resources, skills, and expertise for greater sustainability and impact. Main stage speakers as well as working sessions will cover a wide range of gender issues, such as:
Diversity and inclusion
Women in tech
The digital divide
Financial inclusion and access to capital
Workforce and skills development
The care economy
Gender-based violence
Sexual harassment in the workplace
Gender data
Bring valuable nuggets of knowledge back to your organization and gain the tools and resources needed to achieve progress toward full gender equality.
Save 20% on Registration For a Limited Time!
Early Bird rates are available between now and February 2! Don't miss your chance to save 20%. Register yourself and your colleagues before time runs out. Click here to save your spot.